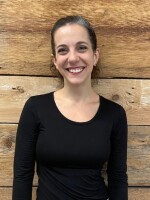 Mikaela Lefrak
Co-host & senior producer, Vermont Edition
Mikaela Lefrak joined VPR in summer 2021 as co-host and senior producer of 'Vermont Edition'. Prior to that, she was a reporter at WAMU, the NPR member station for the greater Washington, D.C. region. She hosted What's With Washington, a podcast exploring the quirks and mysteries of the D.C. region, and 51st, a podcast miniseries about D.C.'s fight for representation. Her reporting has aired nationally on Morning Edition, All Things Considered, Weekend Edition, Marketplace, The World and Here & Now. She has won two regional Murrow Awards and a Public Media Journalists Association Award for her work.
Lefrak was formerly an editor at The New Republic, where she produced politics and culture podcasts. She has also worked as a producer at PRI's The World and WGBH Boston, and served as an AmeriCorps VISTA volunteer in Oakland, California.
Lefrak is a graduate of Middlebury College, and received a master's degree in broadcast journalism from Boston University. Outside of work, she loves watching baseball, playing softball, reading, biking and scouting out the best places in town to buy french fries.
Prices for pre-cut trees are through the roof, and mature trees at Vermont farms are hard to come by.

A look back on the year in books.

The Scott administration says COVID-related hospitalizations, including ICU admissions, have increased sharply in the past week — especially among unvaccinated people. Meanwhile, vaccination rates are lagging among children ages 5 to 11.

We talk about what we are most grateful for in 2021.

We take a deep dive into Vt.'s recycling system.

Vermont chefs and local food experts join us to discuss cooking with foraged plants and wild game.

Gov. Phil Scott on Monday agreed to call Vermont lawmakers back to Montpelier for a special session next week so they can pass a bill that would give local towns the authority to issue a local mask mandate.That news served as the backdrop for Tuesday's administration press briefing. Officials also touched on the trajectory for COVID case counts in Vermont as well as how to prepare for the upcoming Thanksgiving holiday.

Vermont Sen. Patrick Leahy — the state's longest-running senator — announced today he will not seek re-election for a 9th term. What's your reaction to Leahy's announcement? How do you reflect on his last eight terms? And what would you like to see moving forward?

We take an in-depth look at why local ski resorts are struggling with hiring and retaining employees amid the nationwide staffing shortage.

Health Commissioner Dr. Mark Levine answers your questions about the state's ongoing response to COVID-19.