VPR's coverage of arts and culture in the region.
Fall Book Show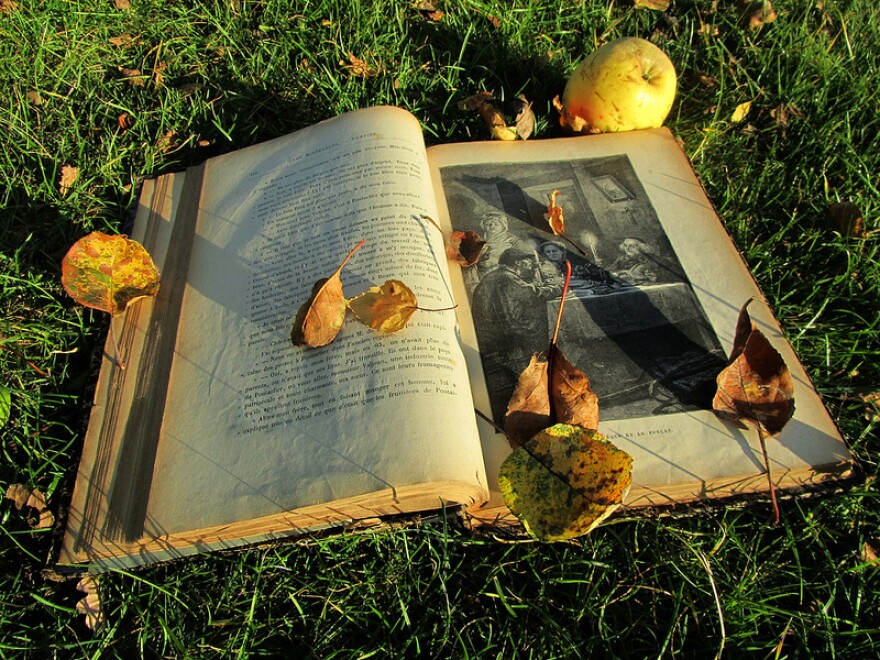 The trees are bare, the temperature is dropping… it's perfect weather to curl up with a good book. We'll get a few must-read recommendations from this fall's publishing season.Also, what's on your holiday book gift list? Claire Benedict, co-owner of Bear Pond Books in Montpelier, and Linda Ramsdell, owner of The Galaxy Bookshop in Hardwick, will help us to navigate the literary profusion.
Post your own reading suggestions below, or send your questions to vermontedition@vpr.net.
Thurs 10/31/13 Noon & 7PM
[I used to be an embedded Storify. See Editor's Note below.]
Other books mentioned on the show:
VERMONT EDITION FALL BOOK SHOW 2013
Fiction:
A Tale for the Time Being by Ruth Ozeki
Traveling Sprinkler by Nicholson Baker
Chief Inspector Gamache series by Louise Penny
S. by J.J. Abrams and Doug Dorst
Goldfinch by Donna Tartt
The Light Between Oceans by M. L. Stedmen
The White Queen by Philippa Gregory
Translatlantic by Colum McCann
The Circle by Dave Eggers
The Sweetness at the Bottom of the Pie by Alan Bradley
Ancillary Justice by Anne Leckie
The Cartographer of No-Man's Land by P. S. Duffy
The Lowlands by Jhumpa Lahiri
The Signature of All Things by Elizabeth Gilbert
Coraline and The Ocean at the End of the Lane by Neil Gaiman
The Brownstone by Julie Brown
Life after Life by Kate Atkinson
Tomato Red by Daniel Woodrell
Shadows by Robin McKinley
Spooky Fiction:
The Ghost Stories of Edith Wharton by Edith Wharton
Gothic Tales by Elizabeth Gaskell
Three Can Keep a Secret by Archer Mayor
The Stand by Stephen King
The Gore, Shadow Child and Guardian Angels by Joseph A. Sitro
The Curiosity by Stephen P. Kiernan
The Passage Series by Justin Cronin
Vermont Authors:
Promise Not To Tell by Jennifer McMahon
Petra: A Novel by Patricia Grey
The Emperor's Blades by Brian Stavely
Nonfiction:
Twelve Years a Slave by Solomon Northup
Beyond the Beautiful Forevers by Katherine Boo
One Summer: America, 1927 by Bill Bryson
Wonder of Wonders: A Cultural History of Fiddler on the Roof by Alisa Solomon
Brain in a Jar: A Daughters Journey Through Her Father's Memory by Nancy Stearns Bercaw
Coolidge by Amity Shlaes
Kids' Books:
Click, Clack, Boo! A Tricky Treat by Doreen Cronin
Go: A Kidd's Guide to Graphic Design by Chip Kidd
Bad Monkey by Carl Hiaasen
EDITOR'S NOTE: The original version of this post contained social media content embedded by the service Storify. Storify has ceased operation: the post has been updated to remove the Storify embed. The content that was embedded via Storify likely still exists on the original platform, e.g. Twitter, Facebook or Instagram, but it's no longer curated and embedded in this post with Storify.