Explore our coverage of government and politics.
Another Weekend, Another Shift In Immigration Policy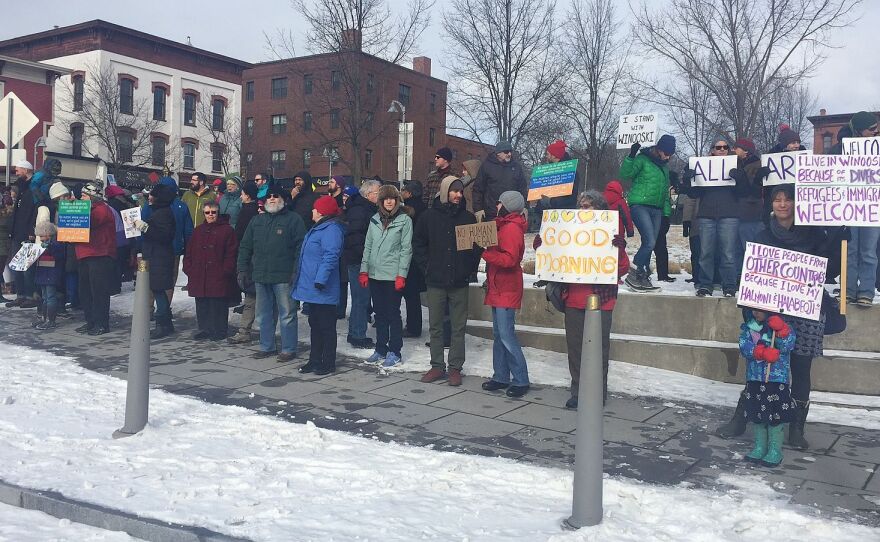 Supporters of immigration and diversity held signs in Winooski on Satruday that read "All Are Welcome," "We're Glad You're Our Neighbor," and "Black Lives matter."
Patti Daniels
As legal wrangling continued over US immigration policy, people lined the Winooski rotary on Saturday morning, February 4, 2017, to show their support for immigrants and refugees.
Patti Daniels
The legal fight continues over who can and can't enter the United States in the wake of the Trump administration's executive order on immigration and refugees. As travelers, immigrants and refugees scramble to understand their status amidst new court rulings, we look at how Vermont's borders and residents have been affected.
Our guests are Vermont Attorney General TJ Donovan and former U.S. Attorney for Vermont Tris Coffin.
Related from VPR: Refugee Resettlement On Track To Resume In Vermont
Update 5:05 p.m. It was announced between our live show and our rebroadcast that Donovan is one of 16 attorneys general who signed an amicus brief in support of the lawsuit by Washington state challenging President Trump's executive order on immigration.
Also in the program, we sample a podcast about Vermont farming made by students at Middlebury College. In "Cowtalk," students Kristina Ohl, Jenevra Wetmore and their peers take us into milking parlors to talk about the future of Vermont's dairy industry.
And, Dorothy's List, our book club for kids, goes to Saint Johnsbury where students are reading a novel about the tough sport of Roller Derby. VPR's Amy Noyes talks with young readers and Victoria Jamieson, author of Roller Girl, one of the nominees for Vermont's Dorothy Canfield Fisher Children's Book Award.
Broadcast live on Monday, February 6, 2017, at noon; rebroadcast at 7 p.m.