Follow VPR's statehouse coverage, featuring Pete Hirschfeld and Bob Kinzel in our Statehouse Bureau in Montpelier.
House Speaker Mitzi Johnson Talks The State Of Her Agenda Near Session's End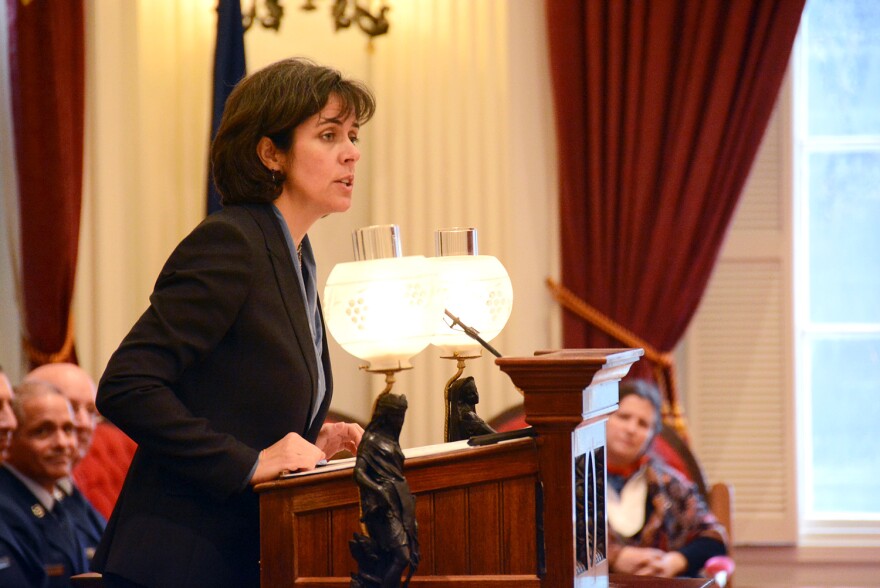 In the final weeks of the legislative session, lawmakers face tough choices as they focus on which bills can pass, and decide which priorities will have to wait. House Speaker Mitzi Johnson joins Vermont Edition to talk about plans in the House to tackle — and fund — big-ticket items like clean water projects, minimum wage, marijuana regulation and more.
Despite having majorities in both the House and the Senate, it's unclear in the final weeks of the session whether Democrats will pass any of their high-priority bills. And any legislative push will have to go to Gov. Phil Scott and contend with a possible veto.
Johnson tells Vermont Edition a paid family leave program should clear the statehouse before the session wraps up this month.
In January, Gov. Scott and New Hampshire Gov. Chris Sununu unveiled a voluntary paid family leave program.
It failed to gain traction in either state's legislature, and in April the Vermont House advanced a paid family leave program paid for through a 0.55% payroll tax on virtually all workers in the state.
Gov. Scott says he doesn't support a program funded by a mandatory tax, but Speaker Johnson says most House lawmakers don't like his approach.
"An overwhelming number of House members voted for some form of a mandatory program," Johnson tells Vermont Edition.
"When you add up the number of people in the House [who] voted for a program where we are all in, so that we could reduce the cost of the insurance program," she added.
"Insurance programs are cheaper when everybody's all in."
Data from the Vermont Department of Taxes estimates more than 60,900 Vermonters would pay into the benefit but would not be able to take advantage of it.
That ineligibility is due to program criteria like an annual income of at least $11,200 and participants having to work a minimum number of hours over the past year.
About $700,000 of the roughly $78 million collected through the payroll tax would come from those ineligible workers, according to the tax department.
Listen to the full interview above to hear how the House has advanced a boost to home weatherization funding by way of a heating fuel tax, how the House is reviewing a Senate-approved tax-and-regulate marijuana scheme and how Speaker Johnson sees funding considerations for clean water programs to pension obligations being addressed before lawmakers adjourn around mid-May.
Broadcast live on Wednesday, May 1, 2019 at noon; rebroadcast at 7 p.m.