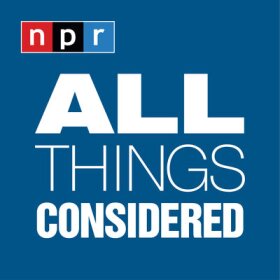 Weekdays from 4:00pm to 6:30pm
In-depth reporting has transformed the way listeners understand current events and view the world. Every weekday on All Things Considered, you'll hear breaking news mixed with compelling analysis, insightful commentaries, interviews and special - sometimes quirky - features.
>> Visit the All Things Considered website for more detailed program information.
Harvard epidemiologist Michael Mina wants to increase availability of the at-home rapid tests the Biden administration is promoting. But he warns of a shortage without market competition.

A larger White House campaign is targeting what it calls anti-competitive behavior in several industries, including meatpacking, in which over 80% of beef goes through just four companies.

The president outlined a forthcoming federal rule that all businesses with 100 or more employees have to ensure that every worker is either vaccinated for COVID-19 or submit to weekly testing.

Here's what it's like at Ramstein Air Base in Germany, where many of the tens of thousands of Afghans evacuated from Kabul over the past few weeks are awaiting travel to the United States.

The decision by a federal bankruptcy judge grants members of the family who own Purdue Pharma, maker of OxyContin, sweeping protection from any liability for the opioid crisis.

The law bans abortions as early as six weeks after conception and allows Texans to sue anyone who aids, abets or performs an abortion past that mark.

The pandemic has made people more open to seeking help, a new survey finds, but cost and difficulty in finding a mental health care provider are still big obstacles.

Some kids are getting sick or passing the coronavirus to vaccinated family and friends. It's all unnerving to many parents. "It felt like a terrible head cold," one dad says. "My brain was foggy."

The U.S. military spent years training Afghan soldiers to fight insurgents. Yet in a matter of days, the Afghan National Army collapsed, and the Taliban captured the country. What went wrong?

Filipe Ribeiro of Doctors Without Borders Afghanistan talks to NPR about the future of the country's health care system under Taliban rule.