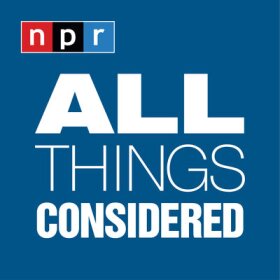 Weekdays from 4:00pm to 6:30pm
In-depth reporting has transformed the way listeners understand current events and view the world. Every weekday on All Things Considered, you'll hear breaking news mixed with compelling analysis, insightful commentaries, interviews and special - sometimes quirky - features.
>> Visit the All Things Considered website for more detailed program information.
Reversing earlier guidance, the agency is encouraging indoor masking for fully vaccinated people under certain circumstances.

Payouts will be spread over the next 18 years, with much of the funding going to help communities struggling with high rates of opioid addiction and overdose deaths.

One of the scientists who signed a recent letter calling for more investigation of the lab-leak origin theory says new data has come to light. And that information has changed his thinking.

Average wages for nonmanagers at restaurants and bars hit $15 an hour in May, but many say no amount of pay would get them to return. They are leaving at the highest rate in decades.

Zaila Avant-garde, the first African American winner of the Scripps National Spelling Bee, talked about how she got started in competitive spelling and what she has planned for the future.

The budget blueprint would use financial carrots and sticks to encourage utilities to reduce greenhouse gas emissions. The "clean energy standard" is key to President Biden's climate goals.

In an interview with NPR, the Treasury secretary calls to permanently expand the child tax credit being paid out to American families starting this week.

Major League Baseball's All-Star game is tonight and one of the biggest stars this season is Japan's Shohei Ohtani. He's a dominant pitcher and hitter — leading the league in home runs.

As President Biden spoke in Philadelphia about voting rights on Tuesday, Texas House Democrats arrived in D.C. in an effort to block Republicans' efforts to enact new voting restrictions.

Prisoners in Connecticut wouldn't have to pay to make phone calls under a proposed law. They now pay some of the highest phone rates in the country.