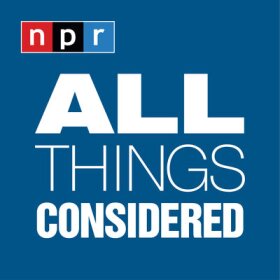 Weekdays from 4:00pm to 6:30pm
In-depth reporting has transformed the way listeners understand current events and view the world. Every weekday on All Things Considered, you'll hear breaking news mixed with compelling analysis, insightful commentaries, interviews and special - sometimes quirky - features.
>> Visit the All Things Considered website for more detailed program information.
The fate of abortion in the U.S. appears to be on shaky ground as a divided Supreme Court weighs a Mississippi law. A decision in the case is expected by summer.

The FDA is considering new pills that could treat people in early stages of COVID. Here's what to know about how they work, how effective they are and the impact they could make on the pandemic.

Service dogs have long helped veterans with vision or mobility problems. Now the PAWS Veterans Therapy Act will help connect specially trained dogs to some veterans with symptoms of traumatic stress.

The annual winter monarch butterfly migration, which has seen steep declines in recent years, seems to be making a comeback. Biologists are encouraged and confused by the trend.

State rules were temporarily loosened in 2020 to help patients get care outside a doctor's office. But is telehealth by phone safe and effective? State legislatures and insurers must soon decide.

U.S. climate envoy John Kerry told NPR the declaration spurs mutual accountability. "I'm absolutely convinced that that is the fastest, best way to get China to move from where it is today," he said.

The country's top infectious disease doctor says he is looking for "a level of control" over COVID-19 such that it is less disruptive to society — and he again stressed the importance of vaccination.

The Fed left interest rates near zero on Wednesday but announced plans to start removing some of the support it has provided to the economy as inflation hits its highest point in 30 years.

After more than a year of working and living through a pandemic, thousands of workers across the U.S. are striking for better wages, working conditions and benefits.

Most Americans want the government to tackle climate change, but decades of industry lobbying and misinformation have repeatedly worked together to prevent meaningful action.