Get That Venison Out Of The Freezer!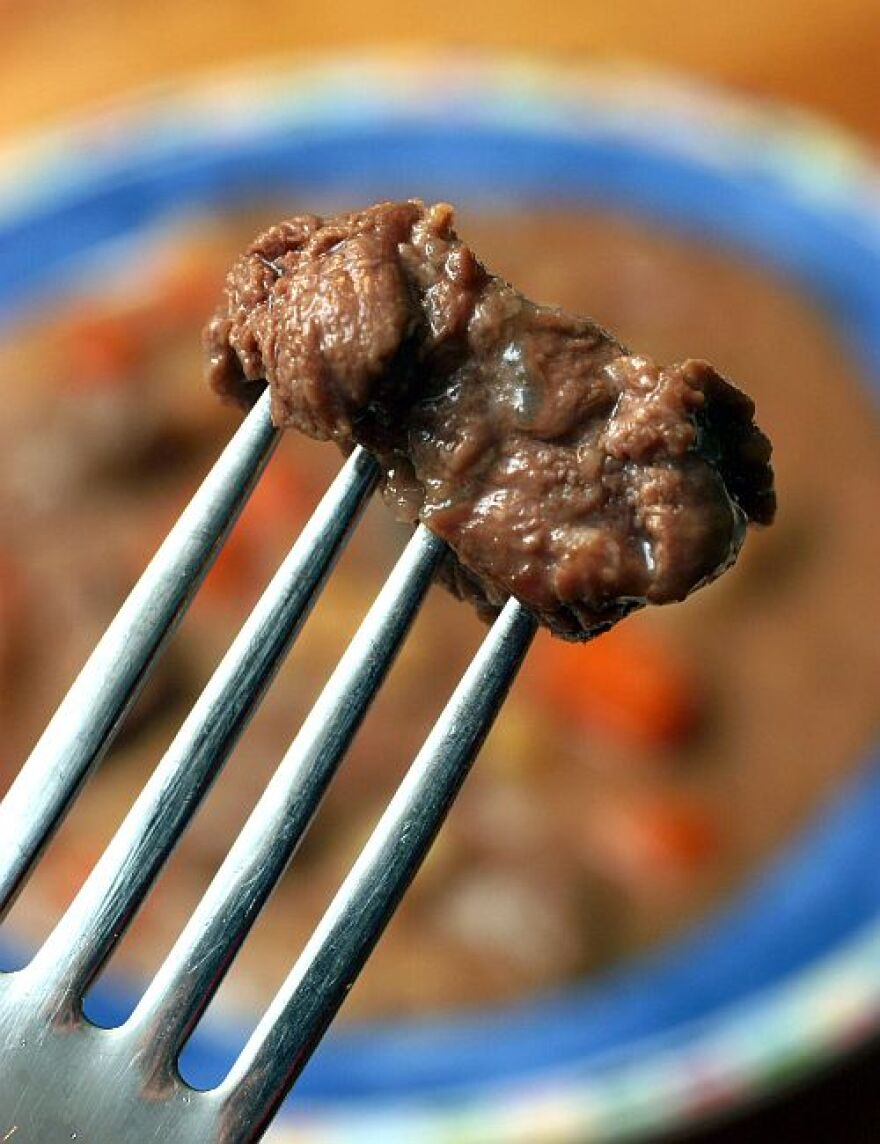 If you got a deer last fall, you probably have some meat left in the freezer, and you're probably tired of all your favorite venison recipes by now. Chef Jimmy Kennedy was co-founder of River Run restaurant in Plainfield, and author of the River Run Cookbook. He's now a chef for Cabot Creamery and develops recipes for the company.
Kennedy shared three of his favorite venison recipes with Vermont Edition:
Venison Steaks with a Red Wine and Cherry Sauce
1 pound venison steaks
1 large clove garlic, crushed
1 teaspoon chopped fresh thyme. Plus 6 sprigs
salt and black pepper to taste
1 to 2 tbs canola or olive oil
½ cup dry red wine
½ cup dried cherries or 1 cup fresh, pitted cherries
1 tbs. currant, berry or grape jelly or jam
2 tbs. butter
Make sure the venison is dry, pat with a paper towel if needed. Using your hands, pat the chopped thyme and the salt and pepper well into the venison.
Heat the oil in a cast iron skillet over medium high heat. When nice and hot, but not smoking add the steaks and the crushed garlic. Cook for about 4 or 5 minutes on each side, turning the garlic also. Then transfer the steaks to a cutting board and let them rest for 4 or 5 minutes before serving. While the meat is resting, place the wine, cherries, and two of the thyme sprigs in the skillet and bring to a boil, scarping up any brown bits. Whisk in the jelly and swirl in the butter. Turn off the heat and set aside.
You can slice the steaks on a diagonal if they are boneless or just put the steaks on a serving plate. Spoon the hot cherry sauce on top and garnish with the fresh thyme sprigs.
Venison, Wild Leeks and Cabot Cheddar Rolls (Negimaki)
This recipe blends a little of the South and the North with the Far East. These rolls, called negimaki in Japan, are great as appetizers but can also be served as a main course.
BBQ Teriyaki Sauce:
½ cup of your favorite BBQ sauce
1/2 cup of soy sauce
1/2 cup of sherry or sake
Combine the ingredients in a heavy saucepan and heat over medium high heat until it just comes to a boil. Reduce the heat immediately and let cook on a simmer for 10 to 15 minutes. The sauce will cook down quite a bit
For the rolls:
2 thin, boneless venison steaks, 4 or 5 ounces each
4 wild leeks (ramps) or scallions, split lengthwise and cut into four pieces
½ cup or so of BBQ Teriyaki sauce (recipe above)
Cabot Seriously Sharp Cheddar or 50% Reduced Fat Cheddar, 2 or 3 ounces, about ¼ of an 8 ounce bar, cut into thin strips, approximately the same size as the scallions
The venison steaks will need to be made as thin as possible. The best way to do this is to place it between two sheets of waxed paper or plastic wrap on a cutting board and gently pound it with a meat mallet, flat side of a cleaver or even the bottom of a heavy, glass soda bottle. When the steaks are nice and thin, about 1/8 inch thick or so cut them in half crosswise. Arrange a line of the leeks or scallions and the cheese strips down the entire length of the steaks. Roll the pieces tightly into cylinders and hold in place with toothpicks.
Preheat the oven's broiler or light the grill. Dip the venison rolls into the BBQ teriyaki, making sure they are good and covered with the sauce. Broil or grill for 3 or 4 minutes on each side. It's a good idea to baste them a little on each side while they are cooking. When they are done, remove from the heat and place on a cutting board. Remove the toothpicks and using a sharp knife cut the rolls into 1 inch long pieces. Stand them upright on end and add a little more sauce and enjoy.
Yield: Makes about 16 1-inch rolls
Venison Meatloaf
Use leftovers (if there are any) for sandwiches the next day. Makes a great filling for Omelets too.
1 tablespoon unsalted butter
1 cup onion, peeled and chopped
1 cup green bell pepper, seeded and chopped
½ cup celery, trimmed and chopped
1 tablespoon minced garlic
1 pound ground venison
½ pound ground pork, loose sausage, or finely chopped andouille sausage
1 cup Corn Bread, bread crumbs, crushed saltines, or crushed corn flakes.
1 teaspoon salt
½ teaspoon white pepper
½ teaspoon dried basil
¼ teaspoon dried thyme
1 tablespoon Worcestershire sauce
½ cup milk
2 eggs, beaten
½ cup BBQ Sauce
Set the oven to 375 degrees.
Melt the butter in a skillet over medium-high heat and, when it's good and hot, sauté the onion, bell pepper, celery, and garlic until they begin to soften, 5 to 7 minutes. Set aside to cool.
In a large bowl, mix together the meats, crumbs, salt, pepper, herbs, Worcestershire sauce, milk, eggs, and ¼ cup of the BBQ sauce. When the vegetables have cooled well enough to handle, put them in the bowl and mix every thing together with your hands.
Place the meat loaf in a baking pan, a 9-by-5 inch loaf pan works well, and pat into shape. Pour the remaining ¼ cup BBQ sauce over the top, spreading it evenly.
Bake, uncovered, for 45 minutes to an hour.
Makes about 6 to 8 servings