FairPoint Workers Strike As Company Reduces Benefits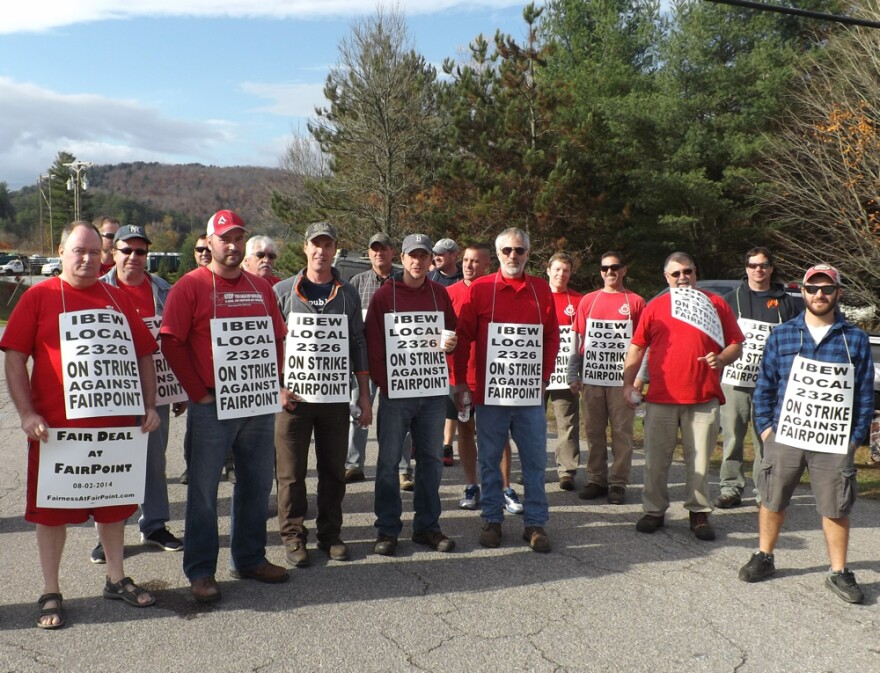 FairPoint workers in Vermont, New Hampshire and Maine have launched a strike. The 2,550 workers are holding out for a better contract deal after months.
Negotiations reached an impasse in early September, but at the time workers decided to hold off on a strike. Since then, FairPoint unilaterally reduced benefits for the unionized employees.
Mike Lynch, a spokesman for the International Brotherhood of Electrical Workers (IBEW), said Fairpoint's tactics left workers little choice.
"FairPoint offered us a contract last April and has refused to budge," he said. "It's a complete diminishment of our contract, and we've worked without a contract since August and we've decided now it's time to walk. Hopefully they'll come to the table and negotiate the way they're supposed to."
Standing outside a company warehouse in Middlesex with a dozen other striking employees, Lynch said the company froze worker pensions earlier this week and handed out health care plans that he said are not as good as what the workers have grown accustomed to.
The strike doesn't come without reservations for the workers.
Lynch said he is "concerned they'll hire scabs and bring people in from outside and I'm also concerned that they don't care about running a phone company and let the whole thing go to hell."
FairPoint, for its part, said Friday that service wouldn't be interrupted by the strike.
"We value every customer and it is important for them to know that we have comprehensive contingency plans in place to ensure the service they, and the economy and communities of northern New England, rely on continues without interruption," said spokeswoman Angelynne Beaudry in a news release.
Beaudry's statement said the company never sought to reduce pay, but "to bring the existing health care and pension benefits in line with what we believe are mainstream for employees in the region, and transition union represented employees to the same or similar benefit plans as offered to other FairPoint employees, including management."
Reached Friday morning, Beaudry wouldn't immediately comment on whether the company plans to hire temporary workers during the strike.