VPR's coverage of arts and culture in the region.
Kirby Artist Dyes Fabric With Sumac And Indigo For Janis Joplin-Inspired Clothing
Keegan dips fabric into his sumac-based, natural dye.
Meryl Lebowitz
Using a mixture of ground pigment and mordant, Keegan creates an all-natural dye.
Meryl Lebowitz
Graham Keegan makes natural fabric dyes from plants he harvests near his home in Kirby.
Meryl Lebowitz
Recently, NPR has been exploring the concept of color and the impact that rich hues have in our day-to-day lives.
That's a topic that's near and dear to one Northeast Kingdom artist. Graham Keegan makes fabric dye from plants that he harvests near his Kirby home — plants like wild sumac and home-grown indigo. His natural dyes attracted the attention of a clothing line that pays homage to Janis Joplin. The late singer's niece, Malyn Joplin, has launched a clothing line called "Made for Pearl," and she's hired Keegan to design and produce fabric.
Keegan leads a visitor through his fabric-dyeing process.
First, he folds white twill into intricate packets, almost like fabric origami. Several individual burners sit nearby, ready to heat the liquid.
Next, he carefully measures out ground pigment made from sumac, and a special molecule called mordant, which helps pigments bond to fabric.
"The mordant controls the type of color you extract from the plants," he said. "For the sumac, there is a full range of colors that can be extracted, but I am using specifically gray for this project."
Once those are thoroughly mixed, the pigment will attach to anything dipped into the dye.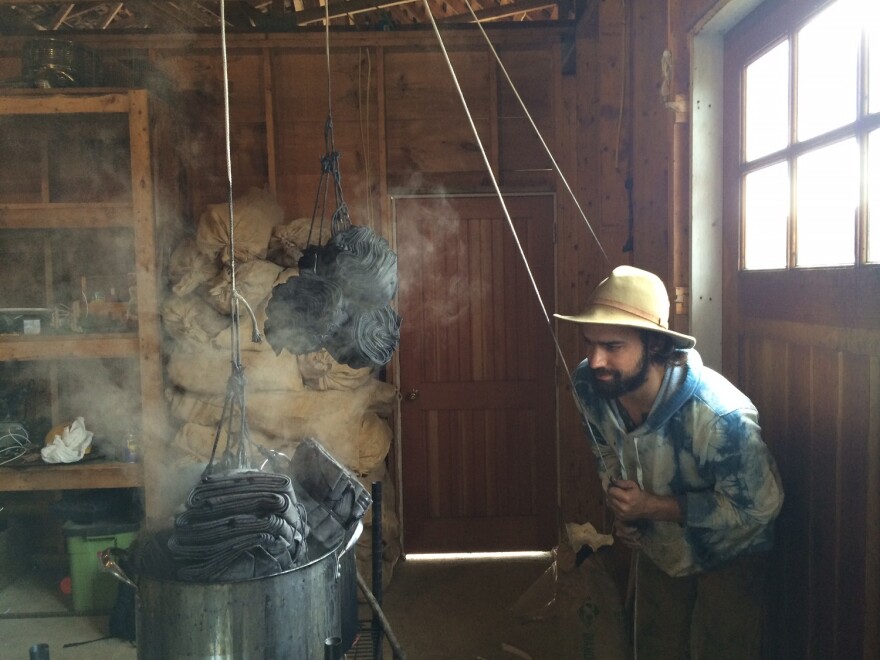 The next step is to boil the pigment and mordant mixture into an infusion. This takes about an hour, and requires constant stirring. Once the infusion is complete, Keegan transfers the mixture into a separate container and filters out the old plant matter.
All the pieces are dyed in small batches. Keegan dips the twill packets into vats of his boiling pigment, and out comes a geometric print with just a few hints of the tie-dyed rags popular in the late sixties.
"I have all of my pieces of fabric pre-folded into their shapes to be able to accept a specific color in a specific pattern, and then I'll immerse those into the dye bath."
Once the piece comes out, Keegan sets the dye itself. Using the bath of wheat bran, he sets the mordant onto the fabric.
"Then the piece is ready to rinse and dry."