VPR's coverage of arts and culture in the region.
'Judevine' Opera Returns To The Vermont Stage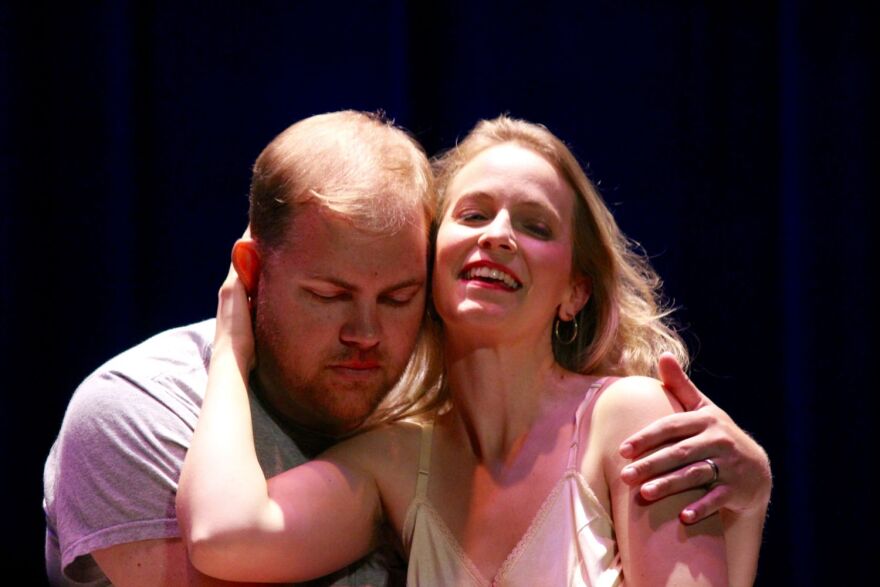 The curtain goes up this week on a new production of an opera based on characters from David Budbill's book and play, Judevine.
The production comes at a time when some of the story's themes have a new relevance.
One of the many stories in Judevine is about Tommy Stames, a veteran recently returned from the war in Vietnam.
His first deer season back in Vermont Tommy killed and gutted his prey, 'just as he had done in Vietnam,' Budbill writes.
Tommy is a walking war casualty, both distant from the people he knew and distanced by them - except for Grace, a single mother who is herself an outcast.
He writes a poem for her called A Fleeting Animal. The poem is about how it's impossible for innocence and love to survive in a cruel world.
The opera A Fleeting Animal was composed by Erik Nielsen of Brookfield and performed originally in 2000. Nielson says those responsible for reviving the work feel Budbill's story still has great relevance.
"We think its an important story that everybody ought to see because it explains a lot about life in Vermont. It's not just about a veteran. It's about a small town and the ups and down of living in a rural area," he says.
Nielsen says the story of a returning war veteran changed by his experiences has even more significance today – 15 years and two wars since the first production.
"One of the things that we set as a goal for ourselves was to make the opera not just an end in itself, but a way of opening up community conversations," Nielsen says.
After each of the six performances there will be a discussion with veterans and vet center staff about the impact of war on those who served.
Budbill says his character Tommy is based on the story of a Waitsfield Vietnam veteran who killed himself after he returned home from the war.
When Nielsen first proposed writing an opera based on the material in Judevine, Budbill says Tommy and Grace's story was ideal because it's so tragic.
"In this story not everyone is dead but they might as well be," he says.
Budbill created several additional characters for the opera production, including two African-American Vietnam vets who visit Tommy in Vermont.
The opera isn't only about veteran scarred by war, a part sung by Adam Hall. There's a richly rendered Grace, sung by Mary Bonhag.
As Bonhag explained recently on VPR Classical, Grace is working as a cleaning lady and raising four kids on her own in a trailer in the woods.
"[Grace] doesn't have a lot of joy in her life until she falls in love with Tommy and Tommy with her and they have this sweet, fleeting moment in the opera where life is good and they're in love and then everything changes. It's a real joy to play a character that's that complicated," Bonhag said.
It's the fleeting nature of their time together, and of happiness in general in the face of cruelty on both the war front and the home front, that gives the opera its title and it's resonance.
A Fleeting Animal Performance Schedule:
Friday, September 11: Barre Opera House 7:30 p.m.
Saturday, September 12: Elley-Long Music Center, Colchester 7:30 p.m.
Sunday, September 13: Hardwick Town House 4 p.m.
Friday, September 18: Woodstock Town Hall Theater 7:30 p.m.
Saturday, September 19: Vergennes Opera House 7:30 p.m.
Sunday, September 20: Chandler Center for the Arts, Randolph 4 p.m.
Hear A Preview
Enjoy this preview of A Fleeting Animal performed live on VPR Classical.