Follow VPR's statehouse coverage, featuring Pete Hirschfeld and Bob Kinzel in our Statehouse Bureau in Montpelier.
Lawmakers Close The Books On The 2016 Legislative Session
For the last six years, the same four men have occupied the most powerful stations in Statehouse politics. Their era came to an end shortly after midnight early Saturday morning, when the Vermont Legislature closed the books on the 2016 session. And the building that lawmakers left this past weekend will be a much different place in 2017.
Flanked by six lawmakers escorting him through the well of the House Chamber, Gov. Peter Shumlin strode to the speaker's podium to deliver the last legislative address of his gubernatorial tenure.
As Shumlin noted early on in his speech, he isn't the only one who won't be back next year.
"You know, tonight probably represents the biggest transformation in leadership in the Legislature in state government in the greatest state government in the country of any time in recent history," Shumlin said.
House Speaker Shap Smith, Lt. Gov. Phil Scott and Senate President Pro Tem John Campbell also are either leaving public service, or seeking different elected offices.
Their legacy in Montpelier sets the stage for the debate over who should replace them. And the partisan divide over the budget, tax and fee bills that won final approval on the last day of the session will largely define the general election campaigns of 2016.
"We have a structural budget problem with the state. This is not the way to fix it," House Minority Leader Don Turner said, rising on the House floor to express his party's opposition to a $5.7 billion state budget. "We need to start bending the curve on spending. And we haven't done that."
General fund spending will rise by nearly 4 percent next year under the budget approved Friday. With revenues slated to rise by less than 3 percent, Turner says this year's spending plan, like the ones that came before it under Democratic rule, outpaces Vermonters' ability to pay.
And instead of raising nearly $49 million in new fees and taxes that will be needed to support the budget, Turner called on lawmakers to cut their way out of the problem instead.
"Many of the critics of the budget never put forth any alternatives about how to cut anything," Smith said, defending the plan earlier in the day. "And it's easy to criticize. It's actually hard to do."
Smith says the budget honors the state's commitment to public infrastructure, education and social service without imposing undue burdens on Vermont households. Smith says Democrats' legacy over the past biennium is also defined by reforms to education and water quality standards.
And he and Shumlin say bills like paid sick leave, increases in the minimum wage and the so-called ban-the-box initiative – it aims to make criminal convictions less of a barrier to employment – cement the party's commitment to social justice reforms that will protect working class residents.
"Vermont will be the fifth state, the fifth state in America, to make sure its citizens aren't faced with the choice of going to work sick, or potentially losing their job," Shumlin said in his departing speech.
It wasn't all partisan strife Friday. Members of both parties worked in recent days and weeks to find consensus on policy reforms supported by a strong majority of legislators. Towns will soon have more say in the process used to site wind and solar projects, thanks to an energy siting bill that barely made it past the finish line.
Justice reforms will change the way courts handle younger offenders. And lawmakers will spend $250,000 to decide whether the state should bid on a series of large hydroelectric dams along the Connecticut and Deerfield rivers.
It was also a day of long goodbyes as lawmakers demonstrated that political disagreements haven't stood in the way of personal friendship. Essex Rep. Linda Meyers paid tribute on the floor to her retiring seatmate, Rep. Debbie Evans, D-Essex.
"Debbie's a D and I'm an R," Meyers said. "But Debbie and I have become friends, true friends, over these past years here at the Statehouse."
Earlier in the week, the Senate staged a farewell party for Senate President Campbell, who thanked his colleagues for their friendship and mentorship in his closing speech late Friday night.
House lawmakers saved their send off for Smith for Friday morning, when almost the entire House and Senate crammed into the Cedar Creek group to surprise the speaker.
They offered an irreverent resolution to Smith that recalled discoveries of alleged artifacts left behind in the speaker's office by his predecessors, including an "emergency reefer stash" and a gambling ledger.
Smith choked up after lawmakers thanked him for his leadership.
"We are lucky to serve in an institution that is so rooted in tradition, in its history, and is so tied to its people," Smith said.
Smith and Turner exchange a handshake and a warm embrace at the event.
"We are lucky to serve in an institution that is so rooted in tradition, in its history, and is so tied to its people." - House Speaker Shap Smith
Despite their ideological differences, Turner said later that "I have a respect of the man, and I will always have that."
"I can tell you, if he ever needed anything from me, I'd do whatever I can to help the guy, because I feel that way," Turner said. "I appreciate everything he's done."
The inter-party love may be on shorter supply as the election season ramps up, and debates over the tax and fees bill highlighted the divide that will frame the summer and fall campaigns.
Democrat are raising about $30 million in new general fund revenue to support the fiscal year 2017 budget. The majority of that money will come from increases in mutual fund fees. Calais Rep. Janet Ancel, chairwoman of the House Committee on Ways and Means, says tapping the large investment funds will leave most Vermonters unscathed by the increases.
"Our solution is actually much of the money that we're raising is going to be paid by people who don't live in Vermont," Ancel says.
Turner says targeting mutual fund fees and brokers fees might not be a terrible idea. He says the way Democrats are using the $24 million its raises is more of a problem.
"Instead of spending more, we could have taken that tax revenue, apply it to some of the money we already have, and lower Vermonters' tax liabilities," Turner says. "That's what I would have done."
"Instead of spending more, we could have taken that tax revenue, apply it to some of the money we already have, and lower Vermonters' tax liabilities." - House Minority Leader Don Turner
Turner says it's untrue that his party didn't come to the table with specific proposals for spending reductions.
"We put forth an amendment on the [state employee] pay act that would have reduced the workforce by natural attrition by 10 percent," Turner says.
Turner says the plan would have saved the state $52 million annually.
Shumlin, however, said Republicans were attempting to write a false narrative of fiscal irresponsibility. Since he took office in 2011, Shumlin says overall budget growth – including federal funds – has gone up by an average of about 3 percent a year, in line with rate of growth in revenues. And he says elected officials accomplished the task without raising income, meals and room, or sales tax rates.
Shumlin said lawmakers have a host of other initiatives that show their success since he took office.
Renewable energy generation has proliferated under his watch, thanks to financial incentives for electricity produced by wind and solar projects. Shumlin also cited the GMO labeling law, expansion of opiate addiction treatment infrastructure, automatic voter registration and record spending on transportation infrastructure as key successes.
Shumlin has said in recent days he's disappointed with the dissolution of an effort to tax and regulate cannabis in Vermont. He nonetheless used its defeat as material for his opening joke in his speech, noting that he was speaking to a "joint" assembly of the House and Senate.
"Thanks for putting together this joint session. Is this a legal joint session?" Shumlin said. "I knew that we could get this legal joint session in the House before we were done. Thank you."
Several key legislators depart Montpelier for the campaign trail. Burlington Rep. Kesha Ram and Chittenden County Sen. David Zuckerman are both running for the Democratic nomination for lieutenant governor. Smith, who dropped out of the race for governor last fall, has given strong indications he'll soon join them in a bid for that office.
Scott, meanwhile, is seeking the Republican nomination for governor. He used his departing speech to the Senate to underscore what he says is a strong track record of fiscal responsibility. He noted that, in his years as lieutenant governor, he's returned to state government $53,000 in unspent money from his office's annual budget.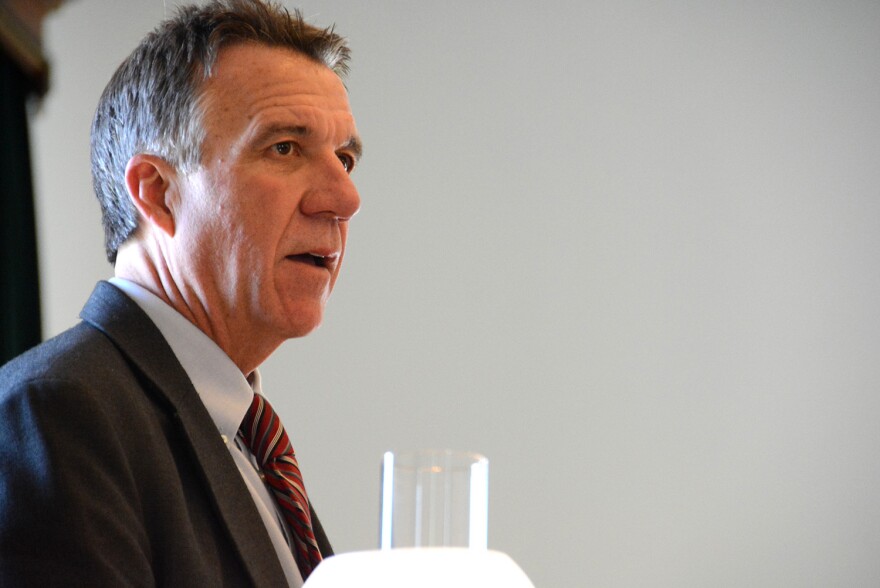 Lawmakers may have adjourned for the 2016 legislative session, but the full House and Senate might be back in Montpelier before next year.
On the final day of the session, lawmakers approved the formation of a working group to analyze whether the state should purchase a series of hydroelectric dams along the Connecticut and Deerfield rivers.
"We have some confidence that they'll come up with the right decision either to go forward or not to go forward," says Chittenden County Sen. Ginny Lyons.
Lyons says the bill approved Friday authorizes that working group to submit a bid for the dams on the state's behalf. If the state submits the winning bid, then lawmakers might have to return to the Statehouse this fall to decide whether or not to appropriate the money. The seller, international energy giant TransCanada, has indicated it wants to finalize a transaction before the end of the year.
Update 1:30 p.m. This story has been updated to include new information from and analysis of the adjournment.