In Winooski, Many See Refugee Resettlement As An Economic Advantage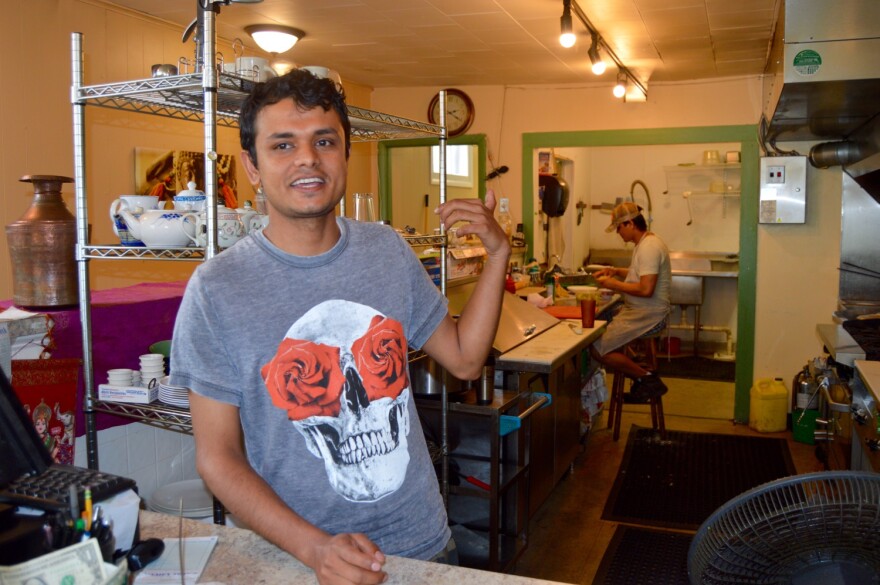 Rutland Mayor Christopher Louras says his efforts to create a refugee resettlement community in Rutland are morally and economically based. Rutland's population is declining and aging and Louras says young refugee families are hard working, entrepreneurial and will bring much needed diversity to the city.
Critics aren't convinced and many worry that refugees will end up being a burden on taxpayers. A good place to examine those concerns is Winooski, which has a large concentration of foreign-born residents.
Ray Coffey, Winooski's Community Services Director, says about 80 percent of the city's 7,400 people are white. He says the remaining 20 percent is made up mostly of refugees.
"Winooski is bucking a lot of Vermont's demographic trends," says Coffey. "We're significantly younger and getting younger than the rest of the state, obviously a lot more ethnically diverse than a lot of the state. And I think we are seeing anyone who watches real estate knows that if a house goes on the market it's gone in like three days."
Coffey says he and his wife moved to Winooski eight years ago because that's where they could afford to buy a house. "But I think we're at a point now where it's not just cheap houses that are drawing people here," he says. I think there's a real positive vibe and I think it's a really exciting vibrant community that people are excited to be a part of."
Many in the city like the new ethnic markets and restaurants that have sprung up, like The Spice Trader's Kitchen, a bright yellow restaurant on Main Street.
On a recent afternoon, six customers filled the small front seating area while owner Sudershan Adhikari, a Nepalese refugee, took an order over the phone.
"It's busy every day," he says. "A lot of catering orders, like this coming Saturday, 250 people order from high school, from college. It's busy, busy, busy," he says with a laugh.
The 29-year-old opened his restaurant last fall, less than three years after he arrived in Vermont. He employs five people and is already thinking about how and where to expand.
Amila Merdzanovic heads the Vermont Refugee Resettlement Program, a field office of the U.S. Committee for Refugees and Immigrants.
She says the program focuses on early employment and early self-sufficiency and they help about 200 refugees enter the workforce in Vermont every year.
Merdzanovic doesn't have hard data on the economic impact of Vermont's refugees, but says in 2015, 88 percent of all employable adults they worked with were considered self-sufficient after eight months.
"Even within first couple weeks people go to work. They rent in those communities, they shop in those communities, so they contribute to the taxpayer pool," explains Merdzanovic. Adding, "ultimately, a lot of people want to own their own homes."
City officials say refugees have not increased Winooski's municipal budget except for $10,000 that's now allocated annually for translation services at public meetings.
"Even within first couple weeks people go to work. They rent in those communities, they shop in those communities, so they contribute to the taxpayer pool." — Amila Merdzanovic, the Vermont Refugee Resettlement Program
Winooski Police Sergeant Michael Cram says in his more than twenty years on the job, refugees seem no more likely to commit crimes than the general population.
Amila Merzanovic, a refugee herself from Bosnia, says for most refugees, going back to their home country isn't an option, so most follow the rules and she says they tend to be incredibly driven.
Mohamed Abdullahi is among them. "Sometimes I have three jobs, sometimes I have two jobs," says Abdullahi. "Around Burlington and Winooski if you don't do three jobs then its very hard for you to pay your bills," he says.
The soft spoken 33 year old was just a boy when his family fled Somalia in 1991 because of civil war. "I was little, I can't tell a lot about it. But what I know is we left all our houses, property, everything. So it was so bad like that."
Abdullahi spent the next 18 years of his life living in a tent in a sprawling refugee camp in Kenya. "The houses were terrible, tents and little trees. And the dust," he says shaking his head and frowning, "the dust was like rain. It got everwhere."
He says he took advantage of what schooling was available and says he was lucky to learn English. Abdullahi also speaks Somali, Swahili, Oromo and a bit of Arabic.
"When I was in grade six, one of my friend and me wrote a letter to U.S. Embassy hoping we could come to United States for education so we had a hope that one day you'll be out of this grief."
"I never gave up hope," he says softy.
He and his wife arrived in Vermont in 2010 and he found work in hotels, hospitals, schools and at a YMCA. The past year he's been a driver for Uber so he could fit in classes at the Community College of Vermont. But that will change this fall. Abduallahi says he's been accepted to attend North Country Community College, where he'll study nursing.
It will mean a 90-minute drive to and from school each day and his wife will have to work for the first time. But Abdullahi says it will mean a better future for him and their four children.
Abdullahi says he has to make more money. Besides his own family, he supports his parents and siblings back in the refugee camp, something he says most other Somali refugees in Vermont do as well.
Some of those opposed to the resettlement plan in Rutland worry the Syrian refugees will be a drain on local and state resources. Abdullahi says he understands their concern but says you can't generalize. "Every people are different — everyone is different in America there are some 'lazies' who don't work," he says nodding. "Same thing, refugees they have some people the same thing. But I will say they will help you do a lot of stuff. They not taking the first time the skilled job what they're doing is the unskilled jobs."
Across town at his restaurant, Sudershan Adhikari points out Vermont didn't give him a handout, it gave him an opportunity. "The community of Winooski, the community of Burlington, they give me an opportunity to open this restaurant. They help me and that is why this business goes up ... same as the Rutland [community]. I think if the community of Rutland [gives] the opportunity to the refugee — they will do this type of business or other good work there."
Down the street, Janice Provost walks to work at a Winooski insurance agency. The Colchester resident is not a refugee and she admits it can be stressful when someone comes in who has difficulty speaking English but she says she's taught herself to slow down and really listen. "If you could slow down and actually talk to someone, it just connects you, it bonds you. It's hard, but it's definitely worth it."
"We can't say that we're diverse — we can't say that and not be that. We have to put our money where our mouth is and do it. It can't be in someone else's yard." — Janice Provost of Colchester
Provost says her daughter will be attending college out of state because she wanted to go to a larger city with more cultural diversity. That's important to young people says Provost, and if Vermont wants to attract and keep them, she says people will have to overcome some of their fears of those who are different.
"We can't say that we're diverse — we can't say that and not be that. We have to put our money where our mouth is and do it. It can't be in someone else's yard. I mean we're all here together in this world so we have to change we have to adapt to that."
Provost likes what she sees in Winooski and thinks Rutland's efforts to welcome 100 Syrians is another step in the right direction.