VPR's coverage of arts and culture in the region.
Local Photographer Brings Movement And Sound To Still Portraits
Audience members watch Vermont student and actor Claude Mumbere on a hi-def TV screen while listening to an audio track for Todd Lockwood's latest exhibit, 'Cinema Portraits,' which combines still photography, audio and short film to tell a story.
Stephen Mease, Champlain College
Todd Lockwood's still portrait of two-time Vermont Poetry Out Loud winner Claude Mumbere for Lockwood's new exhibit, "Cinema Portraits," on display now at Champlain College.
Stephen Mease, Champlain College
South Burlington artist Todd Lockwood said he waited for "something evolutionary to share" before he mounted a new show.
He said he feels that time is now.
"Portraiture Reimagined," currently on display at the Champlain College Center for Communication and Creative Media, combines three of Lockwood's careers. He is a portrait photographer, a fiction writer and has decades-long expertise as a sound engineer and record producer as owner of White Crow Audio in Burlington.
In his opening remarks unveiling the exhibit in June, Lockwood said that as far back as 1975 he had wanted to " ... marry the look of a studio portrait with the power of film."
At the time, he shot black-and-white photographs and film of Cordelia Garrett laying in her bed in a Denver hospital. He was using 16-mm movie film but says the result wasn't compelling enough and went back to shooting still portraits.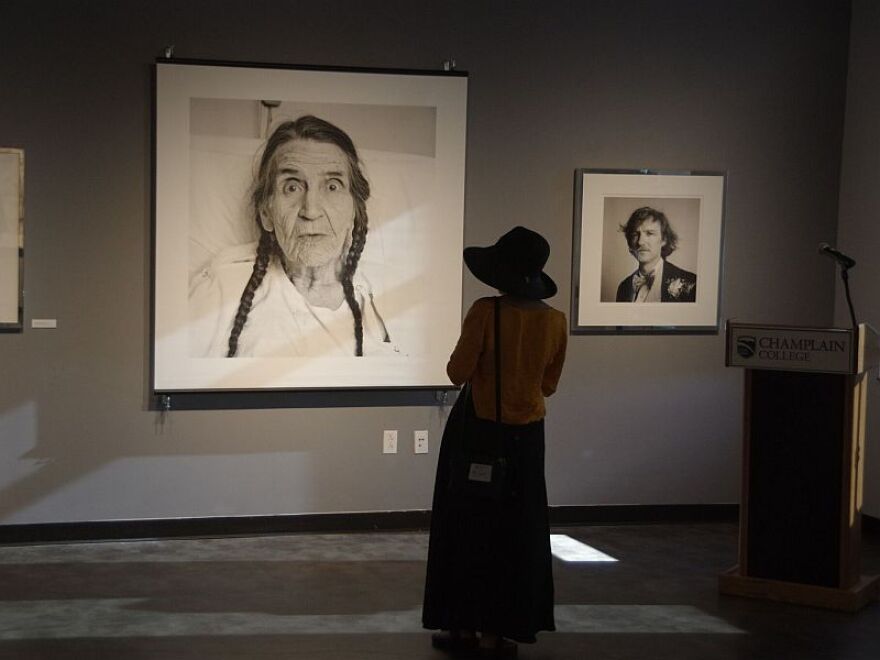 He said he only had to wait for the results shot by newer digital movie cameras to match what film-based movie cameras are capable of capturing.
For this recent project, Lockwood and his subject first decide on an audio piece that will accompany the moving image. The person might recite a poem or a letter or play a song, which Lockwood then records.
Next, the person sits in Lockwood's studio with just a white back drop and one single light.
While his subjects — many of whom are part of Vermont's arts scene — are seated and Lockwood is zeroing in on their faces with his digital film cinema camera, he plays back the audio they've created and then captures their reaction to the performance.
The result is an intensely personal glimpse for the viewer, which Lockwood describes as a "pipeline of understanding between the sitter and the viewer."
Lockwood said combining these elements give him " ... a powerful means to tell these human stories."
"They want to share their souls, and I'm here to help them do that." - Photographer Todd Lockwood
Framed classically-composed black-and-white stills that Lockwood has shot over the years are also part of the exhibit.
"Portraiture Reimagined" is on display at Champlain College's Center for Communication and Creative Media through Sept. 3.