In a series of special reports and personal profiles, VPR News explores mental health issues in Vermont.Reports: The Acute Care System; Community Mental Health; Corrections; Involuntary MedicationProfiles: Vermont Mother; Paige Corologos; Anne Donahue; Marla SimpsonThis project was made possible by the VPR Journalism Fund. Learn more about the series State Of Mind.
In Mental Health Crises, Local Emergency Rooms Are Vermont's Default
People experiencing a mental health crisis in Vermont don't always have swift access to therapeutic care. And that's a problem with no easy solution.Before a patient can be admitted to a mental health treatment facility in Vermont, he or she has go get medical clearance. And in many cases, that medical evaluation happens at the local hospital emergency room.
But often, after a doctor gives the medical clearance, the patient still has to wait for a mental health care bed to become available. And, in small hospitals around the state, that can mean an extended stay in the emergency room.
Michael Brigati is the emergency department nurse director at Copley Hospital, in Morrisville. He says it's a situation that's far from ideal.
"We're not a therapeutic environment for the patient," says Brigati. "We don't have trained mental health counselors. We don't have psychiatrists to do med management … The environment in the ER, if you've ever been a patient in there, is not calm, collected. At times it can be chaotic, loud. So it has a potential to escalate these people while they're in crisis. It's not a good environment to hold patients in."
Sometimes doctors determine patients need one-on-one observation, for their own safety or the safety of others. In those cases, Brigati explains, someone needs to be with the patient at all times. Often that someone is a local police officer or sheriff's deputy.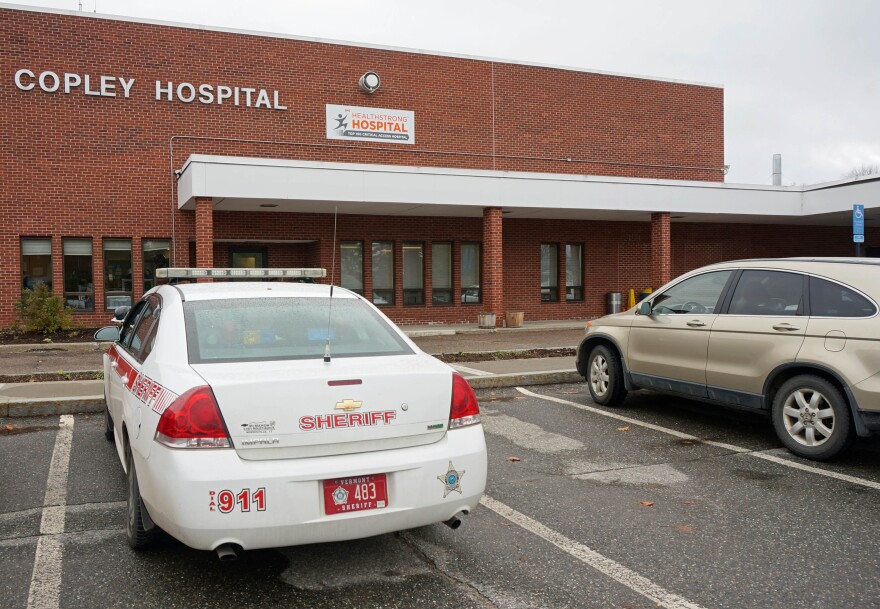 "Law enforcement is used to augment our staff," he explains. "We have invested time and training into our staff so that they know what to look for, how to document behaviors and interventions that we use – the minimal interventions that we use. Law enforcement is then used to augment them if the patient is exhibiting signs that put either the patient or our staff at risk."
Morristown Police Chief Richard Keith says that can put a strain on a small department like his.
"If they're a high-risk patient, they want two officers there 24/7, as long as it takes," he says. "We've probably been there as much as four days straight, around the clock."
Morristown Detective Ryan Bjerke adds, even outside the ER, they've had more encounters with people with mental health problems since the state hospital in Waterbury closed five years ago.
"The frequency to which we encounter cases involving people that are either experiencing a mental health crisis or have underlying mental health issues is increased, because they're re-integrated into the community," says Bjerke. "So we come in contact with it much more frequently than we were back before the state hospital had closed."
"We come in contact with [mental health issues] much more frequently than we were back before the state hospital had closed." - Morristown Detective Ryan Bjerke
Copley Hospital also partners with Lamoille County Mental Health Services, where Monique Reil is the mobile crisis team manager. She says the problem goes beyond just a lack of mental health beds.
"Sometimes when there are beds that someone could go to, but a potential receiving hospital doesn't feel comfortable taking that person. Then the client has to sit in the emergency room until we can find a bed for them," says Reil. "While they're there, they're really not getting any psychiatric help."
Case in point is a Copley ER patient waiting to be transferred to Brattleboro Retreat. Brigati says while the bed was available, adequate staffing was not.
"We were told we had a bed at 4 a.m. this morning, that we had a call report at 8:30," says Brigati. "At 8 a.m., they called and told us they didn't have staff to accept this patient. So now this patient will sit in our ER until Brattleboro has enough staff to provide the one-on-one observation that this patient needs. In the meantime, we're providing that one-on-one observation with our sitters."
Those sitters can be non-medical hospital employees, law enforcement or staffers from Lamoille County Mental Health. But they aren't trained mental health counselors, nurses or doctors.
Like small, rural hospitals around Vermont, Copley has seen an increase in mental health patients at its ER. And now the hospital's policies are catching up to its practice. While the hospital has long had procedures in place, it's just now adopting a formal policy about the use of hospital sitters. That's because the hospital was ordered by the state to have such a policy, after an inspection in August.
Monique Reil sees a double-standard in the health care system when it comes to mental and physical health care.
"Someone with a mental health crisis is treated differently than someone with a physical health crisis," she says.
Reil has high praise for Copley's staff and local law enforcement, but she says there needs to be systematic change.
"Someone with a mental health crisis is treated differently than someone with a physical health crisis." - Monique Reil, Lamoille County Mental Health Services
"Anyone who comes into an emergency room with a heart attack or a broken leg gets not only immediate treatment for the problem, but if they need to go to a different level of care, that bed is found very quickly," says Reil. "… Someone with a mental health crisis does not get treated the same way. They're often stuck waiting for days. We've had people waiting for a week or longer to get into a psychiatric bed."
Until there's systematic change, Chief Keith says the best they can do is continue to handle each crisis as it comes.
"We've all come a long ways," he says. "I wish I had some wood to knock on, because we haven't had any in a couple weeks. But we take it case by case."
And Copley's situation is not unique. Many of the smaller hospitals around Vermont have struggled with the added responsibilities around caring for people in a mental health crisis.