Follow VPR's statehouse coverage, featuring Pete Hirschfeld and Bob Kinzel in our Statehouse Bureau in Montpelier.
Audio & Transcript: Speaker Of The House Mitzi Johnson's Acceptance Speech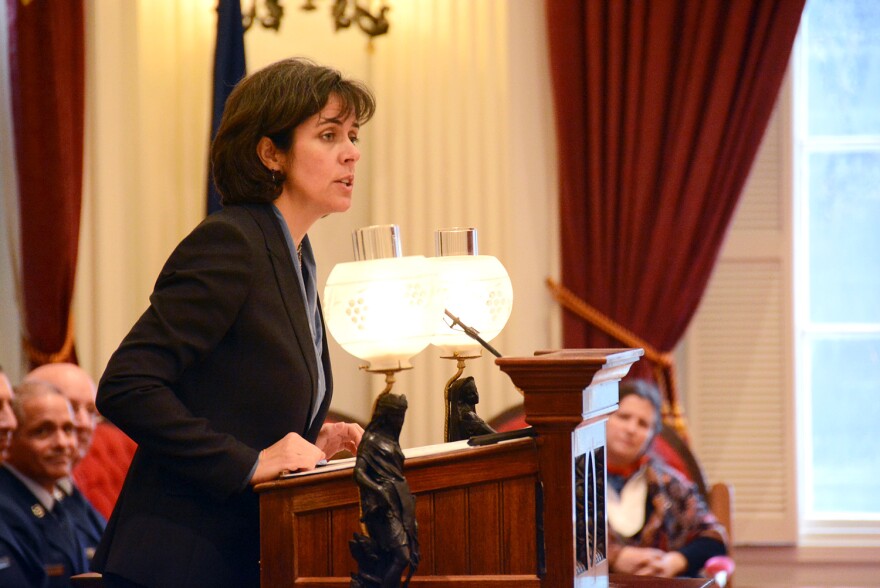 At the start of the 2017 legislative session Wednesday, South Hero Rep. Mitzi Johnson was sworn in as Vermont's new speaker of the House.
The members of the Vermont House voted 100-50 in favor of Johnson over Rep. Linda Myers.
Shortly after being sworn in, Johnson address those gathered in the chamber.
Here is the full text of Johnson's acceptance speech:
Thank you.
As I stand here, humbled by your support and the confidence you placed in me, I, like all of us here, have much for which to be grateful today. At the top of my list is family, some of whom are here with me today:
My steadfast partner Bill, my parents, my aunt and political mentor, my sister and my fabulous niece Nora. Thank you for all of the many ways you have each supported me, and given me a thick skin, which will come in handy.
I am appreciative too of all members for stepping up to serve the communities and the state we all love. It's such a thrill to serve with bright, engaged, feisty colleagues who care so deeply. For the many new members joining us, welcome! We're each here because we care about our communities and want to keep our state on the path to a prosperous future. When things get heated around here- and they will- please remember that the person who is perhaps not bringing out your best self- is also here because they care and are doing their best to serve.
My first request of you all is to focus on being curious and asking good questions. The campaign process tends to herd us toward simple sound bites-like those that you see on campaign literature- but the answers are not as simple. Take time to understand the problem we're trying to solve. And we have a lot of tough problems to tackle.
We have an economy that boasts one of the lowest unemployment rates in the country for years running. Our median income is higher than the national average. But the distribution of good jobs and wages is not evenly distributed in our state- so how do we spread that economic opportunity to all areas of Vermont?
We can be proud of the investments we make to support our neighbors when they fall on hard times. Too often, the very same people we are trying to help can find themselves trapped in poverty, because a better job, an overtime shift, or taking a promotion causes them to lose more supports than they will gain in raises. How can we address the pressing problem of building ladders out of poverty that do not come with built-in disincentives?
We are faced with a changing climate that poses challenges to our agriculture, public health, tourism base and ecology as well our state infrastructure and budget. How can we do our part to mitigate the effects without threatening our economy?
The big question at the heart of our work is: How do we meet the many challenges of building a strong healthy future, in a way we can afford?
I'll admit, that if I had the answers to these difficult questions, I wouldn't have held out on you for 14 years. But I know we can make progress on them together.
We owe Vermonters good, honest, and effective government. That is why I am asking this House to evaluate state government and prioritize what Vermonters most need, so that we may preserve the long-term health and wellness of our state. We are committed to working with the administration to get this right.
To streamline this process, I have also taken a hard look at areas of jurisdiction for each committee. A resolution before you redistributes responsibilities and evens out workload and supports more energy and holistic discussion to the problems that Vermonters need us to address.
All of forest policy, as well as parks and recreation, will move to Agriculture for a true Working Lands committee; For the first time in 20 years, energy policy and its associated regulation and consumer protection will be united, and joined with telecom and broadband issues in a new Energy and Technology Committee. This committee will have the oversight of IT projects within the state. Not only will it support legislative expertise in IT oversight, it will also free up Government Operations to focus on good government, and Commerce to devote more time to economic and job development. To take one step closer to true mental health parity, oversight of mental health policy will move from Human Services to the Health Care Committee.
Effective democracy honors disagreement and debate. A member here once said "It's the majority's job to steer the ship, and it's the minority's job to point out the rocks."
There is a reason that our system of governance allows the people of the state to choose a majority to lead the way, but understands the importance of dissenting voices. Vermont is benefited by keeping all perspectives at the table and protecting the minority voices.
To the member from Milton, the member from Middletown Springs and your caucuses, as well as the Independents among us, I pledge to protect your voices, and the critical role you play, while you respectfully and productively point out the rocks. And to the member from Burlington and your caucus, Vermonters have sent you here as the majority party of this chamber to guide this ship- To you I pledge my partnership in the difficult work of governing.
I thank you for entrusting me to serve as your Speaker. Together, we will continue to build a stronger, more prosperous future for Vermont. Let's get to work.