Public Post is a community reporting initiative using digital tools to report on cities and towns across Vermont.Public Post is the only resource that lets you browse and search documents across dozens of Vermont municipal websites in one place.Follow reporter Amy Kolb Noyes and #PublicPost on Twitter and read news from the Post below.
Emergency Providers Question New Ambulance Service Tax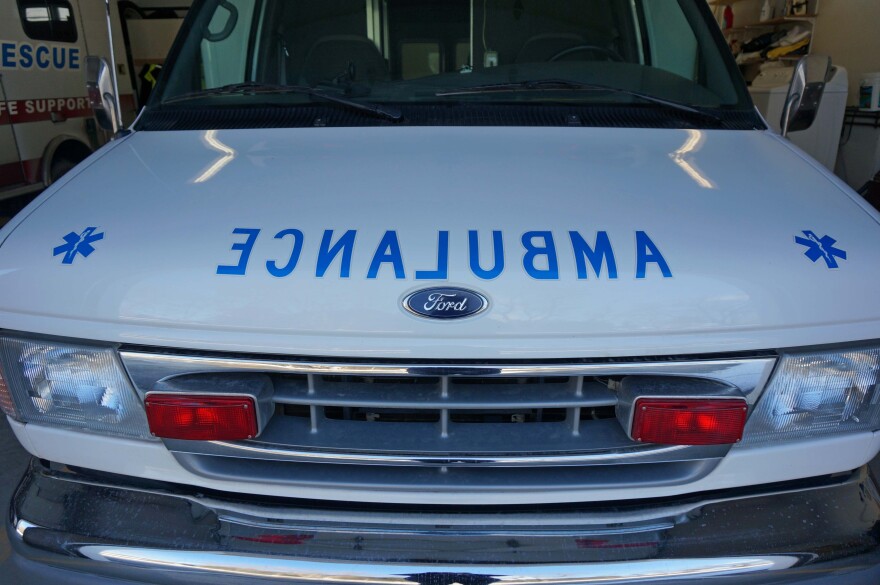 When an ambulance is dispatched to a medical emergency, the medical responders don't stop to ask how they'll get paid. They help first, and ask questions later.
Until this summer, if a patient was insured through Medicaid, the responding department was paid less than 45 percent of the reimbursement rate allowed under Medicare.
Audio for this story will be posted.
The Vermont Legislature addressed that problem last year by creating a provider tax on ambulance services. Although the new funding formula is intended to boost insurance reimbursements to local ambulance services, it has left some departments scrambling for money in the short-term.
It's the same tax structure imposed on hospitals. Now ambulance departments must pay a 3.3 percent tax on services rendered. That money will be used to draw down matching federal dollars that will go back to the providers in the form of higher Medicaid reimbursements.
Jim Finger is president of the Vermont Ambulance Association, which worked with the Legislature in drafting the law.
"I know that the Legislature did their best to try to make sure that all services received the increase from 43 percent of the allowable to 80 percent of the allowable," he says. "That was done, it started in July."
Now ambulance departments are being asked to pay the provider tax by this spring. As Finger explains, the association believes the vast majority of Vermont ambulance departments will come out ahead.
"So hopefully the increase in the income will more than pay for the tax," he says. "And according to the study, it does it for most all services."
But not every department is confident that the higher reimbursement rate will more than offset the tax.
Teena Betourney is co-director of the nonprofit Middlebury Regional Emergency Medical Services. She says her department is facing a big bill and she isn't sure how to pay it.
"For our department, [it is] around $27,000," she says. "And we run on a very tight — like within pennies —budget, so not having planned for that at all … we're set back."
Betourney says since the higher Medicaid reimbursement started in July, revenues are up a bit. However, the bump so far doesn't come close to covering the provider tax.
"Because our budget is so tight," she explains, "we only plan so much every year for things like training for our crew, supplies for the trucks, things like that. We didn't plan on this one."
"The biggest issue is that most services are nonprofits and we run from paycheck to paycheck here." - Middlebury Regional EMS Co-Director Teena Betourney
Betourney and other ambulance service providers say they had no way to plan for the tax, because the law didn't exist until six months ago. And, she says, some departments are facing much higher tax bills.
"Some of the larger agencies like Rutland or Bennington, their tax is going to be upwards of $100,000 because they run 6,000, 7,000, 8,000 calls a year. We run around 2,500 a year," she says. "The biggest issue is that most services are nonprofits, and we run from paycheck to paycheck here."
Last month, ambulance providers received a reporting form from the Department of Vermont Health Access. It asks for net patient revenues from July 2015 to June 2016, in order to calculate the ambulance department's tax bill.
Ambulance providers like Betourney point to the fact that the law took effect in July 2016 – and say they're being asked to pay taxes on services rendered the year prior to the law being enacted. But the Department of Vermont Health Access doesn't see it that way.
"It is not a retroactive tax," says outgoing Commissioner Steven Costantino. VPR caught up with him by cell phone on Thursday – his last day on the job. He says the tax isn't on services rendered in the fiscal year that ended last June. But that is the time period used to estimate the tax for the current year.
"How provider taxes generally work … whether it's a hospital provider tax or another type of provider tax, you use a previous year as a base to formulate what you're taxing," he says.
And Costantino says he's confident the new funding formula will mean more revenue for the vast majority of ambulance services in Vermont in the long run. However, there will be some departments that serve fewer Medicaid patients that will end up with a net loss.
Costantino says that can't be helped, because federal tax laws state any provider tax has to be broad-based and uniformly-imposed, meaning all departments must pay in at the same rate.
Costantino says Vermont Health Access is willing to work with local ambulance services on plans for paying the tax this first year. But federal regulations forbid the state from forgiving any department its tax obligation – even if it's a nonprofit service.