Explore our coverage of government and politics.
Here Are The Towns That Voted On Sanctuary Status And Immigration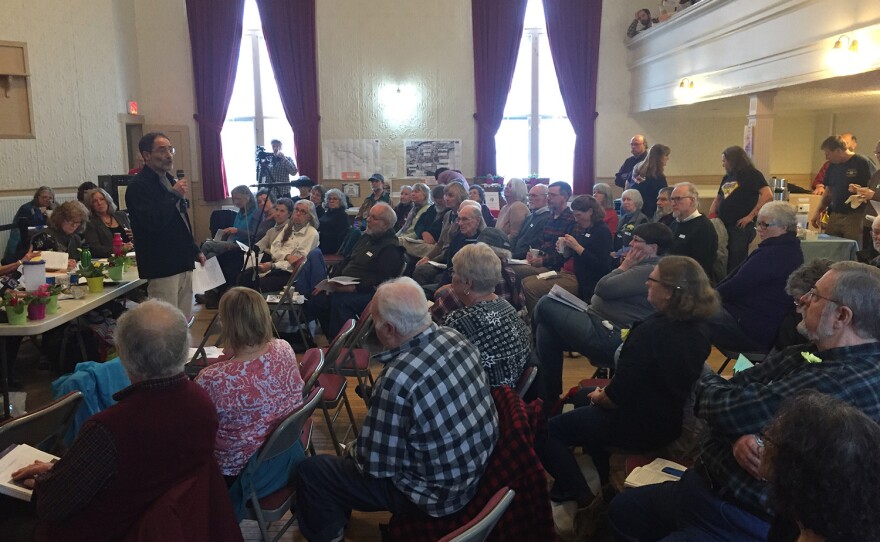 A number of Vermont communities took up Town Meeting resolutions in response to intensified deportations of undocumented immigrants and President Trump's new order suspending all refugee resettlement and barring visas for citizens of six Muslim-majority countries.
In some cases, voters decided to declare their communities "sanctuary towns." In other instances, they decided on different language. In at least once case, they rejected a proposed resolution.
Monday evening, Bennington voters agreed to declare the town a "welcoming community for all peoples, including undocumented persons, immigrants and refugees."
According to the Bennington Banner, the wording was changed from the original resolution, which declared Bennington "a safe sanctuary."
That resolution took direct aim at Trump's order by stating that "town, state county and federal officials shall not in any way support or enforce any profiling, discrimination or other conduct which follows the referenced executive order in practice or in theory."
The amended and approved resolution states, "Now therefore the people of the Town of Bennington hereby resolve that our town shall be a welcoming community for all peoples including undocumented persons, immigrants, and refugees."
In E. Montpelier, Select Board member Carl Etnier says voters approved a resolution "welcoming immigrants in the community and asking the Town to direct its employees not to inquire into any resident's immigration status or religious affiliation as part of their official duties."
In neighboring Plainfield, voters declared the community a sanctuary town that "will have policies that direct employees to refuse the application of any request from a state or federal agency that requires the identification of a resident's immigration status…"
In an email, outgoing Select Board Chair Bram Towbin said the vote was 67 to 13. Towbin says there were those who spoke passionately for and against the resolution. When it came time to vote, "a request was made from the floor for written ballots rather than show of hands as some people felt intimidated."
Calais voters also approved a resolution declaring the town a sanctuary for refugees and asylum seekers and stating it would "not participate in Federal efforts to deport undocumented immigrants."
Related:
In Marshfield, voters also declared their community a sanctuary town and, among a number of provisions, called on legislators to "add immigration status to the exemptions under the public records law."
In an email, Marshfield Town Clerk Bobbie Brimblecombe says the sanctuary town article was amended to advise, rather than direct, town employees to refuse any request from a state or federal agency that requires identifying a resident's immigration status. Brimblecombe says this approach is consistent with advice from the Attorney General's office.
Berlin also passed a sanctuary town resolution during its floor meeting. The Times-Argus reports that Gov. Phil Scott was among those casting a "nay" vote.
Marlboro resident Kelly Salasin says voters in her town approved a "Declaration of Inclusivity" supporting the civil right of all people.
Seven Days reports that similar resolutions stating that their communities respect diversity and welcome refugees and immigrations were approved in Morrisville and in Richmond.
The newspaper also reports that Hartland rejected a sanctuary town resolution by a 163-49 vote. Seven Days' Katie Jickling says there were concerns the resolution would hurt local businesses.
According to the Brattleboro Reformer, Putney voters unanimously approved an article, "declaring our intention to welcome and protect the rights of immigrants and refugees who seek to come to our state and our community". The paper says a similar resolution was passed in Randolph.
According to voters in Westminster and Dummerston, resolutions supporting and welcoming refugees and diversity were passed unanimously at meetings in those towns.
(This story has been updated to add results from Putney, Westminster, Randolph and Dummerston)
Did we miss your town? Email us at news@vpr.net.