Follow VPR's statehouse coverage, featuring Pete Hirschfeld and Bob Kinzel in our Statehouse Bureau in Montpelier.
As Adjournment Nears, Budget Agreement In Jeopardy Over Issue Of Teacher Health Plans
The prospect of a gubernatorial veto is suddenly looming large over budget negotiations in Montpelier, where intractable differences over the future of teacher health care benefits are threatening to derail a late-session compromise between Republican Gov. Phil Scott and Democratic leaders in the House and Senate.
Scott has spent the first four months in his new post pressing for cost containment in a K-12 public education system that now costs taxpayers about $1.6 billion a year. About two weeks ago, Scott caught lawmakers by surprise with a proposal that would move negotiations for teacher health care benefits from the local level to a statewide contract.
Scott says the plan would save $26 million a year in education costs, money he'd use to boost funding for higher education, increase child care subsidies and provide property tax relief.
Democratic lawmakers bristle at the concept of a statewide teacher health care contract, but say they're open to the idea of capturing teacher health care savings. And on Wednesday morning, House Speaker Mitzi Johnson and Senate President Pro Tem Tim Ashe unveiled what they say is a more palatable compromise.
"There is no disagreement about capturing the $26 million. There has been little to no disagreement about trying to recoup as much savings as possible to the benefit of taxpayers," Ashe said. "This proposal is a way to do it without fundamentally uprooting the collective bargaining process."
The Legislature's plan would leave it to districts to negotiate those savings, and lawmakers would then use the money to lower property tax rates for those individual districts. The more savings a district negotiates, the more tax relief that community would see as a result.
"We are not interested in literally in the last week of the session contemplating a departure from decades of the way school boards and teachers negotiate." — Senate President Tim Ashe
Scott, however, says he's convinced that the promise of $26 million in savings hinges on the state taking over teacher health care negotiations from local districts. Without that provision, or some other way to assure the savings, Scott says the Legislature's plan is nothing more than a "hope and prayer."
"What I've seen today, the amendment that's being put forth, it doesn't do it," Scott said at an impromptu press conference Wednesday evening.
House Republicans have called on Scott to veto the budget if lawmakers don't assent to his teacher health care plan. Scott said Wednesday that he doesn't issue veto threats lightly.
"I like to give a little latitude to legislators to do the right thing, to take the politics out of this," Scott said. "Sometimes I've found over the years that if you paint someone in a corner, they come out and they're very defensive."
Scott made it clear nonetheless that survival of whatever budget the Legislature sends him could hinge on the issue of teacher health care contracts.
"I think it would be irresponsible for us to leave this building without recouping these savings," Scott says.
Virtually every school district in the state is renegotiating its teacher health care contracts this year. That rare occurrence is a product of the federal Affordable Care Act, which has compelled districts and teachers to transition employees into a new kind of health insurance product.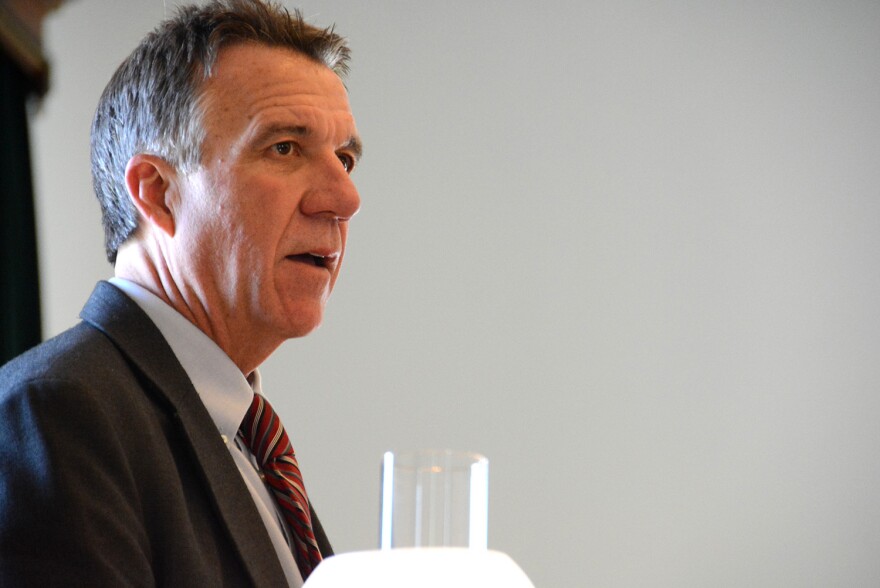 By all accounts, the new plans will cost less than the old ones. Johnson says premiums will be "drastically reduced … over what we currently see."
"You will find there are a lot of opportunities there for savings to be had," Johnson says.
Johnson, Ashe and other Democratic legislators say those savings will accrue even without a statewide teacher health care contract. Individual districts, they say, have as good a reason to drive a hard bargain with the union as the state would under a statewide framework.
"Your local spending, your base budget will go down for the future," Ashe says. "There is an incentive for school boards to negotiate tough deals with the teachers because they will benefit by a lower per-pupil spend in the future, by direct result of lower health care expenditures."
Scott disagrees. And so do the school boards that will be negotiating those teacher health care contracts.
At a press conference announcing his plan last Tuesday, Scott introduced a number of school board members to make the case on his behalf.
"Quite frankly, most of us are in over our heads when talking about health care issues," said Geo Honigford, president of the Vermont School Boards Association, and a board member in Royalton.
Brook Dingledine, an attorney and longtime member of Randolph School Board, said the collective bargaining playing field is tilted in favor of union negotiators.
"The level of sophistication that has now been presented in terms of what people need to learn about if they're negotiating these contracts is mind-boggling," Dingledine said.
Nicole Mace, executive director of the Vermont School Boards Association, says if teacher health care deals that have already been struck are any indication, then districts individually won't come close to seeing the $26 million savings figure her organization projects would result from statewide contract negotiations.
Seven districts have already reached agreement with teachers.
"My fear is that district-by-district negotiations will lead to benefit plans that are more rich than they currently are," Mace says.
Since this is the first rounds of contract negotiations for the new insurance products, Mace says abandoning the governor's plan could have long-term financial consequences.
"My fear is that district-by-district negotiations will lead to benefit plans that are more rich than they currently are." Nicole Mace, Vermont School Boards Association
"This isn't just about $26 million," Mace says. "This is about establishing a new baseline for health insurance that, if not done thoughtfully, could lead to escalation of costs in the next few years."
The Vermont-NEA, however, says Scott's proposal "isn't collective bargaining." Collective bargaining, according to union president Martha Allen, is between an employer and its workers. Since it's the districts that employ the teachers, she says, it's the districts that need to be at the bargaining table.
The Vermont-NEA sent out a Tweet Tuesday, urging constituents to call their lawmakers to vote "no" on the "Scott Walker-like proposal by the Governor."
The Tweet is a reference to Wisconsin Gov. Scott Walker, who touched off a national firestorm over labor rights when he signed legislation in 2011 that imposed new restrictions on collective bargaining for unions.
Key Democrats share the union's concerns.
"We are not interested in literally in the last week of the session contemplating a departure from decades of the way school boards and teachers negotiate," Ashe says.
If Scott is interested in pursuing a statewide teacher health care contract, Ashe says he can return to lawmakers with a proposal next year.
"What is not a one-time chance is this larger discussion about fundamentally changing the way that teachers bargain with school districts," Ashe says.
Scott though says it's now or never. Never again, he says, will all teacher health contracts be up for renegotiation in a single year. And he says that means this is the state's one shot to take over bargaining authority for those plans.
Scott has plenty of support at his back. On Wednesday, former Wall Street executive Bruce Lisman, his former rival in the Republican gubernatorial primary, announced that he's begun running ads in newspapers, on radio and online urging Vermonters to call the Statehouse in support of Scott's plan.
Republican Rep. Scott Beck plans to offer an amendment Wednesday night that would add near-identical version of Scott's plan to House legislation. And House Minority Leader Don Turner says if the House doesn't adopt something akin to what Scott has called for, then they stand ready to sustain his veto.
"I am 100 percent confident," Turner said Wednesday. "If this provision is not included in some way, shape or form where taxpayers receive a benefit, I am confident that we will sustain the governor's veto."