34,000 Watch Burke Ski Academy Alum, Gold Medalist Mikaela Shiffrin Win At Killington World Cup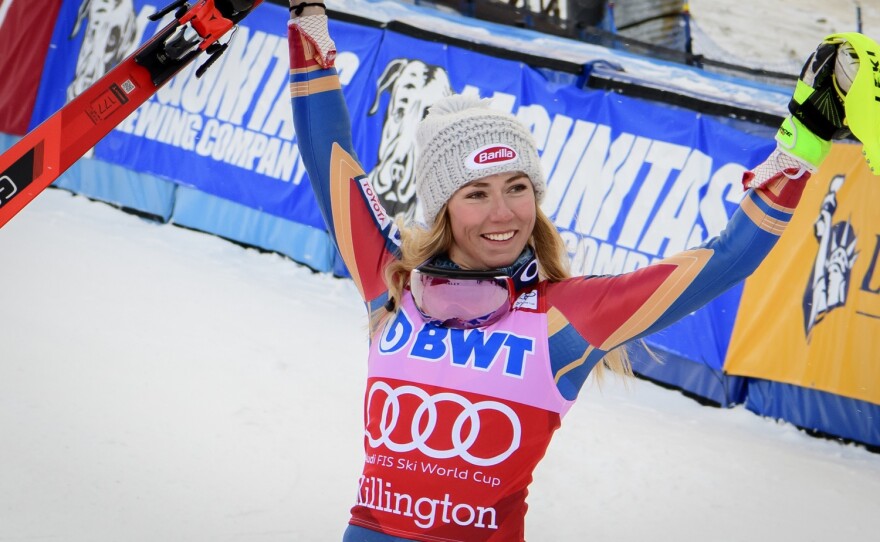 Mikaela Shiffrin celebrates her slalom win Sunday at the World Cup in Killington.
Andrew Shinn
Mikaela Shiffrin celebrates winning first in Slalom with second place finisher Petra Vlhova of Slovadia on her left and Austria's Bernadette Schild who took third on her right.
Andrew Shinn
Fans roared as skier Mikaela Shiffrin took first in Sunday's slalom race and second in Saturday's giant slalom at the World Cup ski races at Killington.
Shiffren, an Olympic gold medalist and Burke Ski Academy alum, was the crowd favorite at the weekend event, which attracted even more spectators than last year.
The party got an early start Saturday morning and by 7 a.m., large crowds were making their way through security.
Killington President Mike Solimano was handing out programs, greeting people as they arrived and teasing familiar faces among the crowds that walked past.
A team of volunteers standing nearby passed out cowbells by the box full and the air was full of their Alpen clanking and shouts of Happy World Cup Day!
By race time, officials estimated there were 18,000 people on hand to watch Germany's Viktoria Rebensburg, who won Olympic gold in 2010, beat 64 of the world's fastest women skiers to win the giant slalom. Shiffrin was about half a second behind, while Italy's Manuella Moelgg came in third.
Many in the crowd, like Jen Blount of Sudbury, Massachusetts, brought her kids, who are young ski racers.
"Our kids were up at 4:30 in the morning, they couldn't wait to get here," she said smiling and added: "You know, it's seeing their hero [Shiffrin] coming down the hill, so it's hard to beat."
Killington is the third stop on the women's World Cup circuit this year, following races in Austria and Finland.
Competitors will travel to Lake Louise, Canada for next weekends' races.
Mikaela Shiffren's strong showing in Killington solidified her standing as the the overall leader in women's World Cup skiing.
The 22-year-old is a hero to many in the Northeast because she attended Burke Mountain Academy and spent part of her childhood in New Hampshire.
Dave McKenna, whose kids race for the Quechee Ski Club, knows this only too well. "Mikaela Shiffrin is the one everyone looks after," he said nodding.
He said there are stories some of the members of the Quechee ski team tell about kids having raced against Shiffrin about ten years ago.
"And so those stories live on in the mythology of the ski team," says McKenna, with the kids thinking, "maybe some day they can be like her."
As a way to encourage young racers at the World Cup, Killington officials invited members of the Quechee team and dozens of other race clubs from across Vermont and the entire Northeast to march into the venue each morning in special parades.
About a thousand kids were lined up on Saturday. Rutland resident Marie Gillmond stood among them alongside her son and daughter, who ski for the Pico Ski Club.
"The World Cup sets a great example," she said. "And it's fantastic fun."
"We were here last year and I will never forget my son, at 9- years-old, turning around to me Sunday afternoon, saying, 'this is the best mom.' "It was incredible," said Gillmond, "so we're doing it again. And we'll do it next year too," she added.
Sunshine and temperatures near 50 degrees made it easy for fans on Saturday, but the weather got decidedly more wintry on Sunday with steady snow and falling temperatures.
Killington officials used 15 million gallons of water to create the snow that the racers competed on. And then snowmakers injected it with even more water to make it like a sheet of ice, "bulletproof," one described it.
U.S. team member Resi Stiegler said that while visibility got a bit tricky on Sunday, the snow was great. "Both days the snow was in perfect condition so when it's hard like this it doesn't really matter what's going on. And it's better for everyone in the field."
Besides the conditions, Stiegler said skiing in the U.S. with such supportive fans was a blast. "It's awesome! You can hear them cheering at the top and I love that. It's one of my favorite things when you're in the gate," added Stiegler. "You kind of get giddy. It's like, yes!"
"And then halfway down the pitch you're usually getting tired and you can hear it again," she said laughing. "It's like [the cheers are telling you] 'come on you can do it.' So I like that, and the louder the better."
Stiegler had a decent finish in the slalom, coming in 21st out of 62 racers.
But all eyes were on Mikaela Shiffrin.
She came in second in the giant slalom on Saturday and had fans screaming after she laid down an incredible pair of runs in the slalom race on Sunday, winning first place by more than a second and a half.
Talking to reporters afterwards, Shiffren joked it felt a little like "Ground Hog Day" since she won the slalom last year at Killington as well. But she said this year was even sweeter.
Shiffrin admitted she was struggling with nerves and that the stress of staying on top was weighing on her. She said she'd been working hard on her mental game and felt like this weekend was a step in the right direction.
"I'm normally nervous for races," said Shiffrin. "But I didn't feel like I totally froze in the race today and that's how I like to race, so it was definitely sweeter. And to see my family to have them all come up on the podium and take a picture after the race. It's really hard to tell you how that feels, but I'm a family person; so that was incredible."
By the end of Sunday, Killington President Mike Solimano said 34,000 thousand people had attended the international race, 4,000 more than last year.
There were 150 reporters on hand to cover it, many of whom spoke a different language.
And Solimano, who looked tired but pleased, said they had more than 400 volunteers helping out.
"It really is a whole Vermont and New England event for us. If you look at the race crew, the race crews came from Stowe and Sugarbush and Stratton. It's not just a Killington thing," he said. "And so the support of the race community in the area has been amazing."
That all bodes well for Killington, which will host the World Cup again next year.