Explore our coverage of government and politics.
Environmental Groups Dubious Of Scott's Plan For Volkswagen Settlement Money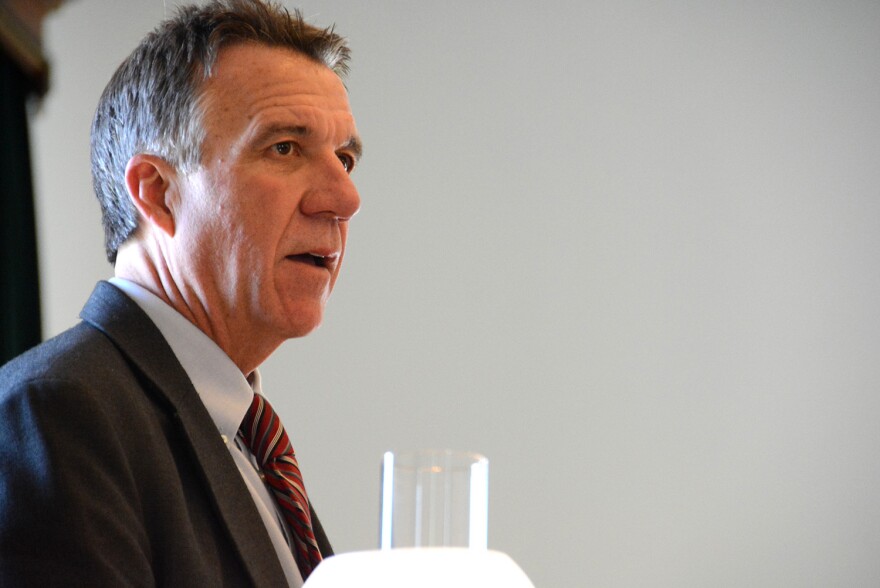 Gov. Phil Scott presented his plan Wednesday for how to spend money from one of the largest environmental settlements in state history, but the proposal is already drawing fire from some environmental groups.
Vermont will receive nearly $19 million from Volkswagen over the next three years as part of a multi-state settlement with the car company. The company agreed to the payout after selling a half-million vehicles with so-called "defeat devices," which were designed to cheat air emissions tests. More than 3,000 of those vehicles are now registered in Vermont.
"It's disappointing this deception took place at all," Scott said at a press conference Wednesday. "And I understand some damage can never be undone."
But Scott says his administration's draft plan for spending the settlement money will help reduce harmful vehicle emissions in Vermont.
"Funds will go towards projects that reduce nitrogen oxide emissions by replacing or repowering diesel vehicles with cleaner, innovative technologies," Scott says.
The draft plan comes from an inter-agency panel assembled by Scott earlier this year. Deputy Secretary of Natural Resources Peter Walke says the money will go to public and private sector initiatives that replace conventional transportation infrastructure with cleaner alternatives.
He says those projects could span a wide range of transportation projects, including "large and medium freight trucks, transit and school buses, locomotive freight switchers, airport ground supply equipment, forklifts, ferries and tugboats."
The administration's approach is already drawing criticism, however.
Sarah Wolfe, with the Vermont Public Interest Research Group, says the plan could result in a scattershot approach that disperses only small amounts to various clean-energy projects.
"That's going to have a very small impact on Vermont's economic growth, the ability to transform the market to new, clean technology, and the ability for us to really see how this technology can work here in Vermont," Wolfe says.
Instead, VPRIG is calling on the administration to invest the bulk of the money in electrifying public school buses across Vermont.
"If instead the plan was clear and up front and said: 'This is what we want to do, this is how we want to make a difference: We want to electrify as many school buses in Vermont as we can using these funds,' you'd see a real impact from these dollars," Wolfe says.
Brian Shupe, executive director of the Vermont Natural Resources Council, criticized the governor's plan for allowing settlement money to be used for the purchase of vehicles that use "clean diesel" engines.
"Though eligible for funding, 'clean' diesel is not clean, and it squanders a good opportunity to use these funds to create a more clean, 21st century transportation system," Shupe said in a written statement.
House Speaker Mitzi Johnson said Wednesday afternoon that she was still reviewing the administration's draft plan. But she says the Legislature will hold its own hearings on how the money should be disbursed.
"We'll have a chance to look through it and work with the administration on authorizing how best to invest this money for Vermont," Johnson says.
Scott says the administration is eager to get public input on the draft plan, and has opened up a 45-day comment period. The Agency of Natural Resources will hold a public meeting on its proposal in December.