Follow VPR's statehouse coverage, featuring Pete Hirschfeld and Bob Kinzel in our Statehouse Bureau in Montpelier.
As Tax Hike Looms, Scott Asks Lawmakers To Consider Reductions In School Staff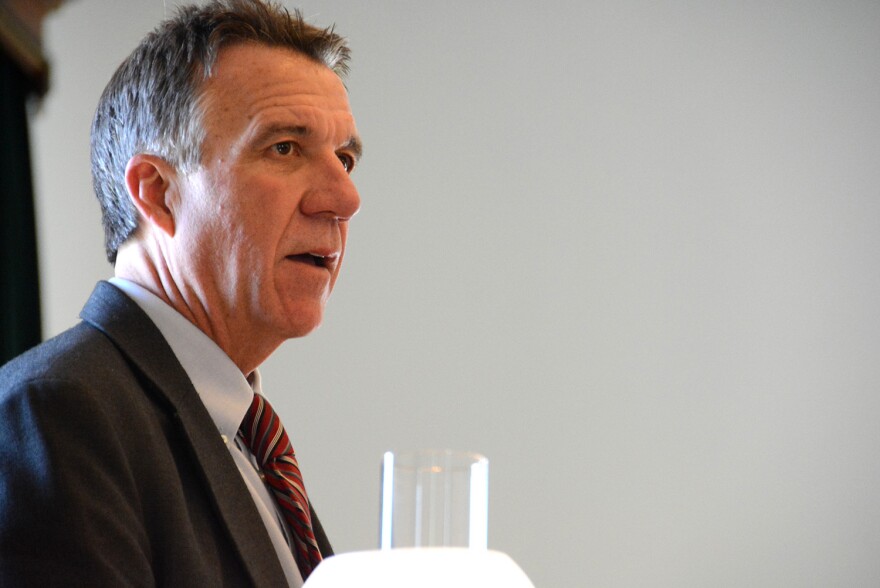 A mandatory reduction in staff at public schools across Vermont is among the list of "ideas" that Gov. Phil Scott is asking lawmakers to consider as his administration looks to stave off a projected increase in next year's statewide property tax rate.
Secretary of Administration Susanne Young sent a memo to lawmakers Thursday afternoon that outlines more than a dozen possible mechanisms for curbing the rate of growth in education spending.
Read the full memo
By increasing the staff-to-student ratio from 4.25-to-1 to 4.45-to-1 over the course of the next school year, the memo says, Vermont could save $30 million annually.
"It is our view that Vermonters want us to work together and be willing to think outside the box that has constrained education financing discussions for many years," Young wrote in the memo. "And we know they want us to stave off the continued growth in statewide property tax rates, which has been increasing faster than wages."
Vermont will spend $1.6 billion this year to educate 76,000 students, landing its per-pupil costs among the highest in the country. During his State of the State address earlier this month, Scott blamed unchecked growth in education spending for the 7-percent increase projected for next year's statewide property tax rates. And he vowed to come up with a plan to stop that rate hike from happening.
The administration memo includes several possible ways to avert a near-term increase in those tax rates, such freezing special education rates for independent schools, or requiring teachers to pay a higher percentage of their health insurance premiums.
It also includes what the administration calls a "variable growth cap" on school districts. Schools with per-pupil expenditures of $11,000 or less, for example, would be allowed to raise their budgets by 4 percent. Schools with per-pupil costs of higher than $18,000, meanwhile, would be allowed zero increase in their budgets.
Any budget increases that exceeded the growth cap, under the idea put forward in the memo, would have to come directly from taxpayers within the district, not from the statewide property tax.
Young says in her memo that the Legislature needs to think beyond the next school year as well. And the administration is asking lawmakers to consider a "school consolidation commission" that would oversee closure of schools with especially low student enrollment.
"There is an idea on there about a commission to look at closing small schools," Young said in an interview Thursday. "If there are schools that are no longer viable, how would we go about redesigning the delivery of education to those communities?"
At a press conference Thursday, prior to the release of the memo, Scott emphasized that the list of ideas was merely that — "ideas."
"It's not a proposal," Scott said. "It's a list of ideas, a number of ideas we have where we think we could save significant dollars. And so we want them to consider some of those. It's a menu."
A number of lawmakers deferred comment on the memo Thursday evening, saying they needed more time to digest its contents.
Bristol Rep. David Sharpe, the chairman of the House Education Committee, said the Democratically controlled Legislature looks forward to hearing the Republican governor out. But he said ideas like imposing mandatory staff-to-student ratios, for instance, often look better on paper than they do in the classroom.
"Schools recognize that they need to decrease staff. They also have more and more responsibilities around mental health," Sharpe said. "We're increasing the level of responsibility that we're putting on schools to deliver services to students."
For that reason, Sharpe said, he doesn't see "how the state can reach into local school districts and manufacture these ratios."
"I think that's a very difficult conversation," Sharpe said.
As for Scott's main argument — that Vermonters can't afford, and won't abide, a 7-percent increase in the statewide property tax — Sharpe said the situation isn't as dire as Scott suggests.
Last year, lawmakers used tens of millions of dollars in reserves and one-time funds to reduce the statewide property tax rate. Sharpe says that means the cumulative increase in the statewide rate over the past two years is actually close to the rate of inflation.
"So to say that we have a crisis now because we put all the money on our credit card last year that we're going to have to pay off this year is not the way I see the story," Sharpe said.