Castleton University President Explains Need For Recent Cuts And Plans For Future Growth
When Castleton University announced last month it was facing a $1.5 million budget shortfall, it raised concerns in Rutland, where the college has expanded in recent years.
The university's new president, Karen Scolforo, said she had some idea of the challenges facing the college during her interview process, but she admitted the full scope of the shortfall was not clear until she took over from longtime president Dave Wolk in December.
"He did so much for this region and really laid a strong foundation," Scolforo said.
"But when we saw the enrollment start to decline — and this has been over a couple of years — he [Wolk] wanted to protect jobs. And so to do that, we ended up with this deficit. And so at this point, it's just not sustainable," she said.
According to its website, Castleton University currently has about 1,900 full-time students.
Scolforo said they have about 450 employees, 280 of them full time. It's unclear how many will need to be cut, she explained, "but the goal is to save as many jobs as possible."
The Vermont State Colleges System is grappling with declining enrollment. Scolforo said it's forced her and her team to focus on how best to provide a high-quality, affordable education to existing students while finding new ways to boost future enrollment.
She said they'll take the remainder of the semester to identify where restructuring can take place for operational cost savings. Three faculty task forces have been formed to assess current programs, identify potential future programs and improve and assess the ways the university delivers education.
With that in mind, Scolforo has already made some significant cuts, including ending the university's financial partnership with the Rutland Economic Development Corporation and its director, Lyle Jepson, who also served as Castleton University's dean of entrepreneurial programs.
"It was an incredibly painful decision," admitted Scolforo. "My hope is that we continue to work together very closely, so that REDC and Castleton will have a strong relationship, but it'll be different."
The university also eliminated Scott Dikeman's position as dean of administration.
"Scott was incredibly well respected," Scolforo said, adding that while he and Jepson held highly valued positions within the university and local community, "if I have to choose between that or faculty in the classroom, my priority is with my students and their learning experience."
Besides the staffing cuts, she said the university will give up its downtown Rutland office space, which REDC has been using, at the end of this year.
Scolforo said the Castleton Center for Schools, which has also been based in downtown Rutland, has been moved back to campus, while the university's polling institute, which had been in Rutland until this past fall, has been dismantled and the entire program halted — at least for now, Scolforo explained.
"It's a really neat thing and it's prestigious for a university to have a polling center," she said.
But it also cost the university $120,000 a year to run, which she said they simply can't afford right now. Scolforo said the polling center's director, Rich Clark — a tenured political science professor — will remain on the university's teaching staff.
Two new dormitories in downtown Rutland, which house a total of 70 students, will remain, she said, and she's excited about new programs the university plans to launch.
"For the first time in the fall, we're going to be offering courses, full programs, in Rutland. We're going to be partnering with the Community College of Vermont," said Scolforo. "And we'll be offering classes right in their brand-new building, [in] downtown Rutland. We're going to start with a few bachelor degree programs that will serve their graduates, but we're also looking to bring in some master's degrees."
It's a collaboration she says the university plans to launch at CCV's Winooski campus as well.
Scolforo says both campuses have wonderful, state-of-the-art classrooms available in the evening and on weekends — times preferred by nontraditional students. Students would matriculate through Castleton University and be taught by Castleton faculty but make use of classroom space in Rutland and Winooski, she said.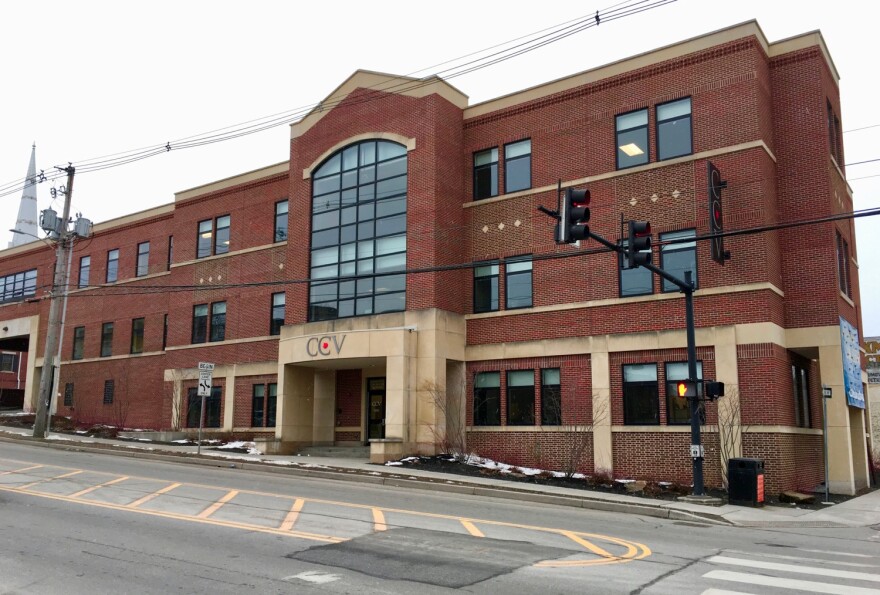 Christopher Ettori, a member of the Rutland City board of aldermen and administrative manager at CCV in Rutland, admits he was disappointed to learn of the university's cuts in downtown Rutland, but says the new proposals are a good sign.
"Because I think having the university as part of our region is an important one for us," he says.
Ettori says Castleton University already offers scholarships to every graduate of CCV that wants to continue their education, making it more affordable for students to get their bachelor's or master's degree through Castleton.
But Ettori said CCV offers classes at night once a week, whereas the Castleton model has been a more traditional one, where students need to attend classes two or three times a week in 50-minute blocks. Adapting to Castleton's schedule, he said, was difficult for some students.
"So as Dr. Scolforo is re-envisioning what this collaboration can be and offering more nontraditional schedules, the more likely they'll get the CCV students into their programs," added Ettori.
Scolforo, too, believes a wider variety of online and classroom-based instruction is what's needed to appeal to a broader range of students.
For instance, she said this came up when she met with members of the Rutland Young Professionals.
"They want an MBA and they want it in Rutland," said Scolforo. "So this is the type of work that we need to be doing, having these types of conversations to understand better how we can serve this region better in positive ways."
Scolforo believes keeping their undergraduate tuition as affordable as possible along with new, lower tuition prices for graduate courses will help them attract more students, which she says is vital to their future financial health.