Follow VPR's statehouse coverage, featuring Pete Hirschfeld and Bob Kinzel in our Statehouse Bureau in Montpelier.
Scott, Lawmakers In Delicate Dance To Avoid Government Shutdown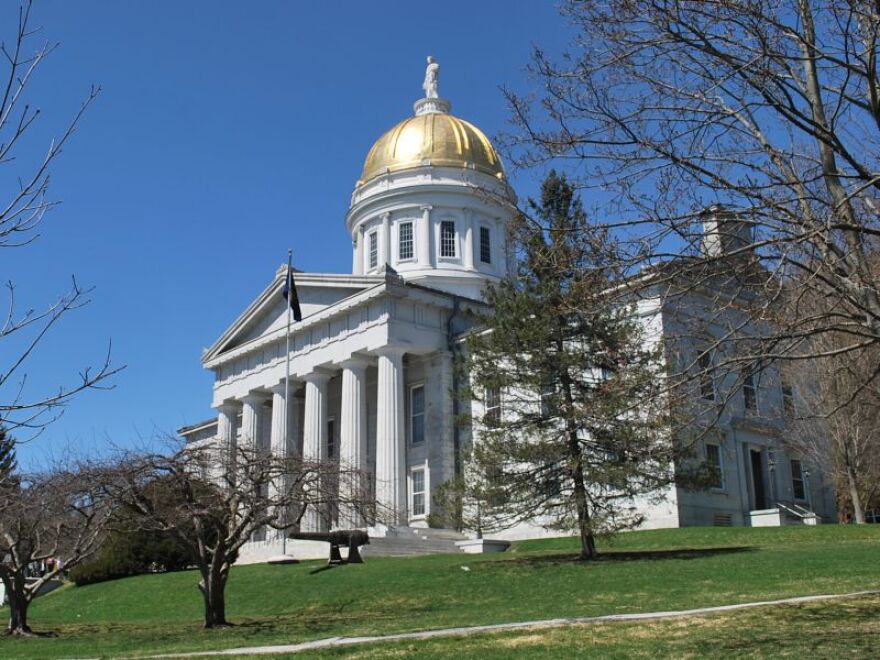 Republican Gov. Phil Scott and Democratic lawmakers are inching closer to a budget compromise that would avoid the possibility of a government shutdown. But when it comes to the core issue that led to the impasse, the two sides remain at odds.
Scott last week vetoed the budget and tax bills passed by the Legislature. Scott says he supports the vast majority of lawmakers' $5.8 billion spending plan. But he says the Legislature's failure to use $34 million in one-time money, to stave off an increase in statewide property tax rates, forced him to axe their budget bill.
Lawmakers want to use that one-time money instead to buy down future pension obligations. And with the fiscal year set to expire on June 30, and the two sides hopelessly at odds over the property tax issue, the specter of a government shutdown has begun to loom over budget negotiations.
This week, Democratic leaders in the House and Senate put forth a proposal they say would take the risk of a government shutdown off the table: pass a budget that includes all appropriations except the $34 million that's the source of the discord, and hash out the property tax fight in a separate bill.
Danville Rep. Kitty Toll, who chairs the House Appropriations Committee, says the proposal ensures state government won't become a casualty of a policy dispute that centers on a relatively small portion of the overall budget.
"I think it does alleviate the pressure on some of the questions about the government shutdown on July 1. It shows we have a path forward." — Gov. Phil Scott
"Our agencies and departments will be able to continue their work. The money will be there for paving projects and road and bridge projects. The education fund would not be left with a $400 million hole," Toll said Tuesday.
Scott said Wednesday that he's open to lawmakers' plan.
"I think it does alleviate the pressure on some of the questions about the government shutdown on July 1," Scott said. "It shows we have a path forward."
Scott, however, said he hasn't seen lawmakers' budget plan in full. And he said he won't sign the bill unless he's convinced lawmakers will still have an "incentive" to bargain over whether to use the one-time money to buy down property tax rates.
"It really does depend on the details of what's included and what's not included in this budget proposal," Scott said. "And there needs to be an incentive for everyone to get to the table to negotiate on the $34.5 million in tax increases on Vermonters, in terms of property taxes."
House Minority Leader Don Turner said Wednesday that if Scott does sign a budget that includes everything except the $34 million in question, the governor will lose the leverage he'll otherwise need to convince lawmakers to hold the line on statewide property tax rates.
"As soon as this passes from my perspective, there's going to be no sense of urgency to work this out … what's the incentive? Government's going to go on. Legislators are going to go home," Turner said.
House Republicans registered their opposition to Democrats' new budget proposal by using a procedural maneuver Wednesday afternoon to block a vote on the legislation. House lawmakers will now need to wait two days in order to hold the vote.
And while Scott said he may be open to Democrats' latest budget plan, he doesn't share lawmakers' urgency to get that budget passed and signed into law.
"I believe whether it's done next week or four weeks from now it doesn't really matter," Scott said.
In testimony to House lawmakers Tuesday, however, State Treasurer Beth Pearce said the longer the budget impasse goes on, the higher the risk to the state's bond rating.
"We don't have a lot of time," Pearce said in an interview Wednesday. "the longer we wait, the more likely it is that it's tarnishing our reputation in the financial community."
Toll said she shares Pearce's sense of urgency, and that she can't understand why the Scott administration does not.
"[Pearce] said solving this impasse is critical now," toll said. "And so if [Scott's] saying there's no urgency, he needs to have a conversation with the state treasurer."