Follow VPR's statehouse coverage, featuring Pete Hirschfeld and Bob Kinzel in our Statehouse Bureau in Montpelier.
With Shutdown Looming, Lawmakers Back In Montpelier Today To Salvage Budget Deal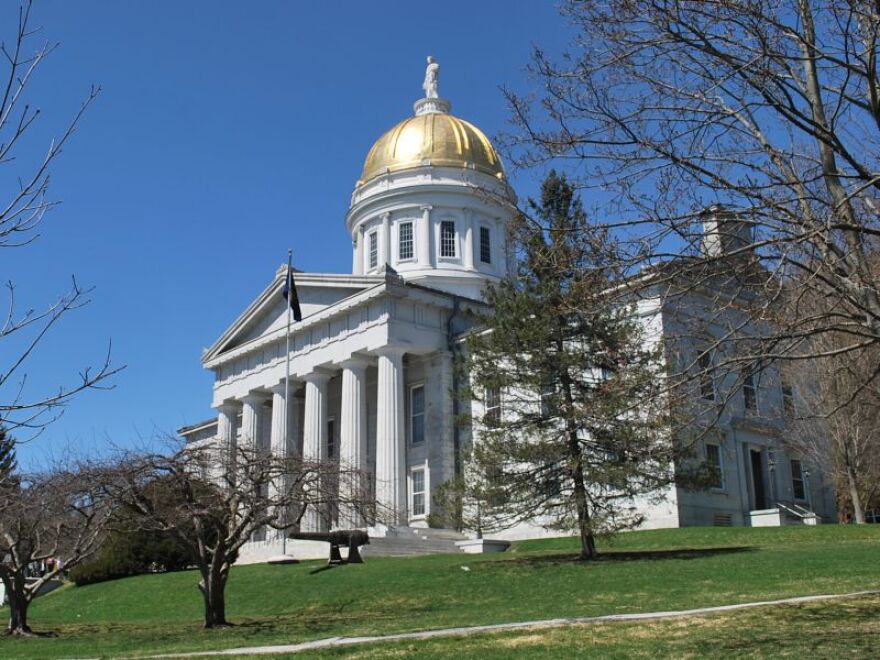 After coming tantalizingly close to a budget deal Friday, elected officials return to Montpelier today to resume their efforts to get a spending plan in place before the fiscal year expires at the end of the week.
Update: 2:48 p.m.
The #VT Senate just gave final approval to the state budget- the Legislature's 3rd of the year. The spending plan now heads to @GovPhilScott, who has voiced serious concerns with the bill.
The big question now-will Scott allow it to become law? Or issue yet another veto? #vtpoli

— Peter Hirschfeld (@PeteHirschfeld) June 25, 2018
Original story:
The weekslong budget impasse between Democratic lawmakers and Republican Gov. Phil Scott appeared to break Friday afternoon, when House Speaker Mitzi Johnson and Scott emerged from closed-door negotiations with a compromise to which both sides had agreed on principle.
But the bargain involved the use of more one-time money to buy down statewide property tax rates. And Senate Majority Leader Becca Balint said Sunday that her chamber will not abide the new plan.
"If we have, you know, another Hurricane Irene — if we have, you know, an uptick in the opioid crisis — we have real serious concerns that we won't have money on hand to do other things that Vermonters will need us to do," Balint said.
The issue of how much one-time money should be used to lower statewide property tax rates has been the main sticking point between lawmakers and the Republican governor. Scott wants to use one-time money to keep rates flat next year. Democratic lawmakers, including Senate Finance Chairwoman Ann Cummings, say it's a "fiscally irresponsible" way to use the surplus.
"We feel really strongly that we don't want any additional money to go to an artificial buydown. But we're going to come with an open mind, and hear what the speaker and her team has to say." — Senate Majority Leader Becca Balint
As the standoff progressed in recent weeks, lawmakers have passed spending plans that move closer and closer to the governor's position. Last week, the Senate passed a budget that would keep residential property tax rates flat and would lower, by a few cents, the projected rate increase in the nonresidential rate.
After Scott said he still wouldn't support the proposal, House leadership met with administration officials to try to find middle ground — and by Friday afternoon, they appeared to have succeeded. But Senate leadership said it won't sign off on the new compromise, and so the deal fell apart.
"The element that was most problematic to us is that it commits more one-time money next year to hold down property tax rates. And that's been the issue all along," Cummings said in an interview Sunday.
Scott vetoed the first two budgets lawmakers sent him. Balint and Cummings said the spending plan passed by the Senate last week — its third of the 2018 legislative session — is viewed by Senate Democrats as their last best offer. And they said the caucus is unlikely to support a budget that uses any more one-time money to buy down tax rates.
"Because we know that if we do that, we will have an even bigger hole to fill next time, and a potentially even bigger tax increase next time," Balint said.
Of the deal between Scott and House leadership, Balint said, "it all felt like we were giving away too much of our principles on the Senate."
Balint said House and Senate leadership have been having one-on-one and small group meetings over the weekend, and that both sides will meet over the course of the day Monday to reach a consensus proposal. Balint said she hopes to have a final budget passed before the end of the day Monday.
"We feel really strongly that we don't want any additional money to go to an artificial buydown. But we're going to come with an open mind, and hear what the speaker and her team has to say," Balint said.
The question now is whether the House and Senate can come to terms on a budget that Scott will sign, or at least allow to become law without his signature. With six days left in the fiscal year, if the three sides can't find a compromise, then the state will — for the first time in its history — go into a government shutdown.