Want To Move To Vermont? State's New 'Stay To Stay' Program Can Help
Imagine your cousin calls and tells you he wants to move to your town. If you like your cousin, you might say, "Come visit! I'll show you the sites, pass around your resume and have you meet some of my friends."
It's not a cousin connection, but a new program in Vermont called Stay to Stay works much the same way.
Wendy Knight, commissioner of Vermont's Department of Tourism and Marketing, said the state launched the program to attract new residents and grow the state's workforce.
"Vermont's been promoting three-day weekends for skiing and romance for years," said Knight, "so we thought it would work to create a three-day package as an exploratory vacation for people who are actually interested in moving to Vermont."
She said in the five communities taking part — Burlington, Brattleboro, Rutland, Bennington and Manchester — it's working so far.
Getting people to move here is critical because Knight said population data over about the last 20 years indicates the number of older Vermonters – those 65 and up – has grown four times faster than younger Vermonters aged 20 to 34.
"So that's a problem for us," Knight said.
Employers, like GE Aviation in Rutland and Mack Molding in Arlington, as well as many others across the state, are having a hard time finding enough new workers.
And that's pushed the state to get creative. For instance, Vermont made national headlines in June when the state announced it would pay people $10,000 to move here and work remotely.
Knight said publicity surrounding that offer has generated lots of interest in the Stay to Stay Weekends.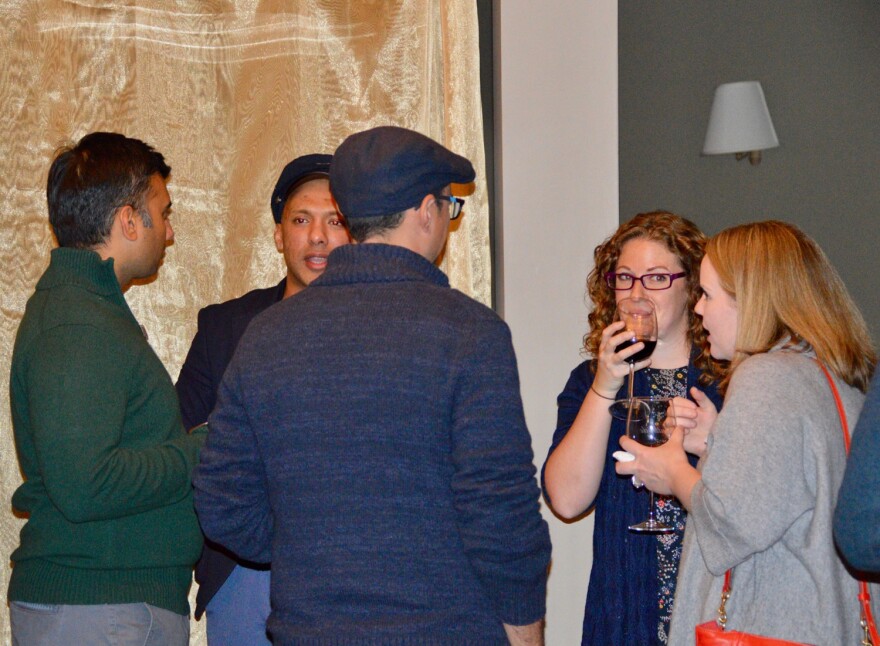 So how do these Stay to Stay Weekends work?
People register online to take part in a Stay to Stay Weekend in the city of their choice. They cover their own travel and lodging costs, but local organizers take it from there.
Friday night there's a meet and greet where participants can talk with local residents and potential employers. In Rutland during the most recent October weekend — the last scheduled for this year — people met at Southside Steakhouse. By 7 p.m. more than 60 people were mixing and mingling.
Longtime resident Joe Kraus was chatting with Amanda O'Connor, who lives outside Tampa, Florida. She had just arrived in Rutland that afternoon.
O'Connor said the state's beauty and topography were big draws for her and her husband.
"For us, coming from Florida, you have [an] elevation change," she told Kraus. "We miss mountains. We like the trees-to-people ratio."
The two talked for nearly 20 minutes. O'Connor peppered Kraus with questions about Rutland and what it's like to live in Vermont. Kraus wanted to know about the kinds of jobs O'Connor and her husband were looking for and he recommended people in the community she might reach out to.
The room was filled with small bouquets of people all doing this same kind of networking. There was a woman from Michigan with expertise in early childhood development, an engineer from the Dominican Republic, a graduate student from Harvard and a librarian from New York City.
Mary Cohen, executive director of the Rutland Region Chamber of Commerce, is the Rutland point person for the Stay to Stay program. For more than 90 minutes, she worked the crowd, making sure all the participants were connecting.
After Friday's meet and greet, Stay to Stay participants are free to spend the rest of the weekend checking out housing options or just having fun.
In Rutland, that might mean mountain biking or hiking, a trip to the local brewpub or maple syrup museum.
Stay to Stay participants Christopher and Heather Emerson decided to check out Rutland's farmers market with their son Sebastian. The family drove to Vermont from Detroit, Michigan, and were at the meet and greet the night before.
"We've been exploring!" said Heather Emerson, smiling.
"We really want to see what it's like to be part of the community," added Christopher Emerson. "We want to meet people, make connections. I had a chat with the guy over at the pickle stand and, you know, we were just talking about what it's like to be here and just really learn what we're gonna be about if we do end up moving this way."
Vermont is not for everyone and Rutland has its share of problems, like a sizable opioid epidemic and some empty downtown storefronts. There are also the long winters and lack of diversity, all of which can be a turn off.
"I've been asking a lot of tough questions and there are problems here, like anywhere," said Heather Emerson.
"But people have been pretty open about them and I'm hearing about some cool solutions too," she added, "so that's good to hear."
The Emersons said their careers would allow them to work from home if they chose, so it's not critical for them to find local employers. Their big concern is lifestyle, and on that score, they say Rutland looks promising.
But for participants looking for jobs here, the last day of the long Stay to Stay Weekend is set aside for interviews and serious networking.
People who take part send in their resumes ahead of time which allows local organizers to get to work on their behalf before they come.
Amanda O'Connor, the woman from Florida, said she and her husband were stunned at how many people reached out.
"I got a call from Steve Costello [a vice president at Green Mountain Power] and he spent half an hour on the phone with me, which impressed me," said O'Connor. "He told me he might make a few introductions and within, I think 36 hours, I had 5 email introductions to various people in the community and business owners — for both me and my husband!"
She and her husband had been considering other parts of New England, but she said the support from people in Rutland has blown them away.
"I guess it's a little tragic that at first, I didn't quite know what to make of someone that was so willing to be helpful and want to get to know me," she said.
"I was like, wait, do you want something? I wasn't sure how to respond to this," admitted O'Connor. "But it quickly became obvious they just wanted to help. ... But I mean, people want to help other people these days? Who does that?"
O'Connor said it's not a question now of if she and her husband will move to Rutland, but when.
Vermont Tourism and Marketing Commissioner Wendy Knight said of the 28 people who took part in Stay to Stay Weekends in June and August, 10 have already moved to Vermont or are in the process. That's not counting the 110 guests, like O'Connor and the Emersons, who visited in October.
And, Knight said, the state definitely plans to continue the program next year and is considering expanding it to other communities.