VPR's coverage of arts and culture in the region.
Rutland Filmmaker Brings Latest Film To Paramount
Rutland filmmaker David Giancola's latest movie premieres Friday at the Paramount Theatre. Axcellerator is a sci-fi-action comedy with lots of special effects, plenty of familiar backdrops and even a local celebrity or two.
Giancola is known for low budget action films that blow up, flood, freeze or otherwise cause mayhem in and around Rutland.
His previous movies include titles like, Time Chasers, Killer Flood, and Lightning, Fire from the Sky.
"I call myself a genre filmmaker," the 49-year old said from his Howe Center office, where he runs Edgewood Studios.
"And I'm not going to say that I'm making art or making a film. It's a movie. It's fun. If I came home after a long day of work and wanted to sit down, this is the movie I'd want to watch," said Giancola, who co-wrote the screenplay.
"If I came home after a long day of work and wanted to sit down, this is the movie I'd want to watch." - Rutland filmaker David Giancola
"Axcellerator is about a part time car thief who ends up stealing the wrong car from the wrong guy and ends up in possession of this thing," he said.
That thing is a teleportation device called an axcellerator.
"And this teleportation device is interesting," explained Giancola, "Because it doesn't just take you places, which has been done before, it takes you where you really need to be in life. It takes you where your subconscious wants to go."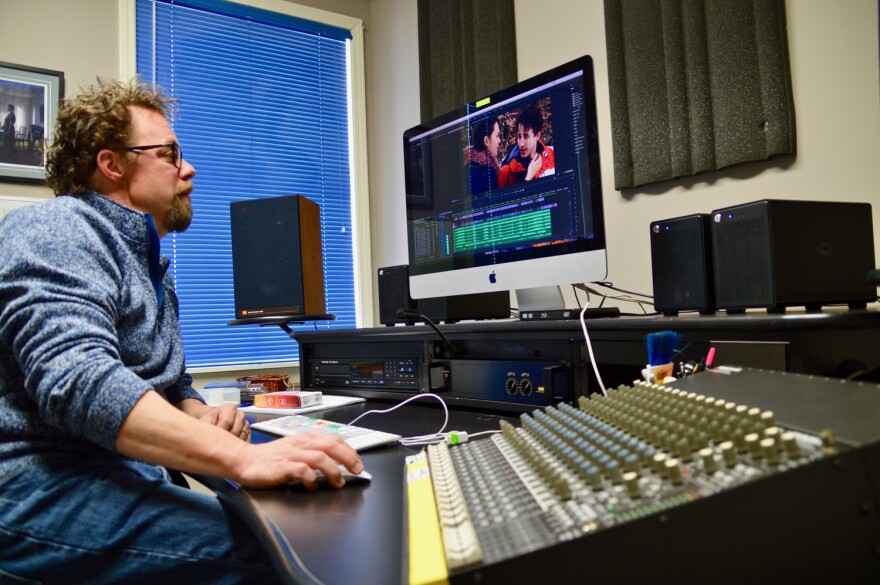 Along the way, the car thief, played by actor Ryan Wesen, meets the woman of his dreams - played by Laura James. So there's some romance, not to mention plenty of special effects and international intrigue.
"So all of this is going on while every government agency on the planet is chasing them around the globe to try and get the device," said Giancola as he cued up the film's trailer in his editing room.
Because of all the special effects, he said it took much longer to produce this movie. But those special effects allowed him to push the boundaries on locations.
For instance unlike his previous films, Axcellerator is not set in Vermont, even though the actors shot exclusively in Rutland, Londonderry and Killington. "So people will recognize Vermont, but it's Vermont not playing itself," said Giancola, "which is great when you're a filmmaker on a tight budget."
"This is Vermont playing Miami, Vermont playing New York City, Vermont, truly Vermont, playing Arizona, if you can believe it," said Giancola in his editing room. "Even Vermont playing the Sahara desert," he said laughing. "And that's the fantastic thing about all the digital technologies that you can do that."
The 93-minute movie stars Sean Young, perhaps best known for Blade Runner; Sam J. Jones, who played Flash Gordon in the 80s cult film; John James, who fans may remember from Dynasty and its spinoff The Colbys, America's Next Top Model winner Laura James and newcomer Ryan Wesen.
Locals may also recognize hot dog vendor Big Lenny Montouri who's got a small role.
Giancola said they're still negotiating a digital release date for the movie, which he said is slated to be shown at several sci-fi film festivals this year, including in Boston and London.
Giancola grew up in Rutland and said the community has been generous to him over the years and that's why he likes to continue making movies locally.
"You know these movies don't get made in a vacuum. You can't just spend money and make magic," said Giancola. "You need the help of all these people…there's a lot of people that gave us locations, gave us things for free, put up with us; making movies is always putting someone out," added the filmaker.
He said Friday's premiere is a way to say thank you. Proceeds from the 6 p.m. and 8:30 p.m. screenings will benefit the Paramount Theatre and Rutland Free Library
Cast and crew of the film will be at the Paramount and at an after party for movie goers at the Franklin Conference Center.