The home for VPR's coverage of health and health industry issues affecting the state of Vermont.
Vermont Coronavirus Updates For Wednesday, April 15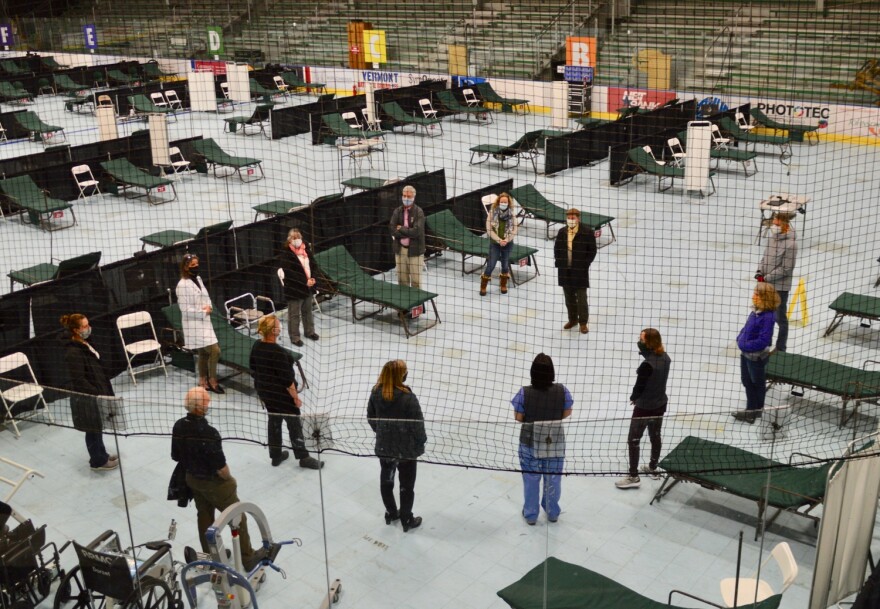 Vermont reporters provide a round-up of ongoing local coverage of coronavirus for Wednesday, April 15.
Vermont summer camp to remain closed for the first time since Spanish Flu
One of Vermont's oldest summer camps will not be open this year.
Camp Billings on Lake Fairlee welcomed campers through both World Wars, but due to the new coronavirus, it will remain closed this summer for only the second time in its 114-year history. It also closed during the Spanish Flu epidemic in 1918.
Michael Lemme, president of Camp Billings' board of directors, said that "In a communal living situation such as camp, where we have 250 people in a dining room and 10 campers and four staff in each cabin, if one child were to get sick or one staff were to get sick, then self-quarantine measures have to take place and camp would have to shut down at that point anyway."
Lemme said some form of virtual camp is in the works.
- Betty Smith
Health Commissioner: Vermont could be experiencing a peak in COVID-19 cases
Vermont's top health official said there's good news in the latest tally of COVID-19 cases. Health Commissioner Mark Levine said the numbers are not increasing as fast as they were during the start of the outbreak.
"There is clearly a tendency towards a plateau. The number of new cases continues to be much smaller than our prior experience," Levine said Wednesday.
"I'm going to be very cautious as I say this, but I will cautiously say that perhaps we are in that peak zone, and in that time of plateauing," Levine said. "And that all of the projections that were very thoughtful and said we would not see the worst-case scenario, and that we might be in the best-case scenario, were probably right, and that we're even going to be on the side of the best-case scenario."
Levine said that this week Vermont may actually be experiencing the peak number of COVID-19 cases, according to state models. But he said he wants to see numbers for the rest of the week before reaching any conclusions.
He also said early estimates predicted that 20 to 50 percent of the population would get infected with COVID-19, but that it now appears that only about 10 percent will contract the disease.
- John Dillon
Sen. Leahy: Cutting off U.S. funding for W.H.O. is "foolish"
Sen. Patrick Leahy said Pres. Trump's decision to cut off U.S. funding for the World Health Organization is foolish.
The organization, which is a unit of the United Nations, receives roughly $500 million a year from the United States.
Trump said he acted because he feels the group has colluded with China in "covering up the spread of the coronavirus."
Leahy said this is a terrible time to cut off funding.
"This is like telling one of our allies — we're at war — 'Sorry, we're not going to send you any more bullets,'" Leahy said. "I think it's a very foolish move on the part of Donald Trump. It's questionable whether it's legal, and it hurts our reputation throughout the rest of the world."
Leahy said he hopes Congress will restore those funds.
- Bob Kinzel
Burton Snowboards produced 500,000 N-95 masks for Vt. health care workers
Burton Snowboards used its in-house expertise and oversease supply chain to produce 500,000 N-95 face masks for Vermont health care workers.
Gov. Phil Scott Wednesday thanked Burton Chairwoman Donna Carpenter for the company's efforts. Carpenter said the company was motivated by its love of Vermont and the entrepreneurial spirit of its late founder, Jake Burton Carpenter.
"When you told him something was impossible, that just made him more determined to do it. I think we've really instilled that into our company; that's part of our company DNA now," Carpenter said. "So when I challenged my product team about a month ago to see what we could do during this crisis, they not only thought big, bit then they were able to execute and get it done."
Burton donated the masks as well as goggles and face shields to be used by health care workers.
- John Dillon
Dairy farmers may soon be eligible for SBA grants
Representative Peter Welch said he's cautiously optimistic that Congress will allow dairy farmers to apply for new $10,000 federal grants.
The grants are part of the recently passed $2 trillion federal stimulus package.
Welch said it was determined that farmers weren't eligible for the grants because they receive loans through the Department of Agricultre and not the Small Business Administration.
He's part of a bipartisan group working on the problem.
"We have farmers here in Vermont who can't process their milk and milk is being dumped and if we're going to come out on the other side and have a farm economy, we've got to help our farmers get through this and we've got to do it now," Welch said.
Welch wants to include the change in the next federal stimulus bill, which could be considered in the next week.
- Bob Kinzel
For more about how COVID-19 is affecting Vermont's dairy industry, head here.
This turkey season, hunters will report birds online
Wild turkey season opens in a few weeks and the state wants successful hunters to report their birds online instead of in-person.
Hunters are being asked to log the tag information at the Department of Fish and Wildlife's website.
The Department said hunters should take additional steps to limit the spread of the new coronavirus by hunting only with people they are already in close contact with.
If they do hunt with others, the department says they should drive in separate vehicles and not share the same hunting blind.
- John Dillon
COVID-19 puts Vermont State Colleges in crisis
Vermont State Colleges Chancellor Jeb Spaulding told the Senate Education Committee this week that the system is in a crisis situation due to COVID-19. To rebound, the Chancellor said, the system may have to take drastic action, possibly to close some campuses permanently.
"This is a new world, and I don't believe higher education is going back the way it was," Spaulding said.
Fall enrollment projections at the state colleges are dropping due to uncertainty around COVID-19. And emptying campuses for the remainder of the spring semester has meant refunding student fees and paying employees to be on leave.
- Amy Kolb Noyes
Governor promises to double down on processing unemployment claims
Gov. Phil Scott says he's frustrated that thousands of out-of-work Vermonters have waited weeks for their unemployment claims to be processed.
The governor said the Dept. of Labor is working overtime to relieve the backlog of claims. The state will also soon hire a private company to help handle the volume of calls.
"Again, no excuses, but we need to do better," Gov. Phil Scott said. "And if this isn't enough, doesn't prove to be enough, we'll initiate further methods and other strategies to get money in the hands of Vermonters who need it. I feel their pain, and I accept that. And we'll do better."
Scott said he's not yet sure what the back-up plan will be to get money to people who've lost their jobs. But he said he doesn't want to wait a few more weeks to provide the needed financial help.
- John Dillon
Franklin County prison preps for more COVID-19-positive inmates
The Department of Corrections is anticipating more inmates will test positive for COVID-19 at Northwest Correctional Facility in Franklin County.
Facilities Executive Al Cormier said DOC is preparing units at that facility to quarantine additional inmates.
The decision comes after contact-tracing conducted by the Department of Health indicated a high level of contact between positive and negative inmates at the facility.
Last week, DOC tested all inmates and staff at the Franklin county prison, and found 32 inmates and 17 staff were positive. A 33rd inmate then tested positive Tuesday, after an initial false-negative. Three more inmates at the facility have symptoms and are awaiting test results.
- Emily Corwin
Learn more about how Vermont corrections officials are planning for more coronavirus-positive inmates by heading here.
Coronavirus-positive inmate asks judge to be released
A Vermont inmate who has COVID-19 is asking a federal judge to order his release while he awaits trial, or hold an emergency hearing on his case.
Randy Sheltra's attorney argues in court documents that the prison isn't equipped to treat inmates who have the virus or to prevent its spread. Court records show Magistrate Judge John Conroy asked prosecutors to respond to Sheltra's request by Wednesday. Prosecutors declined to comment.
Sheltra pleaded not guilty to federal charges that he tried to entice a minor for unlawful sexual activity. Officials report he's now at the Northeast Correctional Complex in St. Johnsbury.
- Associated Press