Explore our coverage of government and politics.
'A New Norm For Higher Ed': Middlebury College Plans For Partial Reopening In Fall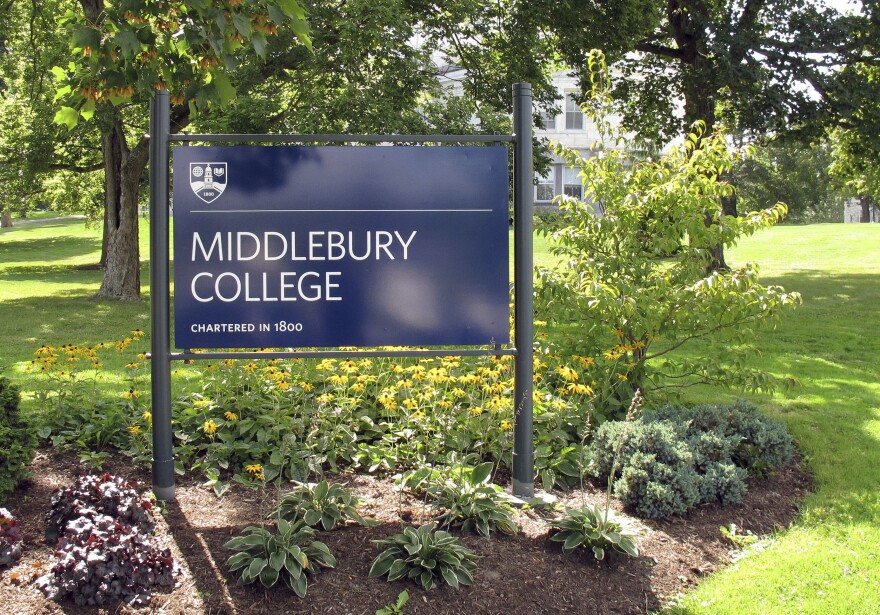 As Vermont colleges and universities grapple with the health risks of COVID-19 and the Vermont state guidelines issued for college campuses, each is choosing a unique approach to the fall semester. Middlebury College, home to roughly 2,500 students, is among the more expensive schools in the nation and has one of the larger endowments among institutions of its size. The college is planning to partially reopen in the fall. In this conversation, we speak with a representative from the Middlebury administration and two members of the Middlebury community about their concerns.
Our guests are:
Jeff Cason, provost and executive vice president of Middlebury College
Maya Gee, a rising junior at Middlebury College from Waikoloa, Hawaii
Laurie Essig, director of gender studies at Middlebury College and president of the campus's American Association of University Professors
This is the second post in a series from the episode of Vermont Edition that originally broadcasted live on Monday, July 13, 2020 at noon, featuring guests and perspectives from various Vermont colleges and universities across the state. You can find the full audio from the show, and info on UVM's plans for the fall, here.
The following has been edited and condescend for clarity.
For the final conversation from this show on Goddard College and Vermont Law School's plan, keep an eye out on Vermont Public Radio's home page later this week.
Middlebury's Fall Reopening Plan At A Glance:
Middlebury's fall reopening plan involves a mix of in-person and on-campus instruction, based on faculty and student needs.
Students will have the option to pursue on-campus or remote learning for the semester.
Faculty can choose to teach their courses in person, remotely or do a mix of the two.
Staff members, including health care workers and residential life staff, will get PPE and special training.
Students will be tested for COVID-19 upon arrival and then seven days later, in accordance with state guidelines.
Students will all be required to quarantine for 14 days prior to returning, regardless of what state or county they are coming from.
On-campus students must stay in-state throughout the semester and will not return after Thanksgiving break until after the New Year.
For more information on Middlebury's fall plans, head here.
Middlebury Provost Discusses Fall Plans And Responds to Concerns From Student and Faculty Union President
Jane Lindholm: Maya, what made you decide to return to campus in the fall?
Maya Gee: I think the main thing for me is academically, it really helps to be in the same time zone to take my classes, even if most of my classes are online. I think it's really great that the college is opening because there are a lot of students, whether they're from across the country or they're from out of the country, who have unstable home situations, and so really rely on living on campus to pursue and finish their undergraduate education.
I think this summer I really grappled with the fact that this is kind of a new norm for higher education. This is what to expect in my final two years of my undergraduate education, the online, in-person mix of things. And also realizing that the social life aspect of it will forever be changed as well, and that this isn't something that's going to be kind of a one-off semester or one-off school year. This is something that's going to be ongoing and continuous.
More from NPR: Is School Safe? Will Districts Test For COVID-19? Answering Back-To-School Questions
How are you accommodating all of the different needs and concerns of so many constituencies that rely on Middlebury College?
Provost Jeff Cason: I want to begin by noting that we've actually got some experience to build on here. In particular, we had the rapid transition to remote learning in the spring, which was really kind of emergency remote learning. Right now, we're in the process of educating online around 1,300 students in our Summer Language Schools and Bread Loaf School of English. So we're really learning some lessons there, too.
"I think this summer I really grappled with the fact that this is kind of a new norm for higher education. This is what to expect in my final two years of my undergraduate education." -Maya Gee, Middlebury Junior from Hawaii
What we're trying to do is provide faculty with the freedom to decide how best to deliver their classes, whether it's remotely, in person or a hybrid. What's interesting here, too, is that when we first surveyed faculty, around 37% said they wanted to teach online. And now, as we're building out the schedule, it's looking to be closer to half. And since we've got more time to prepare for online education, it's not going to be like the emergency remote education that we did in the spring. We have a dedicated and committed faculty and a fantastic staff in our digital learning operations, so we will be able to offer really high-quality work online. I just want to make that point that online does not mean inferior.
More from VPR: State Unveils Rules For College Campus Reopenings This Fall
What about you, Professor? How are you thinking about the fall semester and your own role, as well as the wider role of all of the faculty and staff in figuring out how to make this work?
Professor Laurie Essig: For me personally, I'm going to teach online. I'm not planning on teaching in person because I just don't think it can possibly be safe under current conditions, and especially now that the World Health Organization has talked about aerosols and how contagion happens in enclosed spaces, I just don't think that's a safe move for me or for most people, including the students.
More from NPR: Coronavirus FAQ: How Do I Protect Myself If The Coronavirus Can Linger In The Air?
And I personally think I'll do a better job online. I can make a very interactive and participant-based class online that will be much more difficult in person, if everyone's socially spaced out wearing masks, they can't break up into discussion groups. So, I'm planning on teaching online because I think it's both better from the public safety point of view, but also pedagogically going to be much better.
More from NPR: A Teacher Who Contracted COVID-19 Cautions Against In-Person Schooling
How do you feel about how these decisions have been come to and the input that various constituencies have had in the process, including students, families, staff members and faculty?
"I've heard from a staff member who has an underlying condition but can't perform their work online, so that person has to make a decision to put their life at risk or to potentially risk losing their job because they can't be accommodated. Those are the things that keep me up at night." -Professor Laurie Essig, President of Middlebury's AAUP
Professor Laurie Essig: I think our concern at the AAUP is that we represent a lot of people who don't have the choice or the luxury of teaching online. I've heard from a staff member who has an underlying condition but who can't perform their work online, so that person has to make a decision to put their life at risk or to potentially risk losing their job because they can't be accommodated. Those are the things that keep me up at night.
It keeps me up at night to think about untenured faculty, maybe feeling pressured to teach in person, even if they're not 100% comfortable with it. But we are very glad that the administration allowed professors to make that decision themselves. We're just concerned about people who can't make that decision.
More from VPR: Community Report: Departing Assistant Visiting Professor Alleges Racial Discrimination 
Professor Essig mentioned what keeps her up awake at night. What keeps you up Provost Cason?
Provost Jeff Cason: One of the things that really worries us is if there is a significant increase in the virus in the fall and that we have to once again switch to remote. One of the things that we're doing, of course, is preparing faculty to be able to teach online if they need to. So, in other words, if we have to pivot again, we want everyone to be ready for that and to be able to do it in a higher quality way. But there's so much uncertainty out there. And I think that the notion that we're going to have to be flexible and adaptable this coming fall and perhaps beyond is just going to be the watchword.
More from VPR: 'Our Bubble Is Popped': Apparent Outbreak Puts Manchester, Vt. Area On Edge
So there's been some concerns raised that most students shouldn't be returning to campus and that only those who feel like they need to, either because of their course of study or because perhaps of unsafe conditions at home or, as you mentioned, the ability to study in a time zone that is close to the one that you live in.
Thinking about the concerns for having a lot of people on campus and trying to de-densify campus and housing, how did that factor into the decisions that you made, Maya?
Maya Gee: I would say that's something I still think about every day. I've definitely committed to returning this fall. I'm also part of residential life, so I'll actually be one of the RAs who will be in the dorms with student's day to day. And I think that at the end of the day, more and more peers and friends that I've talked to are really starting to realize what's at stake for themselves health wise, but also at stake for their peers who really need the college campus to continue and finish their education. And I think more students are starting to realize that by going back, it won't just be about them. It will be about the rest of the Middlebury community.
More from VPR: Unclear If Returning UVM Students Are Following Public Health Guidance
Laurie Essig, we heard earlier in the program that the University of Vermont has made some significant pay cuts. At Middlebury, my understanding is that the budget is expected to be formalized with no pay cuts and no benefit cuts, although there will be a hiring freeze. But I understand that you would like to see the school draw down more on its $1 billion-plus endowment?
Professor Laurie Essig: I think the AAUP has already convinced Middlebury that drawing more on the endowment is a good idea. The initial draw was presented at 5.8%, and the Middlebury AAUP was able to show that taking up to an 8% draw on the endowment has almost no effect at all in the long term. And so, the current draw at 7.8% is a real victory in allowing us to stay at our previous salary levels.
I want to make clear that there's already a salary cut. It doesn't take into account the raises that people didn't get, that they would have gotten. And it doesn't take into account the fact that cost of living has gone up slightly because of increased food prices.
For more about the University of Vermont's plans to reopen in the fall, head here.
Have questions, comments or tips? Send us a message or tweet us @vermontedition.
We've closed our comments. Read about ways to get in touch here.