It's Been A Year Since The Pandemic Began. How Are You Doing?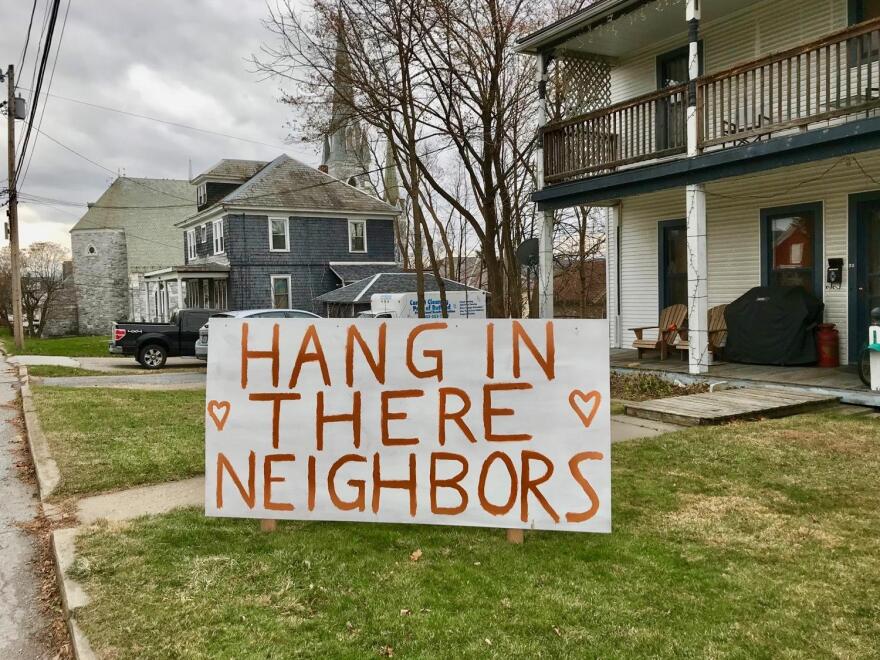 It's been about a year since the coronavirus came to Vermont. Since then, so many things have changed — jobs, school, celebrations, grocery shopping.
COVID-19 has affected us all, and so VPR wants to know: How are you doing one year in? And, as we peer, cautiously, toward a light at the end of this pandemic tunnel, what are you looking forward to?
Whether you're out helping people and doing essential work, or staying home to slow the spread of the virus, as we hit this milestone, we want to hear from you.
Here's how:
Use the voice memo function on your smartphone or give us a call at (802) 778-0914 to leave a short message.
Start the recording with your name and where you're based.
Tell us: One year in, how are you doing? What are you looking forward to when the pandemic is over? What do you wish your fellow Vermonters knew about your experience during this pandemic?
Share your smartphone recordings with us at share@vpr.org
And if you'd rather a reporter give you a call, send us a note at share@vpr.org and we will try to reach out.
VPR reserves the right to condense your submissions for clarity and length, and distribute them across our platforms.
Johanna Nichols, Montpelier
"One year in, I am beginning to wonder — maybe because it's winter, or because it's been so long that we've been sheltering and masking and social distancing — what I am going to be like when we start to move out more and be together more? I'm not sure exactly what kind of long term effects this has had on me and my brain. I think because I am retired, it has probably had less of an effect than it would if I was still had children and was working. But when this is over, I want to be able to be with people to resume activities, going to concerts and plays and movies and church and the senior center. And being with friends, sharing meals, even if we're outdoors. I think what I want my fellow Vermonters to know about my experience is that I am really grateful for the way that the community where I live has responded so generously, and with such kindness." - Johanna Nichols
Music was provided by Blue Dot Sessions.
Elaine Ball, Worcester
vpr-news-elaine-ball-covid-1-year-20210309.mp3
"Hi, my name is Elaine Ball, and I live in Worcester, Vermont. I work in Montpelier ... at least I did before the pandemic. I now work mostly from home. I think the word I would most use to describe how I feel one year in is grateful. And the one thing I wish fellow Vermonters knew about my experience is how deeply grateful I've been for mutual aid. At the start of the pandemic, I lost a significant amount of income because I was doing in-person work that was no longer able to continue. And so many friends and family members stepped up during those first six to nine months just to send money or gift cards for groceries. And I'm so incredibly grateful for the sense of community that has gotten me through these hard times. And I'm feeling so, so grateful that I now finally have more income coming in, that I've been able to learn new skills during the pandemic, and expand my range of what I'm able to do for pay. And none of that would have been at all possible without the help of community members, strangers, friends and family who have been so generous to help me through this time and I hope that I will be able to continue to pay it forward." - Elaine Ball
Matthew LaFluer, Alburgh
vpr-news-covid-1yr-_matthew-_lafluer-_20210310.mp3
"For me, to be truthfully honest, like everybody else, I'm, as a person with a disability, under tons of tons of stress lately. Stress, depression, anxieties about what's going on around me with my life and my family. It's just ... it's been very hard on all of us. Before, you know, I managed with my friends. My friends are preschoolers, kindergartens, little kids ... that really love to be with me, that love to talk to me, communicate with me. And since the pandemic hit, they weren't be able to keep in contact with me. Looking forward, I see hope. I see hope that we can all come together, you know. Come out of this, you know, with determination, love, compassion." - Matthew LaFluer
Have questions, comments or tips? Send us a message or with tweet us @vprnet.
We've closed our comments. Read about ways to get in touch here.