Explore our coverage of government and politics.
Reporter Debrief: Pension, Child Care, Unemployment, Budget Bills Dominate Vt. Legislature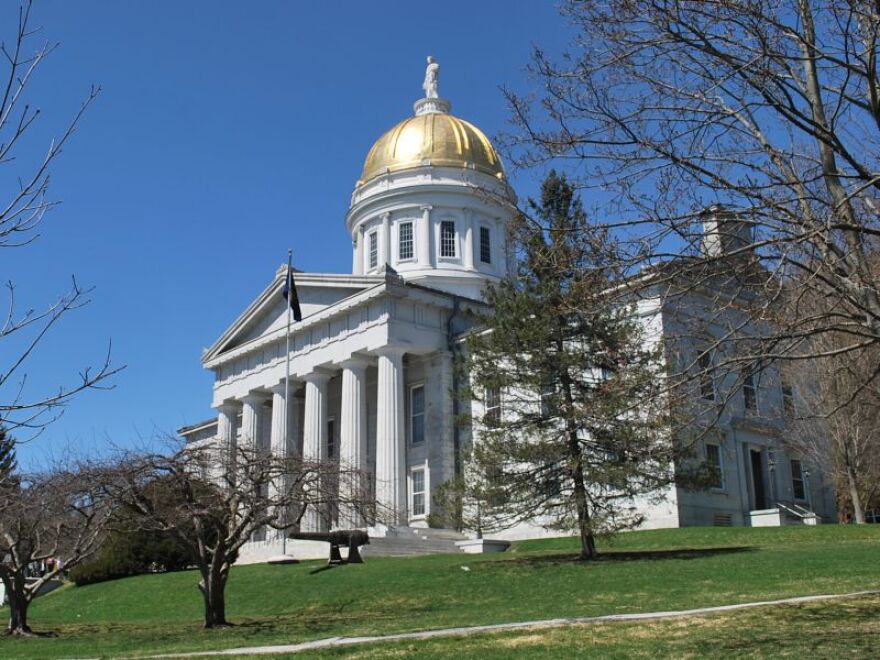 Action is heating up at the Vermont Statehouse. Lawmakers have passed a number of bills on issues ranging from pensions to child care to the state budget, and there's more to come this week.
VPR's Henry Epp spoke with senior reporter Bob Kinzel about the view from Montpellier. Their interview is below and has been edited and condensed for clarity.
Henry Epp: Well, Bob, let's start with the unfunded liability elephant in the room, which is pensions. House Democrats unveiled a pension bill last week, seemingly out of the blue. What does it call for and what's the reaction to it so far?
Bob Kinzel: You know, Henry, this could be the most controversial issue of the entire session. It's one where many Democrats, Republicans and Progressives don't agree, and then add to that the position of the governor as well.
So, let's look at the scope of this problem. According to a report released last week, the state employees and the state teacher's pension funds have an unfunded liability of roughly $3 billion, and it's growing at a rapid rate, roughly $300 million a year.
So, you might ask why? Well, there are a couple of factors.
The Legislature over the last 20 years has chronically underfunded the state's contribution to these funds. You know, when times were good and the pensions rose in value, lawmakers said, well, it's OK to put a little less money in the fund. And then in harder times, it was difficult for lawmakers to allocate the appropriate amount of money that was needed.
More from VPR News: State Treasurer Seeks 'Painful' Cuts To Retirement Benefits For Government Workers
Now, on top of that, Vermont has an aging workforce. In the next 10 years, the number of people in Vermont over 65 is expected to double. So, retirees are living longer. There are more of them. There's more pressure on these funds. And that made the House Government Operations Committee last week put out a proposal.
OK, so what's in that proposal?
Well, the first thing to say, Henry, is that it does not affect anyone who has retired or is within five years of retirement. That's very important.
It increases the number of years a person must work to qualify for full benefits.
It reduces the cost-of-living increase.
It raises employee contributions.
And it allocates $150 million from the federal stimulus money to help reduce the size of the unfunded liability.
House Democrats were immediately put on the defensive when this came out last Thursday. And when you put a big bill like this out there, it does become a huge target. First of all, the unions hate it. They say they're being unfairly asked to bail this fund out through longer working time, lower benefits and additional contributions. Instead, they want lawmakers to raise income taxes on wealthy people.
Now, the governor said he thinks the general approach taken by the bill is reasonable, but he doesn't commit himself to any of the specifics. He's waiting for lawmakers to sort this out. He is really taking a hands-off approach on this issue.
Then add in the Senate Democrats who think the plan is unfair to the union members and needs to be changed. And many Progressives don't like this bill at all.
So, I don't know. Think of it maybe as a work in progress. Nothing is cast in stone. Almost any provision of it can be adjusted or even eliminated. But at the outset, it does set up a very contentious battle between the Democrats and the unions. And that's a group that usually supports the Democrats very strongly on Election Day.
Yeah, that's interesting. Well, looking to another issue that'll come up this week, lawmakers will take up a bill involving unemployment benefits. And that measure has been quite controversial as well, right?
That really has been Henry. It's a bill that has a big impact on both working people and small businesses. And the framework over this legislation is changing as the debate has become more intense.
Now, the original bill increased the maximum state unemployment benefit by 20% for a year, and it provided an additional $50 a week for each dependent that a person has. At the same time, it froze the unemployment tax rate for businesses because the increases of the fund during the pandemic is really a one-time occurrence, and it wouldn't be fair to ask businesses to absorb that big an increase.
When this bill came out of the Senate Economic Development Committee a couple of weeks ago, there was a firestorm of protest from many members of Vermont's business community. They argued the benefit level would now be so high that it would discourage some people from working. And while tax rates would be frozen for a year, there almost certainly would be large increases in the coming years.
So, after delaying action on this bill for about a week, a compromise emerged eliminating that 20% increase in state payments and it deferred the additional child care payments until current supplemental federal funds are no longer available. Members of the business community still didn't like the legislation. And just as debate was starting in the Senate last Friday afternoon, a massive storm came through Montpelier that cut off power at the Statehouse and that postponed the debate, and they'll take it up again tomorrow morning.
OK, so a literal storm interrupting debate there. The House also threw their support behind child care legislation last week. What does that bill do?
For a lot of people, expanding access to affordable child care might be one of the most important issues of the session, and the experience of the pandemic showed how critical an issue this is for so many working people and businesses.
This bill greatly expands eligibility for state subsidies for families. It basically doubles the income eligibility cap so that many families, and the largest group in this section would be single working women with children, can afford to send their kids to child care, which is not always the case right now. The bill also provides money to help train and expand the child care workforce, make sure that they can get a living wage. That's not always the case wow. There's enormous turnover in the child care field, and the bill represents roughly a $10 million investment in child care in Vermont.
Finally, Bob, lawmakers, as they do every year, have to pass a budget. The House gave its approval to next year's state budget late last week. What are some of the key takeaways with their version of the spending plan?
Henry, the big takeaway is the amount of federal stimulus money that's in this bill. There's roughly a billion — it's amazing how often we say that these days — a billion dollars for a variety of one-time projects, some of it for very specific purposes, others to be determined.
For instance, there's $250 million for investments, "in the health and well-being of families and small businesses to create an equitable, resilient Vermont." What will this money be spent on? Nobody has any idea. It's yet to be determined.
More from VPR News: Pro Tem Becca Balint Talks New Federal Relief Dollars, Pensions As Legislature Hits Halfway Mark
And lawmakers have several years to figure out how they want to spend that money. But there is a pot of money right there.
Included in the bill are major investments in expanding broadband access throughout Vermont, funding clean water and sewer projects, upgrading the state's information technology system, developing COVID-related workplace training programs, expanding affordable housing programs, funding higher education, including some transition money for the Vermont State Colleges, and as we mentioned right at the outset, there's $150 million to help reduce the unfunded liability in those pension funds.
Have questions, comments or tips? Send us a message or tweet reporter Bob Kinzel @VPRKinzel.
We've closed our comments. Read about ways to get in touch here.