Commuting Through COVID: As Ridership Decreased During The Pandemic, State Focused On Safety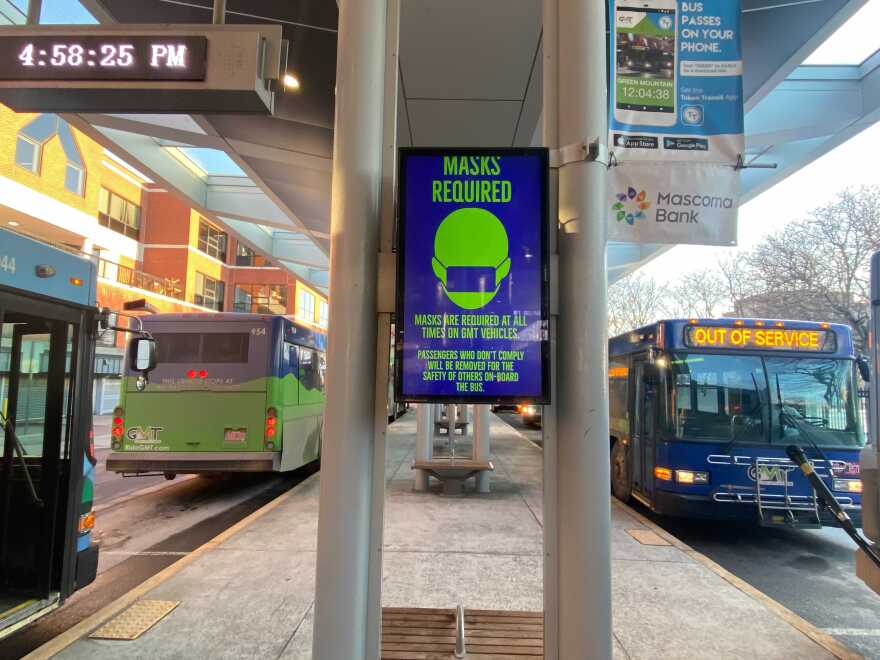 In a year that's taken us for an uncertain ride, public transportation services in Vermont have remained accessible, reliable, and most of all, safe.
After the long, dark winter, early spring has resurfaced sunshine, songbirds, and the squawking of seagulls in Vermont. In downtown Burlington, a busy spot no matter the weather, is Green Mountain Transit's bus station on Cherry Street.
Claude Mumbere was one of the first people I chatted with at the bus stop. We talked about whether it feels safe or not riding the bus in the pandemic.
"I mean they have the mask mandate, for everyone who gets on the bus, so I guess that's one good step," Mumbere said.
"We feel that bus drivers and the public can be fairly confident that their risks are as low as possible through the safety measures we have implemented."— Ross MacDonald, Vermont Agency of Transportation
The pandemic forced Vermont's transportation officials to redirect their focus. Vermont Agency of Transportation public transit program manager Ross MacDonald says pre-COVID, everything was about providing a better rider experience and growing ridership:
"How do we create more community partnerships, and fill in mobility needs with maybe non-traditional transportation approaches?"
MacDonald says many of those plans were put on hold when sanitizing procedures and social distancing became the priority. He adds that those efforts paid off.
"We feel that bus drivers and the public can be fairly confident that the risks are as low as possible through the safety measures we have implemented," MacDonald said. "There's no guarantees during this time, and I'd be foolish to say so, but what's happened is, with over 300 drivers, we're not seeing infection rates as a result of public transit."
VTrans also received a federal grant to partner with researchers at Dartmouth College, to test new technology on vehicles, including ultraviolet light solutions and air filtering systems.
For their fleet of buses, Green Mountain Transit made other changes. They reduced capacity on every bus by 50% and eliminated fares for passengers. That allowed riders to board at the side door of the bus, keeping some space between them and the drivers.
GMT rider Taya from South Burlington liked that change.
"Yeah I definitely rely on it," Taya said. "So I'm glad that it's been running. I'm even more happy that it's free right now. I wish it would be free all the time, 'cause that would certainly make a difference."
Riding free is nice, but GMT's general manager Jon Moore says that fares are likely to return.
"We wanna keep people safe," Moore said. "We also want to understand and recognize that our budgetary reality is that we do rely on fares. For us to maintain our current level of service, we're gonna need people back on the bus."
And VTrans' Ross MacDonald says ridership did go down last year as a result of COVID.
"Ridership went off the cliff in March [of 2020], and we were seeing a reduction of 70% or more in overall ridership," he said.
But now, Vermonters are starting to get back on the bus. GMT and VTrans both reported that ridership is slowly returning, with current numbers a little bit more than 50% of what they saw pre-pandemic.
More from Brave Little State: How Can Vermonters Drive Less?
So, getting around on the bus works fine for going from point A to point B. But if your plans are more complicated, you might call a rideshare service like Uber or Lyft. That's what I had to do back in November for a late-night trip headed home to Plattsburgh, New York.
My Uber driver was named Gene Kim, and I imposed on him a trip that could take anywhere from 45 minutes to two and a half hours. Going home to Plattsburgh means crossing over Lake Champlain by taking the ferry in Grand Isle. Pre-COVID, Gene could've driven me through the ticket booth, dropped me off at the dock, and I could've walked right on the boat.
But during the pandemic, well, things are a little different. Me and Gene were told "no walk-ons" when we arrived at the ferry. Gene was stuck with me going to Plattsburgh and back.
That was back in November, and you still can't walk onto the ferry almost six months later: It's too cold for a passenger to ride across Lake Champlain unsheltered, and the waiting room is still off-limits for COVID safety.
COVID restrictions also limited the launch of a new transit method that had been in the works pre-pandemic. The service is called MyRide by GMT, and it's a demand-based ride service that takes multiple passengers heading the same direction by booking them into one vehicle. Think of it like a mix of a taxi and a carpool.
GMT's director of marketing and planning, Jamie Smith, says it began its two-year pilot period in January of this year.
"I do think a lot of people are really enjoying the flexibility that it provides," Smith said. "It's giving them the opportunity to sort of be in control of their schedule."
Looking for commuting resources in Vermont? Head here.
Currently, it's only available in Montpelier. Smith says depending on its success, it may reach other parts of the state.
New projects aside, Ross MacDonald, of VTrans, says keeping public transit dependable and disinfected is still the focus.
"All of those good ideas we had, we'll continue to work on at the rate that we can," he said. "But certainly, we know that the priority has got to be the safety of our citizens."
Have questions, comments or tips? Send us a message or with tweet us @vprnet.
We've closed our comments. Read about ways to get in touch here.