News Roundup: Vermont Could See Unprecedented Funding For Lake Champlain Cleanup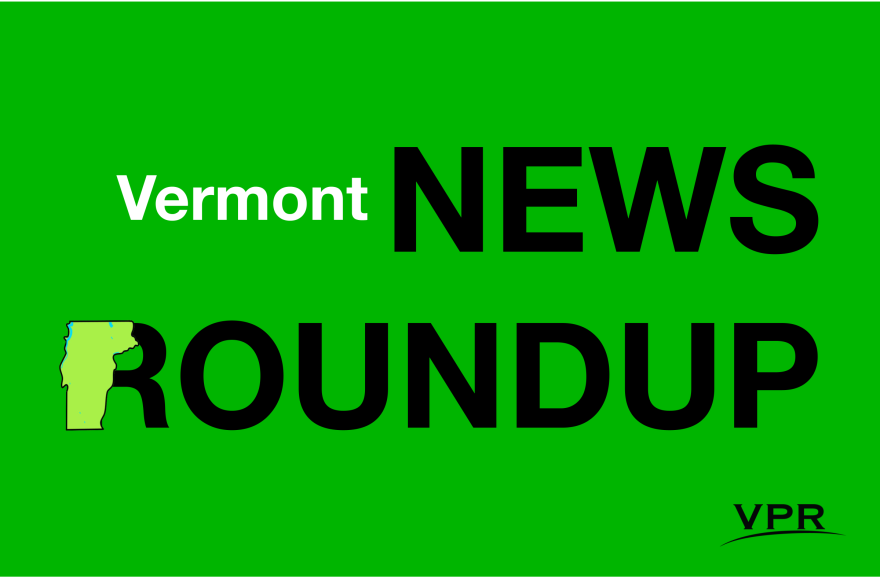 Vermont reporters provide a roundup of top news takeaways about the state of Lake Champlain and more for Thursday, June 24.Want VPR's daily news in podcast form? Get up to speed in under 15 minutes with The Frequency every weekday morning. How about an email newsletter? Add our daily email briefing to your morning routine.
As Vermont's pandemic state of emergency has ended and coronavirus restrictions lifted statewide, we will no longer be reporting daily case numbers at the top of this newsletter. Click here for the latest on new cases, and find the latest vaccination data online any time.
1. Vermont could see unprecedented federal funding for cleanup of Lake Champlain
The Lake Champlain Basin Program released its State of the Lake report Wednesday. Issued every three years by a group of international stakeholders, the document tracks the health of Lake Champlain.
But this year and next, millions of new federal dollars could be available to help Vermont and its partners in New York and Canada meet federal mandates to improve water quality.
Secretary of Natural Resources Julie Moore said Wednesday, American Rescue Act funds can be used for lake cleanup.
"In this first year, we've committed – and by we, I mean the Administration and the Legislature have jointly committed - $40 million to water infrastructure work," Moore said. "And I anticipate that by the time all is said and done, it may be as much as $225 million of investment in this space, over the next three years."
If approved by Congress, President Biden's proposed budget would bring a record $20 million in EPA funds to Lake Champlain in fiscal year 2022.
Report shows improvements in wild lake trout populations
This year's State of the Lake report reveals a growing lake trout population. Scientists say that's good news for the lake and communities nearby.
Meg Modley is a scientist with the program. She said Wednesday the growing trout population is a sign that efforts to preserve and restore the lake are working.
"This report highlights a great fish success story," Modley said. "In 1900, there were not enough wild lake trout to sustain the population in Lake Champlain. Biologists have recently found multiple age classes of wild lake trout."
Modley says the University of Vermont is currently working on a survey of "forage" fish, like smelt and alewives in the lake. These smaller species are an important food source for larger fish and indicator of the overall health of the lake.
- Abagael Giles and Marlon Hyde
2. Vermont House holds successful veto override votes on non-citizen voting bills
The Vermont Legislature is half way toward overriding the vetoes of two bills that would allow non-citizens to vote in Montpelier and Winooski.
The Vermont House of Representatives on Wednesday held successful override votes on both pieces of legislation.
Wilmington Representative John Gannon addressed his House colleagues before the votes.
"I would urge this body to override the governor's veto, and take one small step to make Vermont a more welcoming place for immigrants, and help build a stronger and more inclusive Vermont," Gannon said.
Montpelier Representative Mary Hooper says immigrants play a key role in the local community.
"It is only right that we acknowledge their importance in our community by asking them to vote on local matters. Montpelier welcomes all to be part of our civic life," Hooper said.
The Senate is expected to take up its override votes on Thursday. Both bills were the result of charter changes approved by residents of Montpelier and Winooski.
Gov. Phil Scott says he isn't opposed to non-citizen voting in principle.
But he says he vetoed the bills because he thinks Vermont should have a statewide policy on non-citizen voting.
The Vermont Senate will hold its vote on whether to override the governor's vetoes Thursday.
Lawmakers table override vote on bill that would have prohibited police from releasing the names of young people convicted of a crime
Vermont lawmakers have decided to drop their bid to override Gov. Phil Scott's veto of a bill that would have prohibited police from releasing the names of young offenders.
House Speaker Jill Krowinski says the Legislature wants to address questions about the bill that have arisen since the lawmakers passed it last month.
"This bill is one bill that's part of our broader criminal justice reform work, and we'll continue to work on it," Krowinski said.
The bill would have shielded offenders as old as 19 from being publicly identified in police reports or court records.
Supporters of the legislation say it would prevent people from having their lives derailed by youthful indiscretions.
Gov. Phil Scott says he favors transparency in criminal cases involving people 18 and older.
- Peter Hirschfeld
3. Vermont's unemployment rate dropped slightly May
The Vermont Labor Department says the state's unemployment rate was 2.6% for May, a decrease from 2.9% for April.
Labor Commissioner Michael Harrington said Wednesday that the rate puts Vermont back to pre-pandemic levels. He said before COVID-19, the Vermont labor market had a historically low unemployment rate and was experiencing a shortage of workers.
He said the state is now seeing similar conditions as restrictions have lifted and businesses across all industries look to move past the pandemic.
- The Associated Press
4. Former Koffee Kup employees remain in limbo over payouts for owed PTO
It remains unclear when former employees of the Koffee Kup bakery – which shuttered suddenly in late April – might receive payouts for owed paid time off.
The Brattleboro Reformer reports a judge on Tuesday approved paying the bakery's lenders nearly $8 million.
Earlier this month, Georgia-based Flowers Foods was named as the buyer for Koffee Kup's assets. The company announced it had "no immediate plans" to reopen Koffee Kup's three bakeries, in Burlington, Brattleboro and North Grosvenor Dale, Conn.
During the Tuesday hearing, the paper reports the judge said there was a "substantial surplus" available to pay off the creditors, including the employees.
A hearing is scheduled on July 6 to determine how payments will be made to all the creditors.
- Brittany Patterson
5. EPA says 20-year cleanup of Strafford Superfund site is expected to wrap up this year
Federal environmental regulators say the 20-year cleanup of the Elizabeth Mine Superfund site is expected to wrap up this year.
The Valley News reports the U.S. Environmental Protection Agency shared the news with Strafford-area residents last week.
The agency says some work this summer may lead to temporary road closures at the site.
The EPA designated the abandoned copper mine a Superfund site in 2001. More than 700,000 gallons of acidic water is stored in the mine.
Officials said the project will cost as much as $96 million, excluding state expenses.
- Brittany Patterson
Abagael Giles compiled and edited this post.
Have questions, comments or tips? Send us a message or tweet us @vprnet.
We've closed our comments. Read about ways to get in touch here.