News Roundup: Potential Flooding Forecast For Tonight, Tomorrow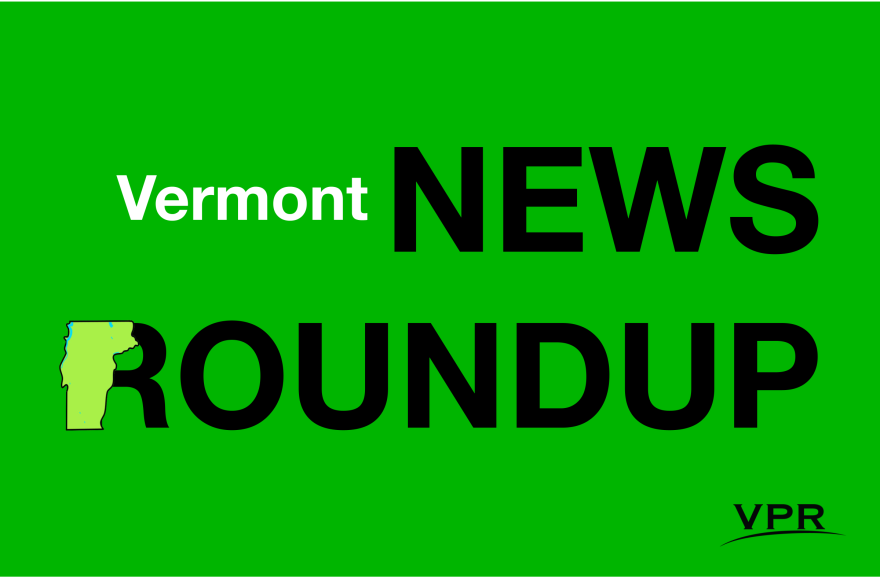 Vermont reporters provide a roundup of top news takeaways about potential flooding, a pension system task force and more for Thursday, July 8.
Want VPR's daily news in podcast form? Get up to speed in under 15 minutes with The Frequency every weekday morning. How about an email newsletter? Add our daily email briefing to your morning routine.
As Vermont's pandemic state of emergency has ended and coronavirus restrictions lifted statewide, we will no longer be reporting daily case numbers at the top of this newsletter. Click here for the latest on new cases, and find the latest vaccination data online any time.

1. National Weather Service calls for heavy rain across the state Thursday and Friday
The National Weather Service in Burlington says that heavy rains across the state Thursday and Friday could cause flooding in some small rivers and streams.
The weather service says 1-3 inches of rain could fall in most areas of Vermont. Much of the state has been experiencing drought conditions and mainstem rivers are low.
But smaller rivers and streams and low lying areas could be vulnerable to localized flooding.
Forecasters say the heaviest rainfall is expected in southern Vermont.
There's a flash flood watch Thursday night through Friday, from Rutland and Orange counties in Vermont, into southern New Hampshire and Massachusetts.
— Anna Van Dine and Mark Davis

2. Legislative task force has begun tackling solutions to Vermont's public pension system woes
A summer task force created by the Legislature has begun deliberating the future of Vermont's public pension system.
Windham County Sen. Jeannette White, who co-chairs the panel, said task force members will need to be open to opposing viewpoints as they consider pension reforms.
"I'm going to suggest that we check ... partisan politics and our preconceived notions at the door when we come in," White said.
Vermont's pension system faces a multi-billion dollar unfunded liability.
Unions for teachers and state employees castigated lawmakers for proposing cuts to pension benefits earlier this year.
Union representatives make up half the voting members on the pension task force.
— Peter Hirschfeld
More from Brave Little State: What's Going On With Vermont's Pensions

3. Lt. Gov. Molly Gray calls for more COVID-19 relief funds to be spent on broadband
Lt. Gov. Molly Gray says a bill passed during the last legislative session that would expand broadband in Vermont is important, but doesn't move quickly enough.
Gov. Phil Scott signed H. 360 last month. It will use $150 million in federal COVID-19 relief funds to expand internet access.
Speaking Wednesday on VPR's Vermont Edition, Gray said she hopes to funnel additional COVID relief money into expanding broadband infrastructure.
"We have to make investments, we have to make sure the internet is affordable," Gray said. "That its good internet and that people have the hardware to get online."
Gray says access to broadband should be considered a human right.
Listen to the full conversation.
— Connor Cyrus

4. Vermont school districts are about to get millions of dollars in federal COVID-19 relief
Schools districts are about to get millions of dollars in federal COVID relief aid. Some of that money will go toward construction projects.
The Agency of Education has hired Norm Etkind to work with districts, as they figure out how to spend the federal money.
Etkind previously coordinated school energy projects with the Vermont Superintendents Association, and he says lots of work has been put off for years.
"There's been a moratorium on school construction aid since 2007, and schools can take advantage of this funding to really help improve their facilities," Etkind said.
Etkind will help schools prioritize their proposed construction projects, as well as help track down additional state, federal and private grants.
While districts will decide how the money is spent, all projects must be approved by the Agency of Education.
— Howard Weiss-Tisman

5. Amtrak signs $7.3 billion deal to buy new trains
Amtrak has signed a $7.3 billion deal to purchase new trains that will be used on its lines throughout the Northeast, including the two that run through Vermont.
The passenger rail operator says it's contracted with Siemens Mobility to build 83 new trains to upgrade its aging fleet. Some of Amtrak's current trains are 40 to 50 years old.
The Ethan Allen Express and Vermonter are scheduled to resume service later this month after being shut down since the beginning of the pandemic.
- Henry Epp
This post was compiled by digital producer Abagael Giles.
Have questions, comments or tips? Send us a message or tweet us @vprnet.
We've closed our comments. Read about ways to get in touch here.