News Roundup: Vermont Officials Report 114 New COVID Cases, Another Death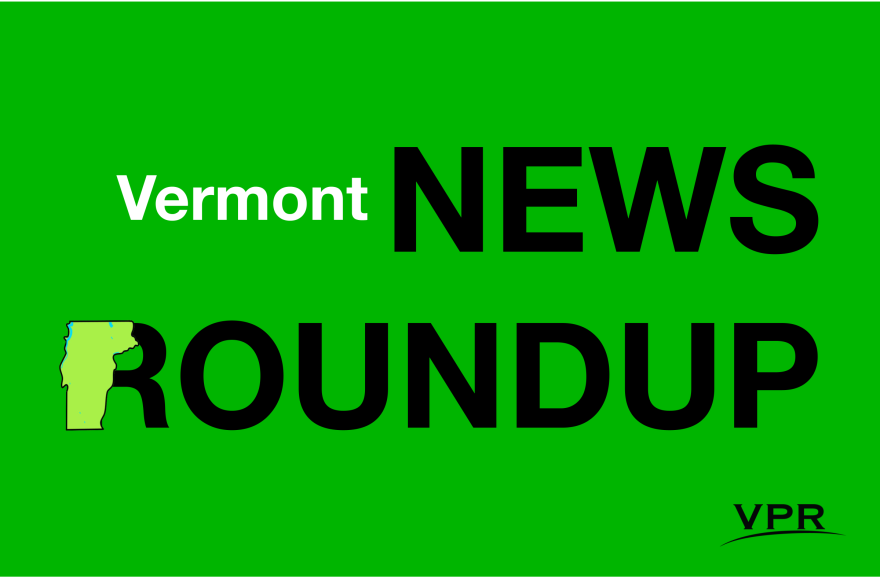 Vermont reporters provide a roundup of top news takeaways about new coronavirus cases, cooling centers for those seeking relief from the heat and more for Thursday, Aug. 12.
Want VPR's daily news in podcast form? Get up to speed in under 15 minutes with The Frequency every weekday morning. How about an email newsletter? Add our daily email briefing to your morning routine.
While Vermont's pandemic state of emergency has ended, the delta variant is now circulating around the state. Click here for the latest on new cases, and find the latest vaccination data online any time.
1. State officials report 114 new COVID cases, another death
State health officials reported 114 new COVID-19 infections across Vermont Thursday, the most new cases the state has documented in a single day since April 29.
The virus has hospitalized 25 Vermonters, including eight people in intensive care.
The state also recorded another person dying, the 264th COVID-related death since the pandemic began.
To date, the vaccination rate — those who have gotten at least one dose — is 84.7%.
CDC data shows 10 Vermont counties are now experiencing "high or substantial" community transmission of the virus, leading the federal agency to recommend wearing masks indoors in those areas, regardless of your vaccination status.
High transmission is happening in Washington, Franklin, Chittenden, Orleans and Essex Counties. Substantial transmission is reported in Addison, Lamoille, Caledonia, Bennington and Windham Counties.
- Matthew Smith
State boosting contact tracing capacity
The Vermont Department of Health is boosting its contact tracing capacity. The move comes amid a rise in COVID-19 infections in the state.
The Health Department in May hired AM Trace, a Virignia-based company, to do contract tracing in Vermont. Previously the agency ran the program.
Deputy Health Commissioner Kelly Dougherty says the company currently has 45 people focused on Vermont and will soon bring on more staff. She says the Health Department is also re-assigning its own people to do contact tracing.
"We are literally as of today, bringing them back into the fold," Dougherty said. "And we'll do a brief little refresher training, because they've been out of the mix for a few months."
- Liam Elder-Connors
Brattleboro requires masks again
Masks are once again required inside all government facilities in Brattleboro.
The Brattleboro Reformer reports the policy applies to employees and visitors regardless of vaccination status.
The move comes as data from the Centers for Disease Control and Prevention show "substantial" COVID-19 transmission in Windham County.
The agency recommends universal masking indoors for areas experiencing "substantial" or "high" transmission.
At this time all town facilities remain open to the public, the paper reports.
- Brittany Patterson
Upper Valley co-op closes for cleaning following breakthrough case
The Hanover Co-op Food Store in White River Junction closed Wednesday after a breakthrough case of COVID-19 was detected in a vaccinated employee.
The Valley News reports a fully-vaccinated front-end worker tested positive this week after last working in the store Sunday.
A manager emailed patrons to alert them to the closure.
State health officials say the breakthrough case is considered low-risk, with no reason to think other workers are infected.
The co-op closed the store for deep cleaning out of an abundance of caution, and plans to reopen Saturday.
- Matthew Smith

2. Burlington, Brattleboro open cooling sites for the public seeking relief from heat
The hot and humid weather has prompted the city of Burlington to open up cooling sites for the public through the remainder of the week.
Burlington Parks, Recreation and Waterfront announced Wednesday it is opening three sites through Friday due the extreme heat.
The sites are at the Center of Recreation & Education on Allen Street and Leddy Arena. Both open at 11 a.m.
A cooling site at the Fletcher Free Library opens at 10 a.m.
People are asked to wear a mask when in the buildings. All city beaches along Lake Champlain are also open.
Elsewhere in Vermont, Brattleboro residents can cool off at the Central Fire Station, the West Brattleboro Fire Station, and the Brooks Memorial Library.
Vermonters can call 211 to find their nearest cooling center.
- Associated Press

3. 10,000 Vermonters to lose unemployment benefits next month
The expiration of two pandemic-era unemployment programs means that nearly 10,000 Vermonters will be losing their unemployment benefits next month.
And Commissioner of Labor Michael Harrington says his department is hosting a series of workshops for affected Vermonters.
"Including sessions in resume writing, re-employment strategies and interviewing, as well as virtual job fairs to help link job seekers with employers," Harrington said.
The nearly 4,000 Vermonters who've been on unemployment for more than 26 weeks will lose their benefits starting Sept. 6.
And the approximately 6,000 self-employed Vermonters who've been receiving money through the Pandemic Unemployment Assistance Program will also see benefits go away.
- Peter Hirschfeld
4. DCF hopeful juvenile rehab center up and running in Newbury by next spring
The Vermont Department for Children and Families says it hopes to have a replacement for the Woodside Juvenile Rehabilitation Center up and running by spring.
DCF Commissioner Sean Brown says the replacement six-bed facility in Newbury will provide a range of treatment services to teenagers charged with criminal offenses.
"You know, mental health assessments and treatment opportunities that focus on restorative justice and permanency planning as quickly as we can once youth arrive at the facility," Brown said.
Environmental impact assessments and opposition from local residents have delayed construction of the new facility.
Brown says the state is still in the process of securing environmental permits for the $3.2 million project.
- Peter Hirschfeld
Lawmaker blames Scott administration for lack of housing for young people in criminal justice system
One prominent lawmaker is blaming the Scott administration for a lack of secure housing for young people in the criminal justice system.
Legislation passed in 2019 requires the court system to treat most 18-year-olds as juveniles.
But Aryka Radke, with the Department for Children and Families, says her department doesn't have appropriate lodging facilities for young people who pose a threat to public safety.
"The lack of staffing in community-based services and in residential placement facilities has really impacted the supports available across our system of care as a whole," Radke said.
Bennington County Sen. Dick Sears says the Scott administration had three years to prepare before the law went into effect.
And he says lack of housing could now thwart Vermont's attempt to change the way it deals with young people in the criminal justice system.
- Peter Hirschfeld
5. Former Jay Peak developer Bill Stenger reaches plea deal with feds
Former Jay Peak developer Bill Stenger has reached a plea deal with federal prosecutors over his role in a scheme to develop a biotech facility in the Northeast Kingdom, which was never built.
Stenger will plead guilty to one count: giving a false statement to the government. The other charges, which include fraud, will be dismissed, according to the plea agreement filed Wednesday. He could face up to five years in prison, three years of supervised release and a $250,000 fine.
Stenger, along with Ariel Quiros, William Kelly and Alex Choi, were indicted in 2019. Federal prosecutors alleged the men embezzled millions of dollars from foreign investors, instead of using the funds to build a biotech facility in Newport.
Quiros and Kelly previously reached plea deals. In June, prosecutors said Choi was still at large.
- Liam Elder-Connors
6. Vermont Energy Action Network seeking pitches for reducing greenhouse gases
The Vermont Energy Action Network is seeking pitches for ways Vermont could reduce its greenhouse gas emissions to comply with the Global Warming Solutions Act.
Enacted last year, the law says Vermont must reduce its greenhouse gas emissions to 26% below 2005 levels by 2025, and then go farther.
The state's Climate Council is working this fall on a plan for how to get there.
EAN says it will partially fund up to five ideas that expand access to affordable and reliable energy, and that are cost-effective.
The deadline to apply is this Sunday, Aug. 15. Details are available at eanvt.org.
- Abagael Giles
7. Cargill fined for releasing toxic substances from Swanton animal feed facility
Agricultural giant Cargill is being fined more than $40,000 for violating federal rules around the release of toxic substances from its animal feed facility in Swanton.
Vermont Business Magazine reports the Environmental Protection Agency recently finalized the settlement with the Minnesota company.
The agreement acknowledges Cargill failed to file federally required reports alerting the public to zinc and manganese compounds processed at the Swanton facility.
The reports inform local communities about the presence of toxic chemicals that could damage the environment or harm public health.
- Matthew Smith
8. Miss Vermont Outstanding Teen continues advocating for menstrual product access
Last month, menstruation products sold in Vermont became tax exempt. The policy change aims to make tampons, panty liners, and other menstrual products more affordable.
Miss Vermont Outstanding Teen, Emma Anderson, helped lead the effort. The 17-year-old recent graduate of Champlain Valley Union High School has distributed more than 15,000 menstrual products across Vermont. They were purchased with the support of online donations.
She's also advocating to change the term "feminine hygiene products" to a non-gendered phrase.
"There are people that menstruate that don't identify as female," Anderson said. "So using terms like 'feminine hygiene products' kind of pushes that group of people away. And if anything, the chances of that group of people having equal access is even lower to someone that is identifying as female or identifying as the sex they were assigned at birth."
Anderson will continue to donate menstrual products and advocate for this issue throughout her year as Miss Vermont's Outstanding Teen.
This story was written by Community New Service reporter, Luca Kolba. You can find the full story on the Community News Service website https://www.communitynews.net/.
Elodie Reed compiled and edited this post.
Have questions, comments or tips? Send us a message or tweet us @vprnet.