News Roundup: Vermont Sees Single-Day Record Of 314 New COVID-19 Cases (Some Backdated)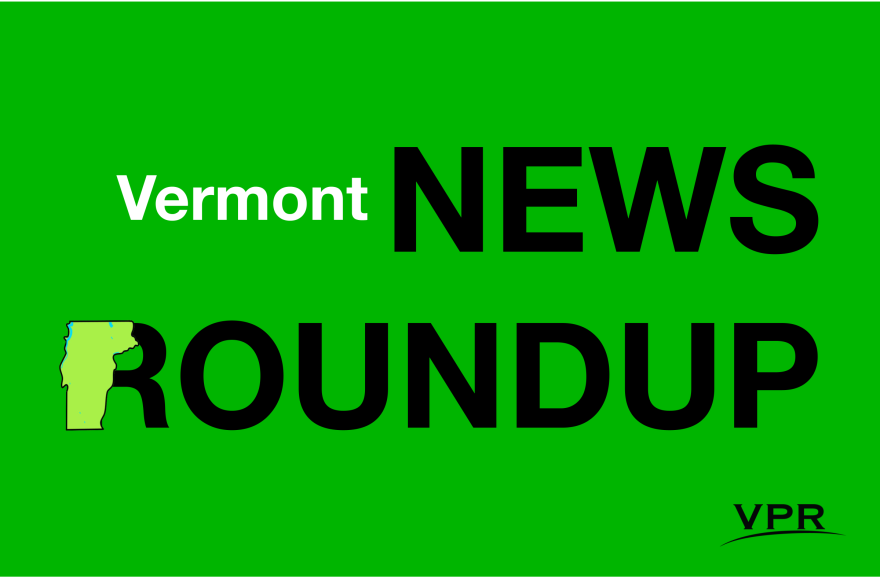 Want VPR's daily news in podcast form? Get up to speed in under 15 minutes with The Frequency every weekday morning. How about an email newsletter? Add our daily email briefing to your morning routine.
While Vermont's pandemic state of emergency has ended, the delta variant is now circulating around the state. Click here for the latest on new cases, and find the latest vaccination data online any time.
1. Vermont Dept. of Health reports 314 new COVID-19 cases
The Health Department reported 314 new COVID-19 cases, which would be a record high for the pandemic.
However, the agency says it's investigating whether an IT glitch delayed the reporting of past test results. That may impact recent case counts, including today's.
The department also reported two new deaths. 30 people are hospitalized with the virus.
The rate of vaccination among eligible Vermonters with at least one dose remained at 87.1-percent today.
— Matthew Smith
Vermont is in the midst of a spike in COVID-19 cases, due to delta variant
Vermont is in the midst of a spike in COVID-19 cases caused by the delta variant.
But Vermont Health Commissioner Dr. Mark Levine told VPR's Vermont Edition Wednesday that the state's seven-day daily case average appears to be leveling out.
"We don't believe we are getting to the point where things are going to continue to go upward," Levine said. "We're hoping they've leveled off and we're waiting for them to go down."
Still,the state's hospitals are experiencing a hike in COVID-related hospitalizations. As of Wednesday, 39 people were hospitalized with the virus. About one-fourth of those patients were in intensive care.
Listen to the full conversation, as heard on Vermont Edition.
— Mikaela Lefrak
Vermont to boost contact tracing staff
Vermont officials say the state is boosting staff for contract tracing amid a recent rise in COVID-19 cases.
Human Services Secretary Mike Smith says in the spring the state had hired a contractor so some state employees who had been doing contract tracing could return to their jobs.
He says as of Tuesday, the state has increased its staffing to 104 full-time equivalent employees doing contract tracing and other related duties, including reaching out to close contacts and to businesses and schools.
He says the state will continue to add state workers, National Guard members and other contracted employees as needed.
— The Associated Press
Federal judge blocks New York from enforcing vaccine mandate for health care workers
A federal judge has temporarily blocked New York state from forcing medical workers to be vaccinated after a group of health care workers sued.
The judge in Utica issued the order Tuesday, ruling the worker's Constitutional rights were violated.
The lawsuit was brought by 17 health professionals, including doctors and nurses, claimed the vaccine mandate violated their rights because it disallowed religious exemptions.
The judge gave New York state until next Wednesday to respond to the lawsuit.
New York issued the order last month, in August, requiring at least a first shot for health care workers at hospitals and nursing homes by Sept. 27.
The state says it's considering all legal options.
— The Associated Press
New Hampshire governor pledges to challenge federal vaccine mandate
New Hampshire plans to join other states in challenging the Biden administration's new vaccine mandate in court.
President Joe Biden announced a sweeping vaccine mandate last week that covers more than 100 million Americans, including executive branch employees and workers at businesses with more than 100 people on the payroll.
Granite State Republican Gov. Chris Sununu said Wednesday he "promises" to mount a legal challenge to the mandate, saying it's "not the right approach."
Sununu said no lawsuits have been drafted yet, but he's ready to sign on when that happens.
— Matthew Smith
2. Multi-faith memorial service for all Vermonters who died from COVID-19 to be held Sunday at the Statehouse
Clergy of various faiths will hold a memorial service on the Statehouse lawn this Sunday, Sept. 19, for all Vermonters who've died of COVID-19.
Debbie Ingram, executive director of Vermont Interfaith Action, says she hopes the mass celebration of life will help Vermonters process the trauma they've gone through as a result of the pandemic.
"I think we're all grieving and mourning in different ways, and we hope that this will be an event that can help people to process whatever they're going through at this time," Ingram said.
As of Wednesday, 292 people in Vermont have died of COVID-19.
Ingram says faith leaders will lead prayers, and recite the names of people who have died.
The service begins at 3 p.m. on this coming Sunday.
Read or listen to the full story.
— Peter Hirschfeld
3. University of Vermont officials recommend another tuition, fees freeze
For the fourth year in a row, officials at the University of Vermont are recommending that tuition and other student costs at the state's largest university remain flat.
UVM President Suresh Garimella made the announcement Wednesday in a press release.
In addition to freezing tuition, Garimella said he's recommending undergraduate student fees remain frozen and grad student fees decrease by $250.
Under the proposal, room and board charges will also remain flat — for the third year in a row.
Garimella says he hopes these recommendations will help make a degree from UVM more affordable for all students.
The Board of Trustees will review the proposal and provide final approval.
— Marlon Hyde
4. Vermont's oldest fish hatchery celebrates reopening Thursday
A decade after being destroyed by Tropical Storm Irene, Vermont's oldest fish hatchery will celebrate its reopening today.
The Roxbury Fish Culture Station was destroyed in 2011, and reconstruction was completed late last year.
Jeremy Whalen is the supervisor at the fish culture station. He says fish hatched at the new facility will create angling opportunities throughout the state of Vermont
"In places locally around the facility, such as Rood Pond, floating bridge — we go up in the Northeast Kingdom — such as May Pond, and really all up and down the Green Mountain spine," Whalen said.
The new fish culture station will produce more than 60,000 brook and rainbow trout annually for stocking in state waters.
The 130-year-old facility is one of five fish hatcheries in the state.
— Anna Van Dine
5. Coalition of housing advocates call for motel housing program to continue
A coalition of housing advocates are urging the Department for Children and Families to allow hundreds of people to remain housed in motels.
The program's 84-day limit is set to expire for many people next week.
More than a dozen groups signed onto a letter asking DCF to extendthe housing benefits.
The program has been used since the start of the pandemic to shelter people experiencing homelessness. There are currently about 880 households living in motels.
Jessica Radbord, with Vermont Legal Aid, signed onto the letter. She says federal money is still available to cover the cost of the program.
"The money is available, and the need is there. And the public health crisis is ongoing," she said.
Families with children and those with certain disabilities can apply to stay beyond the 84-day limit.
DCF says it doesn't yet have an exact number of how many people will lose housing.
The department says people who losing housing will get $2,500 to help them find another place.
— Liam Elder-Connors
More from VPR: 'I've Felt Alone A Lot': For A Night, Housed And Unhoused Vermonters Share Their Stories
6. Sen. Leahy calls for investigation into FBI's mishandling of allegations against former USA Gymnastics team doctor
Sen. Patrick Leahy is calling for a full investigation into the FBI's mishandling of allegations of abuse made against former USA Gymnastics team doctor Larry Nassar.
The Senate Judiciary Committee heard testimony Wednesday from a group of gymnasts who said the both USA Gymnastics and the U.S. Olympic and Paralympic Committee failed to fully investigate their cases.
Recently, a report from the Justice Department's Inspector General concluded that the FBI also did not deal with the allegations against Nassar adequately.
Leahy says FBI employees involved in the case need to be held accountable.
"It's not just firing them. If they hid facts, if they misled people, if they hid evidence, then they should be prosecuted," Leahy said.
Nassar pled guilty to a number of the charges is serving an effective life sentence in prison.
— Bob Kinzel
Abagael Giles compiled and edited this post.
Have questions, comments or tips? Send us a message or tweet us @vprnet.
Corrected: September 17, 2021 at 2:29 PM EDT
A previous version misstated the amount Vermonters participating in the motel voucher housing program will receive when the program ends.