News Roundup: Vt. Records Second-Highest One-Day COVID Case Total Since Pandemic Began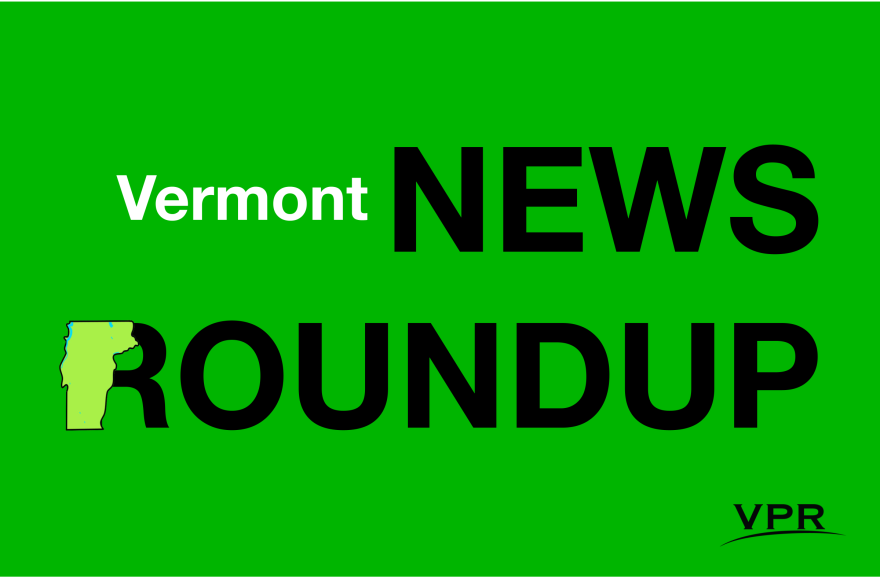 Vermont reporters provide a roundup of top news takeaways about the coronavirus and more for Thursday, Sept. 23.
Want VPR's daily news in podcast form? Get up to speed in under 15 minutes with The Frequency every weekday morning. How about an email newsletter? Add our daily email briefing to your morning routine.
While Vermont's pandemic state of emergency has ended, the delta variant is now circulating around the state. Click here for the latest on new cases, and find the latest vaccination data online any time.
1. State officials report 268 new COVID cases
The Health Department reported 268 new COVID-19 infections Thursday, and added more than 20 backdated cases to the state's total.
It's the second-highest one-day total of new cases since the pandemic began.
A total of 40 people are hospitalized with the virus.
The state's seven-day positivity rate increased to 3.1%, while the rate of eligible Vermonters with at least one dose of a vaccine rose to 87.5%.
- Matthew Smith
Newport City Elementary goes remote due to rising COVID infections in Orleans County
Students at Newport City Elementary are learning remotely through the end of the week due to rising COVID-19 infections in Orleans County.
WCAX reports North Country Supervisory Union Superintendent John Castle says the size of the elementary school makes shifting to remote learning "an issue of public health to mitigate the transmission of the virus."
In an email to families, Castle says the district will re-evaluate the decision to learn remotely by Friday.
Orleans County has among the highest rates of COVID cases per capita in the state.
- Matthew Smith
Vail Resorts announces mask, vaccination requirements for upcoming ski season
The company that owns Vermont's Stowe Mountain Resort ski area, and a number of other resorts across the region and the country, will require that visitors be masked when indoors at the resorts during the upcoming ski season.
In an email this week to season pass holders, Vail Resorts announced that people 12 and older will be required to show proof of vaccination when eating at restaurants at the resorts.
All Vail Resorts employees will be required to be vaccinated against COVID-19.
But unlike last year, skiers will not have to make reservations ahead of time, and lifts and gondolas will operate at normal capacity.
- Associated Press

2. Springfield School Board to vote on banning Critical Race Theory in classrooms
A southern Vermont school district is the latest in Vermont to take on the debate about Critical Race Theory, or CRT.
It's an academic framework used by legal scholars that says racism is a systemic issue that impacts many aspects of society, including housing and education.
It's traditionally not applied to K-12 curriculum, but on Thursday, the Springfield School Board is expected to vote on a resolution that would ban the teaching of CRT in classrooms.
Springfield Superintendent Zach McLaughlin tells Vermont Edition that, if passed, he has no idea what implementing the resolution would look like.
"I'm not sure how you operationalize this, and I don't know what it looks like on the ground, which leads me to believe this is much more about civic emoting and really having this argument about who we want to be as communities, then it really is about operationalizing something in the school," he said.
The board is set to meet tonight at 6:30 at the high school auditorium.The event will be streamed online, and public comments will be accepted.
- Connor Cyrus
Brattleboro officials denounce racist memes, comments aimed at state's first Black police chief
Brattleboro officials denounced racism after a person on Facebook posted racist memes and comments aimed at Vermont's first Black woman police chief.
The Brattleboro Reformer reports that the Brattleboro Police Department said the racist comments were sent by a single person on Facebook who the department declined to identify.
Police Chief Norma Hardy, who was hired in July, spent 26 years with the police department of the Port Authority of New York and New Jersey.
Select Board Chair Liz McLoughlin said the incident showed how Brattleboro still has work to do to combat racism.
- Associated Press
3. Leahy concerned about budget showdown leading to government shutdown
Sen. Patrick Leahy says a shutdown of the federal government next week would be a disaster for the national economy.
Leahy says he's concerned that all 50 Senate Republicans will oppose legislation extending government spending until December and raise the nation's debt ceiling.
Senate Minority Leader Mitch McConnell says his caucus opposes the bill because it'll pave the way for the Democrats to pass a $3.5 trillion budget.
But Leahy says McConnell is conveniently forgetting that the debt ceiling bill basically authorizes previous spending decisions.
"For the Republicans to want a shutdown would be totally irresponsible," Leahy said. "It would cost the taxpayers billions of dollars, I could see the stock market collapsing and hundreds of thousands or even millions of people would be out of work."
One option the Democrats are considering is the passage of a short-term budget resolution.
- Bob Kinzel
Leahy looking for Democratic colleagues to compromise on infrastructure bills
Sen. Patrick Leahy says some of his Democratic colleagues are being "immature and irresponsible" by making demands to ensure their support for two major budget bills.
One bill targets traditional infrastructure projects like roads and bridges, while a larger bill addresses child care, affordable housing, Medicare, and climate change.
A number of progressive House Democrats are threatening to vote against these bills unless they are linked
Leahy, who chairs the Senate Appropriations committee, says he's disappointed by this approach.
"I've been here long enough to know that you never get 100% of everything you want, and people who are saying, 'If I don't get every single thing I want, I'm going to have to be against it,' I think that's immature and irresponsible," he said.
The House is scheduled to hold a key vote on this issue early next week.
- Bob Kinzel
4. Vt. AG asking federal Labor Dept. to review decision barring unemployment payment boost
Attorney General TJ Donovan is asking the federal Labor Department to review its decision barring Vermont from implementing a $25 per week boost to unemployment.
The Legislature authorized the increase this year. But earlier this month the agency told the state that the payment did not meet federal requirements.
In a letter sent Wednesday, Donovan described the measure as "uncontroversial" and intended to help Vermonters facing pandemic-related economic hardship.
- Brittany Patterson
5. Grand Isle County's first new affordable housing project in 16 years breaks ground
A new affordable housing project in Grand Isle County broke ground Wednesday.
Local nonprofits raised about half a million dollars to build 30 new units for aging Vermonters.
They say it's the first new project in the county in 16 years.
Gov. Phil Scott spoke at the groundbreaking ceremony for Cathedral Square's Bayview Crossing, and says the project is one of many needed to address the state's housing issues.
"Every day, we're reminded of how critical use of affordable housing is for Vermont families, seniors, students and employers, employees, our economy, and the overall health of our state," he said.
The development will include one and two bedroom apartments for low and mixed-income residents 55 and older.
A 2020 report from the Vermont Housing Finance Agency found 34% of all Grand Isle County households spend more than 30% of their income on housing.
And about 17% spend more than half of their income on housing, similar to rates statewide.
- Marlon Hyde
6. Vt. Congressional delegation asks feds for help for organic dairy farmers
Vermont's Congressional delegation is asking the federal government to help organic dairy farmers who will lose their milk contracts next year.
Last month, Horizon Organic notified 89 Northeast farms, including 28 in Vermont, that they'll no longer be able to ship their milk after August 2022.
Sens. Leahy and Sanders and Rep.Peter Welch, plus members from Maine, New Hampshire, and New York, sent a letter on Wednesday to the U.S. Secretary of Agriculture urging action.
The letter suggests providing farmers with pandemic assistance funds, investing in processing and transportation capacity in the Northeast, and closing federal organic regulation loopholes that put smaller-scale farms like those in New England, quote, "at a severe financial disadvantage."
- Elodie Reed
7. Adirondacks pilot parking program to continue for at least next two years
More than 15,000 hikers signed up for a parking spot over the summer using the new Adirondack Mountain Reserve pilot parking reservation system.
North Country Public Radio reports the online reservation system, Hike AMR, launched in May.
It's aimed at mitigating safety issues and traffic problems on a stretch of state Route 73 near the entrance to the AMR lot near several popular trailheads.
In the past, hikers wouldn't know the lot was full until they arrived, and some would park illegally along the roadside and walk along the road to their desired trailhead.
The pilot program gives hikers a chance to register for a parking spot in advance. The system will continue to operate for at least the next two years.
- Matthew Smith
8. Castleton University alumni oppose state college system name change proposal
Alumni of Castleton University are calling on the Vermont State College system to rethink its efforts to rebrand three Vermont schools under a new name.
As part of consolidation efforts, the system's board of trustees this week announced plans to bring Northern Vermont University, Vermont Technical College and Castleton University together, potentially under the new name of "Vermont State University."
More from VPR: Castleton Grapples With What College Merger Might Mean For Community
Now the Rutland Herald reports more than 1,000 Castleton alumni have signed a letter opposing the new name, arguing that creating a new name would be expensive and ultimately recommending the combined institution take on the Castleton University brand.
The board is taking public input on the potential new name, including a listening session this coming Wednesday, Sept. 29. Details on how to give feedback on the name are online.
- Matthew Smith
Elodie Reed compiled and edited this post.
Have questions, comments or tips? Send us a message or tweet us @vprnet.