News Roundup: Vt. High Schools Investigate Following Allegations Of Racist Abuse At Soccer Game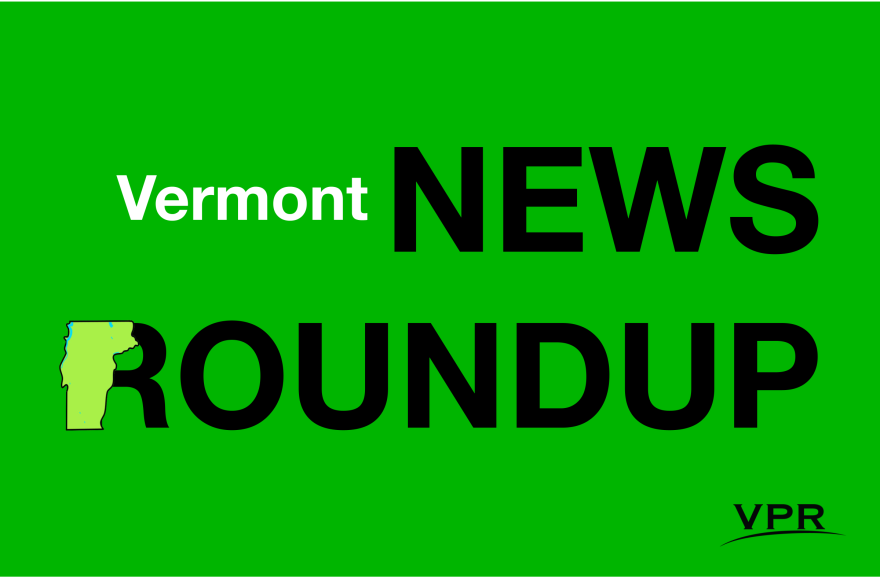 Vermont reporters provide a roundup of top news takeaways about the coronavirus, allegations of racist abuse at a high school soccer game and more for Thursday, Sept. 30.
Want VPR's daily news in podcast form? Get up to speed in under 15 minutes with The Frequency every weekday morning. How about an email newsletter? Add our daily email briefing to your morning routine.
While Vermont's pandemic state of emergency has ended, the delta variant is now circulating around the state. Click here for the latest on new cases, and find the latest vaccination data online any time.
1. State officials report 223 more COVID cases Thursday
Some 223 more Vermonters have been infected with COVID-19, according to the latest update from the Health Department. New cases were reported in every Vermont county, with the highest numbers in Orleans and Chittenden counties.
The positivity rate has declined slightly, to 2.7%.
A total of 46 people are hospitalized with the virus, including 10 people in intensive care.
By Friday, Vermonters 65 and older, as well as those 18 and older with underlying medical conditions, can sign up for a third COVID-19 booster shot, but only if they have previously had the Pfizer vaccine.
- Matthew Smith and Henry Epp

2. High schools investigate following allegations of racist abuse at soccer game
Two Vermont high schools are investigating after allegations surfaced about racist language used during a soccer game earlier this month.
Some students and spectators allegedly hurled racist epithets at members of the Winooski boys' soccer team during a game against Enosburg Falls.
Winooski is the most racially diverse school district in the state.
Jay Nichols is executive director of the Vermont Principals' Association, which oversees high school athletics in Vermont.
"We know that kids in these communities face racist people," Nichols said. "There's plenty of racist people in Vermont, and we know that people of color are oftentimes subject to racial slurs and inappropriate behavior. So we're not saying at all that this stuff didn't happen to Winooski."
But Nichols says there is no video evidence at this point, and it may be difficult to prove any allegations.
Meanwhile, hundreds gathered at Winooski High School Wednesday night in solidarity with players. The "fill the stands" event drew local community members as well as students from other Vermont high schools, VTDigger reports.
- Anna Van Dine
3. $6M gift for land access sparks questions about who gets to decide how to spend money
Vermont Land Trust will receive a $6 million gift, intended to increase farmland access, including $2 million to be distributed to BIPOC organizations.
But at least one BIPOC organization leader is wondering why the money isn't going directly to them.
During a press conference Thursday, the High Meadows Fund, Vermont Community Foundation and Vermont Land Trust announced the new funding.
All three organizations noted that white people systematically took land and wealth from Black people and other people of color, as well as the Indigenous people who originally stewarded this land.
Amber Arnold is co-executive director of SUSU CommUNITY Farm in Brattleboro. She asked why organizations like hers, an Afro Indigenous stewarded farm, didn't receive the dollars directly.
"Our people are the ones who are murdered, this is the money that was stolen from our ancestors," Arnold said. "And we're often questioned and not given an opportunity to make decisions or have control."
Nonprofit leaders at the press conference agreed it was "inexcusable" that they didn't already have the relationships in place to give the money straight to BIPOC organizations. They said they were working to change that.
- Elodie Reed

4. Dartmouth Institute researching how to increase trust in COVID vaccines among long-term care workers
A team of researchers from the Dartmouth Institute is trying to figure out how to get long-term care workers to better trust COVID vaccines.
Staff in nursing homes and other long-term care facilities are often less likely to be vaccinated against COVID than the general public. And that's concerning, because they work with a high-risk population.
The new research will investigate not just whether nursing home and long-term care staff will get a shot, but how safe, effective and important they think the vaccines are.
Matt Cantrell works for the National Association of Health Care Assistants, and he's one of the researchers on the project.
"We want people to feel good about getting the vaccine... and provide them as much information as possible so they can make their own decision," he said.
The team will recruit nearly 2,000 nursing assistants, dieticians, housekeeping staff and other long-term care workers next year. They'll offer live webinars and an interactive website to promote vaccine confidence.
- Lexi Krupp

5. UVM Health Network to become parent company of OneCare Vermont
This Friday, UVM Health Network will become the parent company of OneCare Vermont, which handles health care spending for more than one third of Vermonters.
As part of the change, Dartmouth-Hitchcock, which helped found OneCare, will give up some of its seats on OneCare's governing board.
But OneCare's CEO, Vicki Loner, told Vermont Edition the change won't affect OneCare's ability to serve the Upper Valley.
"Dartmouth Hitchcock started OneCare with UVM Medical Center back in 2012, and they will continue to participate in all of OneCare's programs," Loner said.
OneCare is currently lagging behind its targets for participation for both patients and medical providers.
Hear the full conversation here.
- Mikaela Lefrak
6. President signs disaster declaration for southern Vermont storm damage
President Joe Biden has signed a disaster declaration for damage caused by storms that hit Windham and Bennington counties at the end of July,
Gov. Phil Scott announced the declaration Wednesday, which comes after officials identified more than $5 million in damage to public infrastructure from the storms on July 29 and 30.
With the disaster status, communities are eligible to receive 75% reimbursement for storm response and recovery, including repairs to public roads, bridges, and other infrastructure that was damaged.
Along with previously awarded hazard mitigation funding, state officials say the new disaster declaration will make it possible for communities to protect against future damage.
- Associated Press
7. Food box program ends Thursday, those in need of help can contact Vermont Foodbank
A food box program with its roots in the early days of the pandemic is ending after distributing tens of thousands of meals to people across Vermont.
In June, the Full Plates Vermont program run by the Vermont Foodbank took over the Farmers to Families Food Box program, which was started by the U.S. Department of Agriculture.
The original USDA program gave boxes of local meat, vegetables and dairy products to people left hungry by the pandemic, and gave farmers and others in the food industry a place to sell their products.
The Rutland Herald reports the original program ended in May, and the Vermont Foodbank continued with its own version of the program, distributing 40,000 meals since June.
That program ends today, and food bank officials say those in need should contact the Vermont Foodbank for to learn where they can get help.
- Associated Press

8. Rutland school mascot, The Ravens, is official
It's official: Rutland's school mascot is The Ravens.
After months of contentious debate, the Rutland City School Board of Commissioners accepted the proposal Tuesday, WCAX reports.
The board first voted to retire the "Rutland Raiders" name last October, after community members raised concerns about its racist origins. The name "Ravens" was approved to replace it in February.
But there was some pushback, and the board appointed a committee to investigate the name-change process.
In the end, February's vote was found to be definitive.
- Anna Van Dine
State college system adopts new "Vermont State University" name
Vermont State University is officially the new name under which the state's three residential state colleges will be combined.
VTDigger reports the state college system's trustees heard public comments on the proposed new name last night [Wednesday] before voting unanimously to approve the "Vermont State University" name.
The state plans to consolidate Vermont Technical College, Castleton University and Northern Vermont University under the new name starting in the summer of 2023.
The Community College of Vermont will continue to operate as it has across its 12 campuses statewide.
- Matthew Smith
9. Marlboro Music Festival finalizes Marlboro College campus purchase
A classical music school and retreat, the Marlboro Music Festival, has completed its deal to purchase the former Marlboro College campus in Windham County.
After Marlboro College closed last year, an education nonprofit named Democracy Builders purchased the land and buildings on Potash Hill.
The music festival had a 99-year lease in place, but the shaky finances of Democracy Builders raised some questions about the festival's future.
Earlier this year the music festival, which runs for seven weeks each summer, announced that it would make a bid for the campus, and that deal was completed this week.
The festival acknowledged the challenges in maintaining the campus, and says it will host a series of community meetings to discuss possible uses of the property during the off-season.
- Howard Weiss-Tisman
10. Giant pumpkin grower preparing to retire from competition
The giant pumpkin season has officially concluded for Kevin Companion, whose one thousand, three hundred and eight-six pound gourd recently took top prize at the Vermont state championship, held at Sam Mazza's in Colchester.
And the Huntington resident plans to wind down after three decades of competing.
In the beginning, Companion, who is 67, says he grew pumpkins for his kids' enjoyment. Then one summer about 30 years ago, they decided to enter one at the Champlain Valley Fair.
"And I've been doing it ever since, so … it's been a lot of years," he said.
Companion says he likes to be competitive. He tests his soil, builds temporary greenhouses and when it's cold at night, covers his pumpkins in blankets. When everything is going right, Companion says his pumpkins can grow up to 50 pounds a day.
"I like to grow big things, OK, I like to watch 'em grow," Companion said. "But I also, you know, we have a lot of fun when people see them and they ooh and ah, you know, and, you know, puts a smile on their face. So, you know, that part is gratifying."
But Companion, a retired salesman, says he wants to enjoy the summer and fall a little more.
He cut back to growing just two giant pumpkins this year instead of the usual four, and soon, he says, he'll stop all together.
- Elodie Reed
Elodie Reed compiled and edited this post.
Have questions, comments or tips? Send us a message or tweet us @vprnet.