News roundup: Vt. Health Dept. reports all-time highest COVID positivity rate, case count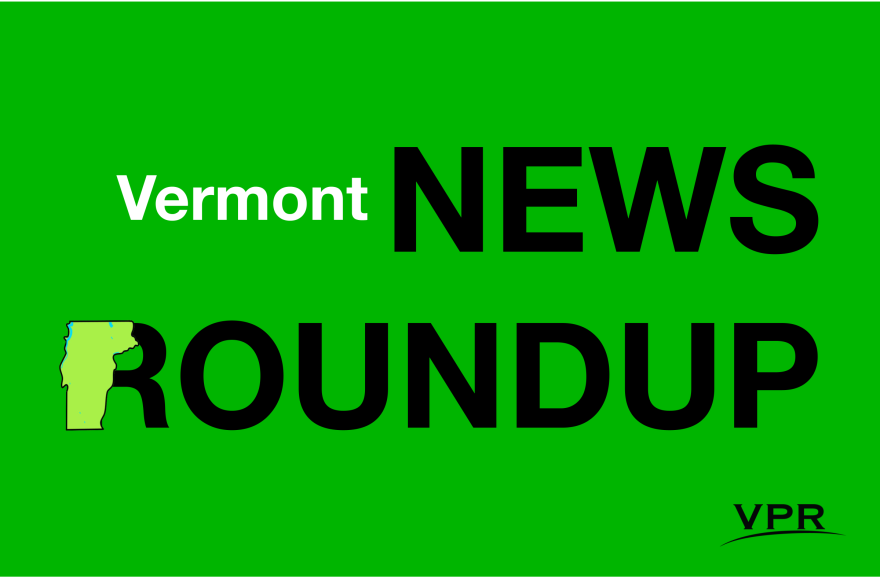 Vermont reporters provide a roundup of top news takeaways about the coronavirus, the Vermont Climate Action Plan and more for Thursday, Dec. 2.
Want VPR's daily news in podcast form? Get up to speed in under 15 minutes with The Frequency every weekday morning. How about an email newsletter? Add our daily email briefing to your morning routine.
While Vermont's pandemic state of emergency has ended, the delta variant is now circulating around the state. Click here for the latest on new cases, and find the latest vaccination data online any time.

1. Vermont hits yet another record for highest COVID positivity rate, case count
The percentage of Vermonters testing positive for COVID-19 Thursday reached the highest level in the pandemic since testing became widely available, as the state's positivity rate jumped to 5.2%.
That 7-day average of cases that test positive comes after the state conducted more than 17,000 tests Wednesday, among the most the state has conducted in a single day.
The Health Department also reported 604 new COVID infections -- another new record of cases in a single day -- as well as one more virus-linked death, bringing the pandemic's toll to 414 deaths.
Coronavirus hospitalizations fell for the second day in a row, dipping to 76, but the number of people in the hospital due to COVID remains at some of the highest levels so far in the pandemic.
Some 75% of Vermonters are now fully inoculated against the virus.
- Matthew Smith
Gov. Scott urges Vermonters to dial back the mask debate
Gov. Phil Scott says the continuing debate in Vermont over the imposition of a statewide indoor COVID mask mandate is hurting the state's efforts to persuade roughly 100,000 unvaccinated Vermonters to sign up for a shot.
During a special session last week, lawmakers passed a bill that gives local towns the authority to mandate indoor masks. It's become a hotly debated issue in a number of communities.
Scott says he thinks the debate over this issue is counterproductive to the state's goal of containing the COVID virus.
"Having the continued debate about whether it should be mandated or whether it should be utilized is just making the problem worse from my standpoint. It's dividing people even further -- it's hardening people further," he said.
A handful of communities have already implemented their own mask mandates.
- Bob Kinzel
Hospitals bracing for post-Thanksgiving surge in COVID cases
Hospitals in Vermont are bracing for a surge in COVID patients after Thanksgiving gatherings.
The University of Vermont Medical Center is expanding its ICU capacity and delaying many elective surgeries for at least a month.
Dr. Stephen Leffler, the chief operating officer, says right now their ICU beds are full.
"At the medical center, we're actually adding 5 more ICU beds in our operating room," Leffler said. "We will be staffing this space with travelers, and we're working on that right now because we also have staffing challenges."
Central Vermont Medical Center in Berlin is also adding a handful of ICU beds.
And Dartmouth Hitchcock Medical Center said they are prepared to delay elective surgeries.
- Lexi Krupp
Burlington enacts indoor mask mandate
Despite a crowd of vocal critics opposed to masking, the Burlington City Council Wednesday night approved a new citywide indoor mask mandate.
Seven Days reports the measure goes into effect on Friday, and requires masks in most public buildings.
Some businesses like restaurants, bars, and gyms are exempt from the rule, provided the business verifies patrons are vaccinated against COVID-19.
The weekly paper reports a crowd of about two dozen anti-mask protestors jeered, heckled, and screamed at councilors as they unanimously passed the new mask ordinance.
Vermont lawmakers and the governor passed a law allowing local mask mandates in a special session last month. Burlington, Brattleboro and Warren have now adopted local masking requirements, while the town of Hartford rejected a local mask mandate.
- Matthew Smith
Disparities in child COVID vaccination rates across Vermont counties
Some 41% of Vermont children between the ages of 5 and 11 have now received at least one dose of the COVID-19 vaccine.
But rates of vaccine uptake differ significantly across county lines.
Only 18% of young children in Essex County, for example, have received the vaccination.
Education Secretary Dan French says it'll be important to increase pediatric vaccination rates across all regions of the state.
"Because I think those districts that are able to achieve a higher student vaccination rate are going to have more stability in their operations than those who don't," French said. "But my impression right now is I think it's a bit early to understand those patterns."
French says that as the vaccine rollout progresses, the state will target vaccine outreach at areas of Vermont that continue to lag behind the state average.
- Peter Hirschfeld
Addiction treatment center experiences ninth COVID outbreak
An addiction treatment center with locations in Addison and Orange counties is experiencing its ninth COVID outbreak since last year.
WCAX reports the Valley Vista addiction treatment center in Vergennes is the site of the latest outbreak.
There are three confirmed cases in the 20-bed facility, a level of infection that the Health Department considers an outbreak.
The TV news outlet reports individual treatment is still being offered, but group treatments have been paused, and new patients won't be accepted until the outbreak ends.
If another round of testing comes back negative, officials at the Vergennes facility hope to reopen by the weekend.
- Matthew Smith
Vermont, New Hampshire rolling out more COVID-19 booster shots
Health departments in New Hampshire and Vermont are planning to get more COVID-19 boosters to residents in December.
The Granite State is planning its "Operation Booster Blitz" for next Saturday, Dec. 11, where 15 sites statewide plan to give out 10,000 booster shots in a single day.
Meanwhile, the Vermont Department of Health continues to hold free clinics offering first, second, or booster doses of the COVID vaccine.
Vermonters can choose any of the three available vaccines for their primary or booster doses, but per federal guidelines, only Pfizer doses are available for kids aged 5 to 11.
Appointments can be made at each state's health department website.
- Matthew Smith

2. State council adopts Vermont Climate Action Plan
Vermont's Climate Council on Wednesday voted 19 to 4 to enact a plan to address climate change in the state. The Climate Action Plan makes more than 230 policy recommendations for how Vermont will reduce its greenhouse gas emissions to comply with state law.
Council member Abbie Corse, who runs an organic dairy farm in Whitingham, voted for the plan. But she says the process made it virtually impossible for disadvantaged Vermonters and people in frontline communities to weigh in:
"And we have to change how we bring people into this process," Corse said. "It has to be different, if we're going to have a successful collective future here."
The plan calls for Vermont to join the growing number of states with an official environmental justice policy. And it calls for climate programs to be made accessible for frontline and disadvantaged communities within the state.
Meanwhile, the Scott administration doesn't support some key pieces of the Climate Action Plan.
Vermont must reduce emissions to 40% below 1990 levels by 2030. Right now, transportation accounts for the largest share of emissions.
The Climate Action Plan recommends Vermont prepare to join a regional cap and invest effort, the Transportation and Climate Initiative Program, to reduce pollution from cars and trucks by as much as 25%.
But three New England governors recently pulled out, leaving the program in limbo.
Just after Vermont's Climate Action Plan was approved Wednesday, council members from the Scott administration condemned any further planning to join. Instead, they say Vermont should explore other ways of reducing emissions from cars.
- Abagael Giles
3. Williston-based solar company buys stake in renewable energy firm
A Williston-based company is expanding its influence in Vermont's solar power industry.
iSun announced this week that it purchased a minority stake in Encore Renewable Energy, a Burlington company that designs and oversees larger-scale solar developments.
Encore CEO Chad Farrell says the two companies have worked together for years. He says the infusion of money from iSun will allow his business to pay off debt and grow significantly.
"We look at this funding as essentially being able to allow us to double our pipeline over the next 12-ish months," he said.
The companies did not disclose financial details of the deal. The move comes just a few months after iSun purchased SunCommon, a residential solar company based in Waterbury.
- Henry Epp
4. Welch's war chest contains corporate money, despite pledge to reject corporate PAC dollars during Senate run
Congressman Peter Welch has pledged to reject donations from corporate PACs in his run for Senate, but the Democrat's existing campaign account has received thousands of dollars from corporations as recently as this fall.
Welch has $2 million in his account for the U.S. House, and his spokesperson says the campaign will soon transfer that money to his Senate fund -- giving him a running start in that race.
And while Welch says his Senate campaign won't accept any corporate money, that $2 million war chest has been built, in part, on corporate donations from the likes of Home Depot, Toyota, Ford, Walgreens, Rite Aid, Google and Best Buy. Each of those companies gave the congressman at least $1,000 this year.
Asked to clarify the campaign's policy on corporate PAC money, Welch's spokesperson said the ban on corporate donations will only apply to the Senate campaign, and won't be applied retroactively to the congressman's existing funds.
- Henry Epp
5. Vermont Legal Aid suing state on behalf of unemployment benefit applicants
Vermont Legal Aid is suing the state Department of Labor over alleged delays in scheduling unemployment benefit appeals.
The class-action lawsuit says 600 Vermonters have been waiting up to six months for a hearing, which the nonprofit says violates a state law requiring hearings within 30 days of a benefits appeal.
Residents don't receive benefits during pending appeals.
Vermont Legal Aid wants a judge to order the Department of Labor to comply with the 30-day hearing requirement. The nonprofit says the DOL made assurances earlier this year to speed up the appeals process by September.
A spokesperson for the department didn't immediately return a request for comment.
- Kevin Trevellyan
6. Vermont Medical Society asking Cannabis Control Board to limit product potency
The Vermont Medical Society is asking the state's Cannabis Control Board to limit the potency of all cannabis products sold in the state when the Vermont's retail marketplace opens next year.
Jessa Barnard is the executive director of the group.
She says the Medical Society is concerned that some people will be unaware about the potency of some products, and will end up consuming far more THC -- the main active ingredient of cannabis -- than they ever intended.
"If you have a lower dose, a lower amount per portion, it is harder to end up in those situations where you get really sick or intoxicated more than you anticipated," Barnard said.
The Medical Society is also asking the Cannabis Board to ban the advertising of all cannabis products.
- Bob Kinzel
Elodie Reed and Kevin Trevellyan compiled and edited this post.
Have questions, comments or tips? Send us a message or tweet us @vprnet.